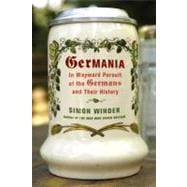 Germania : In Wayward Pursuit of the Germans and Their History
by
Winder, Simon
Farrar, Straus and Giroux
Summary
"Germania" explores how people are misled by history, how they twist history, and how sometimes it is best to know no history at all. The work is full of curiosities, odd food, castles, mad princes, and fairy tales--the unseen sides of Germany.
Author Biography
SIMON WINDER has spent far too much time in Germany, denying himself a lot of sunshine and fresh fruit just to write this book. He is the author of the highly praised The Man Who Saved Britain (FSG, 2006) and works in publishing in London.
Table of Contents
Maps
p. xii
Introduction
p. 1
'Bound with chains of flowers'
A note on Germany and German
p. 17
From the land of gloomy forests
Roman Germans
An alligator far from home
I'll have some green sauce with that
The medieval car park
p. 43
Ancient palaces
Charles the Great
Pious, Bald or Fat
A very small town
Spreading the Word
In search of a bit of sunshine
Thrust to the east
p. 73
Walled towns
Other superiority complexes
A brief note on political structures
German tribes
Famine and plague
Where a million diamonds shine
p. 97
The tideless sea
The curse of Burgundy
Happy families
Rampant folk costume
Imperial circles
Habsburgs
p. 127
Spires, turrets and towers
A birthplace and a death-house
The devil's bagpipes
The ruler of the world
The New Jerusalem
An unhappy wine merchant
p. 155
The Golden City of the Faithful
The land where lemon blossom grows
Black armour
The King of Sweden's horse
A surprise visit from an asteroid
p. 183
Hourglasses and bird-eating spiders
'Music to Escort the Dead from this Life'
In the time of powdered wigs
Damascened yataghans
'Burn the Palatinate!'
Catholicism goes for broke
p. 213
The descendants of Cyrus the Great
Drinking chocolate with ostriches
More competitive tomb-building
Chromatic fantasia and fugue
The Strong and the Fat
p. 241
Little Sophie Zerbst
Parks and follies
In the footsteps of Goethe
A glass pyramid filled with robin eggs
A surprise appearance by a sea cow
German victimhood
Good-value chicken
p. 269
Marches militaires
Karl and Albrecht
Girls in turrets
Heroic acorns
Victory columns
p. 299
The grandeur and misery of nationalism
Snow-shake particularism
A surprise trip to Mexico
p. 321
Lambs and ladybirds
Jigsaw country
Hunting masters
Ruritania, Syldavia and their friends
An absence
p. 347
Beside the seaside
Texan Wends
Pidgin German
Thomas and Ernie
Podsnap in Berlin
Varieties of militarism
p. 379
Failure
The British-German divorce
Disaster
Defeat and revolution
Remembering the dead
Some royal aftershocks
p. 411
An unattractive lake
Putsches and suspenders
'5, 4, 3, 2, 1 ...'
The death of science
Terminal throes
Ending
Conclusion
p. 435
In the hills
Mendel's statue
Death by oompah
Bibliography
p. 443
Illustrations
p. 451
Acknowledgements
p. 453
Index
p. 455
Table of Contents provided by Ingram. All Rights Reserved.