Note: Supplemental materials are not guaranteed with Rental or Used book purchases.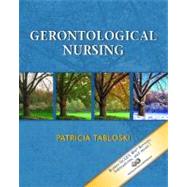 Questions About This Book?
What version or edition is this?
This is the 1st edition with a publication date of 1/1/2006.
What is included with this book?
The Used copy of this book is not guaranteed to include any supplemental materials. Typically, only the book itself is included.
Related Products
Summary
Patricia Tabloskis Gerontological Nursing is a comprehensive, research-based text that will guide nursing students in their care of older patients. The text presents information related to normal and pathological changes of aging, with an emphasis on the critical information that nurses need for assessment, diagnosis, planning and evaluating care outcomes for their older clients. Bolstered by current research in nursing, medicine, sociology and psychology, this book combines information on medical-surgical care for older patients with issues facing the older population. It emphasizes both critical thinking and application of the nursing process to give students the confidence they need to provide the highest level of care.
Author Biography
Patricia A. Tabloski is a faculty member at the William F. Connell School of Nursing at Boston College.
Table of Contents
| | |
| --- | --- |
| | Unit One Foundations of Nursing Practice |

1
(82)

| | |
| --- | --- |
| | Principles of Gerontology |

2
(25)
6
(1)

| | |
| --- | --- |
| | Longevity and the Sex Differential |

6
(7)
9
(3)

| | |
| --- | --- |
| | Living Longer or Living Better? |

12
(1)
13
(2)
15
(6)

| | |
| --- | --- |
| | Biological Aging Theories |

18
(1)

| | |
| --- | --- |
| | Psychological Aging Theories |

19
(1)

| | |
| --- | --- |
| | Sociological Aging Theories |

20
(1)

| | |
| --- | --- |
| | Patient and Family Teaching |

21
(6)

| | |
| --- | --- |
| | Gerontological Nursing Issues |

27
(27)
29
(1)

| | |
| --- | --- |
| | Advanced Gerontological Nursing |

29
(1)

| | |
| --- | --- |
| | Standards of Gerontological Nursing |

30
(4)

| | |
| --- | --- |
| | Functional Health Patterns and Nursing Diagnosis |

34
(8)

| | |
| --- | --- |
| | Care Planning and Setting Realistic Goals |

35
(3)

| | |
| --- | --- |
| | Implementation of the Nursing Care Plan |

38
(2)
40
(1)
40
(2)
42
(2)

| | |
| --- | --- |
| | Trends in Financing Healthcare for Older Persons |

44
(1)
45
(2)
47
(1)

| | |
| --- | --- |
| | Patient and Family Teaching |

48
(6)
54
(29)

| | |
| --- | --- |
| | Components of Comprehensive Geriatric Assessment |

57
(8)

| | |
| --- | --- |
| | Contextual Variables Affecting Holistic Geriatric Assessment |

57
(5)
62
(2)

| | |
| --- | --- |
| | Health Promotion and Disease Screening |

64
(1)
65
(11)
65
(3)
68
(2)
70
(3)
73
(1)

| | |
| --- | --- |
| | Use of Technology in Assessment |

73
(1)

| | |
| --- | --- |
| | Health Insurance Portability and Accountability Act |

73
(2)

| | |
| --- | --- |
| | Informed Consent and Competence |

75
(1)
76
(1)

| | |
| --- | --- |
| | Patient and Family Teaching |

77
(6)

| | |
| --- | --- |
| | Unit Two Challenges of Aging and the Cornerstones of Excellence in Nursing Care |

83
(244)
84
(26)

| | |
| --- | --- |
| | National Standards for Culturally and Linguistically Appropriate Services in Health Care |

85
(1)
86
(2)
88
(2)
88
(1)
88
(1)
89
(1)
90
(1)
90
(2)
90
(1)
91
(1)
91
(1)
91
(1)

| | |
| --- | --- |
| | Examples of Heritage Consistency |

92
(1)

| | |
| --- | --- |
| | Ethnocultural Life Trajectories |

93
(4)
97
(3)
100
(1)
100
(3)
100
(2)
102
(1)

| | |
| --- | --- |
| | Steps to Cultural Competency |

102
(1)

| | |
| --- | --- |
| | Implementing CulturalCare Nursing |

103
(1)

| | |
| --- | --- |
| | Patient and Family Teaching |

103
(7)
110
(45)

| | |
| --- | --- |
| | Normal Aging and Nutrition |

111
(4)

| | |
| --- | --- |
| | Changes in Body Composition |

111
(1)

| | |
| --- | --- |
| | Oral and Gastrointestinal Changes With Aging |

112
(1)
113
(1)

| | |
| --- | --- |
| | Social and Economic Changes Affecting Nutrition |

114
(1)

| | |
| --- | --- |
| | Nutritional and Disease-Related Health Changes |

115
(1)

| | |
| --- | --- |
| | Nutritional Requirements and Aging |

115
(10)

| | |
| --- | --- |
| | Unique Nutrient Recommendations |

117
(6)

| | |
| --- | --- |
| | Supplement Savvy: Beyond the RDAs |

123
(1)
124
(1)
125
(9)

| | |
| --- | --- |
| | Nutritional Assessment Parameters |

125
(5)
130
(4)

| | |
| --- | --- |
| | Common Nutritional Concerns in the Older Person |

134
(12)

| | |
| --- | --- |
| | Unintentional Weight Loss |

134
(10)

| | |
| --- | --- |
| | Medical Nutritional Therapy for Chronic Diseases |

144
(1)
144
(2)

| | |
| --- | --- |
| | Patient and Family Teaching Guidelines |

146
(9)

| | |
| --- | --- |
| | Pharmacology and Older Adults |

155
(33)

| | |
| --- | --- |
| | Cultural Diversity and Medication Safety |

156
(1)

| | |
| --- | --- |
| | Pharmacokinetic Alterations in the Older Person |

157
(7)

| | |
| --- | --- |
| | Pharmacodynamic Alterations in the Older Person |

159
(1)

| | |
| --- | --- |
| | Impact of Concurrent Conditions and Therapy on Drug Therapy |

159
(2)

| | |
| --- | --- |
| | Adverse Drug Reactions and latrogenesis |

161
(2)

| | |
| --- | --- |
| | Reporting Adverse Drug Effects |

163
(1)

| | |
| --- | --- |
| | Prevention of Adverse Drug Effects in the Older Person |

164
(1)
164
(3)

| | |
| --- | --- |
| | Adverse Drug Effects of Concern in the Older Person |

165
(2)

| | |
| --- | --- |
| | Alternative and Complementary Medicine |

167
(4)

| | |
| --- | --- |
| | Over-the-Counter Medications |

169
(1)

| | |
| --- | --- |
| | Appropriate Versus Inappropriate Prescribing Practices |

169
(2)

| | |
| --- | --- |
| | Appropriate Use of Psychotropics in the Older Person |

171
(3)

| | |
| --- | --- |
| | OBRA Regulations and Interpretive Guidelines |

171
(1)

| | |
| --- | --- |
| | Use of Antipsychotic Drugs |

172
(1)

| | |
| --- | --- |
| | Short-Acting Benzodiazepines and Other Anxiolytics |

173
(1)

| | |
| --- | --- |
| | Evaluating Appropriate Prescribing of Medications |

173
(1)

| | |
| --- | --- |
| | Promoting Adherence and Compliance |

174
(3)

| | |
| --- | --- |
| | Assessing Older Patients' Appropriate Use of Medications |

177
(1)
178
(2)
179
(1)
179
(1)

| | |
| --- | --- |
| | Use of Internet Pharmacies |

180
(1)

| | |
| --- | --- |
| | Unsafe Medication Practices |

180
(1)

| | |
| --- | --- |
| | Patient and Family Teaching |

180
(8)

| | |
| --- | --- |
| | Psychological and Cognitive Function |

188
(36)

| | |
| --- | --- |
| | Normal Changes With Aging |

191
(2)

| | |
| --- | --- |
| | Personality and Self-Concept |

193
(1)
194
(1)

| | |
| --- | --- |
| | Elder Abuse or Mistreatment |

195
(1)
196
(1)

| | |
| --- | --- |
| | Life Satisfaction and Life Events |

196
(2)
197
(1)
197
(1)
198
(1)
199
(10)

| | |
| --- | --- |
| | Nursing Assessment of Depression |

202
(1)
203
(2)
205
(2)

| | |
| --- | --- |
| | Basic Principles Relating to Psychological Assessment in Older Adults |

207
(2)
209
(1)
210
(7)

| | |
| --- | --- |
| | Nonpharmacological Treatments |

210
(6)
216
(1)
216
(1)

| | |
| --- | --- |
| | Patient and Family Teaching |

217
(7)

| | |
| --- | --- |
| | Sleep and the Older Adult |

224
(25)
225
(2)
227
(2)

| | |
| --- | --- |
| | Health Problems and Sleep Disruption |

229
(1)
230
(6)
231
(1)
231
(1)
232
(2)
234
(1)

| | |
| --- | --- |
| | Sleep Problems in Hospitals and Nursing Homes |

235
(1)
235
(1)
235
(1)
236
(1)
237
(1)
237
(12)

| | |
| --- | --- |
| | Additional Nonpharmacological Measures |

240
(1)

| | |
| --- | --- |
| | Pharmacological Treatments for Altered Sleep Patterns |

241
(8)
249
(22)
251
(1)

| | |
| --- | --- |
| | The Art and Science of Pain Relief |

251
(2)

| | |
| --- | --- |
| | Pharmacological Management |

253
(3)

| | |
| --- | --- |
| | Adjuvant Drugs for Older Patients With Pain |

253
(1)

| | |
| --- | --- |
| | Special Pharmacological Issues Regarding Pain Management in the Older Person |

254
(1)

| | |
| --- | --- |
| | Pharmacological Principles for Successful Pain Management |

255
(1)

| | |
| --- | --- |
| | Nonpharmacological Methods to Manage Pain in the Older Person |

256
(1)

| | |
| --- | --- |
| | Consequences of Unrelieved Pain |

257
(8)

| | |
| --- | --- |
| | Acute Pain in Elderly Adults |

258
(2)

| | |
| --- | --- |
| | Chronic Pain in the Older Person |

260
(1)

| | |
| --- | --- |
| | Pain Assessment Techniques |

260
(2)

| | |
| --- | --- |
| | Analysis of the Pain Management Plan |

262
(3)

| | |
| --- | --- |
| | Patient and Family Teaching |

265
(6)

| | |
| --- | --- |
| | Violence and Elder Mistreatment |

271
(22)

| | |
| --- | --- |
| | National Incidence and Prevalence of Elder Mistreatment |

272
(7)
272
(1)

| | |
| --- | --- |
| | Categories of Elder Mistreatment |

273
(1)

| | |
| --- | --- |
| | Institutional Mistreatment |

273
(1)

| | |
| --- | --- |
| | Definitions of Elder Mistreatment |

274
(1)

| | |
| --- | --- |
| | Characteristics of Older Adults at Risk |

275
(1)

| | |
| --- | --- |
| | Characteristics of People Who Mistreat Older Adults |

275
(1)

| | |
| --- | --- |
| | Cultural Perceptions of Elder Mistreatment |

275
(1)

| | |
| --- | --- |
| | Theories of Elder Mistreatment |

276
(3)
279
(6)
279
(4)
283
(1)
283
(1)
284
(1)

| | |
| --- | --- |
| | Implications for Gerontological Nursing Practice |

284
(1)
285
(8)
293
(34)

| | |
| --- | --- |
| | The Changing Face of Death |

296
(1)
297
(1)
298
(2)

| | |
| --- | --- |
| | Stages of the Dying Process |

299
(1)

| | |
| --- | --- |
| | Complementary and Alternative Care |

300
(1)
301
(19)

| | |
| --- | --- |
| | Pain Relief at the End of Life |

302
(2)

| | |
| --- | --- |
| | Pain During the Dying Process |

304
(1)

| | |
| --- | --- |
| | Effects of Unrelieved Pain During the Dying Process |

304
(1)

| | |
| --- | --- |
| | Principles of Pain Relief During the Dying Process |

304
(1)

| | |
| --- | --- |
| | Pharmacological Approach to Pain Management During the Dying Process |

305
(3)

| | |
| --- | --- |
| | Nursing Care at the End of Life |

308
(2)

| | |
| --- | --- |
| | Nursing Diagnoses at the End of Life |

310
(1)
311
(1)

| | |
| --- | --- |
| | Designations of Level of Care |

312
(1)
313
(3)

| | |
| --- | --- |
| | Use of Feeding Tubes for Artificial Nutrition |

316
(1)

| | |
| --- | --- |
| | Mercy Killing or Euthanasia |

317
(1)
317
(1)
318
(1)
318
(2)
320
(1)

| | |
| --- | --- |
| | Patient and Family Teaching |

320
(7)

| | |
| --- | --- |
| | Unit Three Physiological Basis of Practice |

327
(482)
328
(37)

| | |
| --- | --- |
| | Usual Structure and Function of Skin Layers |

329
(1)
329
(1)
329
(1)
329
(1)

| | |
| --- | --- |
| | Dermal Accessory Structures |

330
(1)
330
(1)
330
(1)
330
(1)

| | |
| --- | --- |
| | Usual Functions of the Skin |

331
(1)

| | |
| --- | --- |
| | Regulation of Body Fluids and Temperature |

331
(1)

| | |
| --- | --- |
| | Regulation of the Immune Function |

331
(1)
331
(1)
331
(1)
332
(3)
332
(2)
334
(1)
334
(1)
335
(1)
335
(1)
335
(1)
335
(1)

| | |
| --- | --- |
| | Common Illnesses of Older Persons |

335
(11)
335
(1)
336
(2)
338
(1)

| | |
| --- | --- |
| | Pressure Ulcers in the Older Person |

338
(3)
341
(2)
343
(1)

| | |
| --- | --- |
| | Fingernail and Toenail Conditions |

344
(1)
344
(1)

| | |
| --- | --- |
| | Laboratory and Testing Values |

345
(1)

| | |
| --- | --- |
| | Laboratory Values to Determine Risk for Pressure Ulcer |

346
(1)

| | |
| --- | --- |
| | Pharmacology and Nursing Responsibilities |

346
(1)

| | |
| --- | --- |
| | Topical Antifungal Agents |

346
(1)
346
(1)
347
(1)
347
(1)
347
(1)

| | |
| --- | --- |
| | Prescription Creams and Lotions for Dry Skin |

347
(1)

| | |
| --- | --- |
| | Nonpharmacological Treatment of Skin Problems in Older Persons |

347
(10)

| | |
| --- | --- |
| | Skin Cancer and Precancer Conditions |

348
(1)

| | |
| --- | --- |
| | Nonpharmacological Treatment of Skin Cancer |

349
(1)

| | |
| --- | --- |
| | Prevention and Management of Skin Tears |

350
(1)

| | |
| --- | --- |
| | Nonpharmacological Treatment of Pressure Ulcers |

350
(3)

| | |
| --- | --- |
| | Treatment of Pressure Ulcers |

353
(4)

| | |
| --- | --- |
| | Nonpharmacological Treatment of Fingernail and Toenail Conditions |

357
(1)

| | |
| --- | --- |
| | Nursing Management Principles |

357
(8)

| | |
| --- | --- |
| | Nursing Process and Documentation |

357
(1)

| | |
| --- | --- |
| | Knowledge-Based Decision Making |

357
(1)

| | |
| --- | --- |
| | Evaluation and Revision of Nursing Care Plan |

358
(7)

| | |
| --- | --- |
| | The Mouth and Oral Cavity |

365
(18)
366
(1)

| | |
| --- | --- |
| | Common Diseases of Aging Relating to the Mouth and Oral Cavity |

367
(2)
368
(1)

| | |
| --- | --- |
| | Negative Effects of Poor Oral Care |

368
(1)

| | |
| --- | --- |
| | Risk Factors for Oral Problems |

369
(1)

| | |
| --- | --- |
| | Nursing Assessment of Oral Problems |

369
(2)
371
(7)
371
(1)
371
(1)
372
(1)

| | |
| --- | --- |
| | Gingivitis and Periodontal Disease |

372
(2)
374
(1)
374
(1)

| | |
| --- | --- |
| | Nursing Strategies for Providing Oral Care to Patients with Cognitive Impairments |

375
(3)
378
(5)

| | |
| --- | --- |
| | Sensation: Hearing, Vision, Taste, Touch, and Smell |

383
(76)
384
(13)

| | |
| --- | --- |
| | Normal Age-Related Changes |

386
(2)

| | |
| --- | --- |
| | Nursing Implications Related to Caring for Patients With Vision Problems |

388
(2)
390
(7)

| | |
| --- | --- |
| | Nursing Diagnoses Associated With Visual Impairment |

397
(1)
397
(10)
398
(2)
400
(2)
402
(2)
404
(1)

| | |
| --- | --- |
| | Assistive Listening Devices |

405
(1)

| | |
| --- | --- |
| | Common Hearing Problems in Older Persons |

405
(1)

| | |
| --- | --- |
| | Nursing Diagnoses Associated With Hearing Impairment |

406
(1)
407
(3)

| | |
| --- | --- |
| | Nursing Assessment of the Older Patient With Taste Disturbances |

408
(2)

| | |
| --- | --- |
| | Nursing Diagnoses Associated With Taste Impairment |

410
(1)
410
(3)

| | |
| --- | --- |
| | Nursing Assessment of the Older Patient With Disturbances of Smell |

411
(1)
412
(1)
412
(1)

| | |
| --- | --- |
| | Nursing Assessment of the Older Person With Tactile Impairment |

413
(8)

| | |
| --- | --- |
| | Nursing Diagnoses Associated With Tactile Impairment |

413
(1)

| | |
| --- | --- |
| | Teaching Guidelines for Patient and Family With Sensory Impairments |

413
(8)

| | |
| --- | --- |
| | The Cardiovascular System |

421
(1)
422
(5)
424
(1)
425
(1)
425
(1)
426
(1)
427
(1)

| | |
| --- | --- |
| | Normal Changes With Aging |

427
(4)

| | |
| --- | --- |
| | Common Illnesses With Older Persons |

431
(28)
432
(3)
435
(1)
435
(3)
438
(1)
439
(1)
439
(2)
441
(1)
442
(4)

| | |
| --- | --- |
| | Arrhythmias and Conduction Disorders |

446
(1)

| | |
| --- | --- |
| | Peripheral Vascular Disease |

447
(1)

| | |
| --- | --- |
| | Nursing Management Principles |

448
(11)
459
(58)
460
(2)
462
(3)

| | |
| --- | --- |
| | Changes in Cardiovascular Function |

463
(1)

| | |
| --- | --- |
| | Changes in Immune Function |

463
(2)

| | |
| --- | --- |
| | Changes in Neurologic, Neuromuscular, and Sensory Functions |

465
(1)

| | |
| --- | --- |
| | Respiratory Diseases Common in Older People |

465
(46)
465
(22)

| | |
| --- | --- |
| | Chronic Obstructive Pulmonary Disease |

487
(12)
499
(4)
503
(1)
504
(5)
509
(1)
509
(1)

| | |
| --- | --- |
| | Severe Acute Respiratory Syndrome (SARS) |

510
(1)

| | |
| --- | --- |
| | Patient-Family Teaching Guidelines |

511
(6)

| | |
| --- | --- |
| | The Genitourinary and Renal Systems |

517
(34)
518
(6)

| | |
| --- | --- |
| | Age-Related Changes in the Kidney |

518
(3)

| | |
| --- | --- |
| | Bladder and Urethral Changes With Aging |

521
(1)

| | |
| --- | --- |
| | Antidiuretic Hormone and the Aging Process |

522
(1)

| | |
| --- | --- |
| | Male Reproductive System and Advanced Age |

522
(1)

| | |
| --- | --- |
| | Female Reproductive System and Advanced Age |

523
(1)

| | |
| --- | --- |
| | Gay and Lesbian Older Adults |

523
(1)

| | |
| --- | --- |
| | Common Genitourinary Concerns in Older Adults |

524
(15)

| | |
| --- | --- |
| | Acute and Chronic Renal Failure |

525
(2)
527
(1)
528
(5)

| | |
| --- | --- |
| | Benign Prostatic Hyperplasia |

533
(1)

| | |
| --- | --- |
| | Menopause-Related Concerns |

534
(1)

| | |
| --- | --- |
| | Genitourinary Malignancies |

535
(4)

| | |
| --- | --- |
| | Sex and the Senior Citizen |

539
(12)

| | |
| --- | --- |
| | Discussing Sexuality With Older Adults |

542
(1)

| | |
| --- | --- |
| | Sexuality in Long-Term Care |

542
(1)
543
(1)

| | |
| --- | --- |
| | Sexually Transmitted Diseases |

543
(8)

| | |
| --- | --- |
| | The Musculoskeletal System |

551
(49)

| | |
| --- | --- |
| | The Normal Musculoskeletal System and Joints |

552
(2)

| | |
| --- | --- |
| | Skeletal System: Structure and Function |

552
(1)

| | |
| --- | --- |
| | Joints: Structure and Function |

553
(1)

| | |
| --- | --- |
| | Muscles: Structure and Function |

554
(1)
554
(2)

| | |
| --- | --- |
| | Skeleton: Normal Changes of Aging |

554
(2)

| | |
| --- | --- |
| | Muscles: Normal Changes of Aging |

556
(1)

| | |
| --- | --- |
| | Joints, Ligaments, Tendons, and Cartilage: Normal Changes of Aging |

556
(1)

| | |
| --- | --- |
| | Common Musculoskeletal Illnesses of Older Persons |

556
(12)
557
(1)
558
(2)
560
(1)

| | |
| --- | --- |
| | Joint Disorders: Noninflammatory and Inflammatory Categories |

561
(7)

| | |
| --- | --- |
| | Falls and the Older Person |

568
(1)
568
(1)

| | |
| --- | --- |
| | Selected Nursing Diagnoses for Common Musculoskeletal Illnesses of Older Persons |

569
(6)

| | |
| --- | --- |
| | Selected Diagnostic Tests and Values for Musculoskeletal Problems |

572
(3)

| | |
| --- | --- |
| | Common Diagnostic Findings for Musculoskeletal Illnesses |

575
(1)

| | |
| --- | --- |
| | Pharmacology and Nursing Responsibilities |

575
(7)

| | |
| --- | --- |
| | Pharmacology and Nursing Responsibilities for Osteoporosis |

575
(3)

| | |
| --- | --- |
| | Pharmacology and Nursing Responsibilities for Paget's Disease |

578
(1)

| | |
| --- | --- |
| | Pharmacology and Nursing Responsibilities for Osteomalacia |

578
(1)

| | |
| --- | --- |
| | Pharmacology and Nursing Responsibilities for Osteoarthritis |

579
(1)

| | |
| --- | --- |
| | Pharmacology and Nursing Responsibilities for Rheumatoid Arthritis |

579
(1)

| | |
| --- | --- |
| | Disease-Modifying Antirheumatic Drugs |

580
(1)

| | |
| --- | --- |
| | Pharmacology and Nursing Responsibilities for Acute Gout and Chronic Gout |

581
(1)

| | |
| --- | --- |
| | Pharmacological Treatment of Bursitis |

582
(1)

| | |
| --- | --- |
| | Nonpharmacological Treatment of Musculoskeletal Problems |

582
(2)

| | |
| --- | --- |
| | Nonpharmacological Treatment of Osteoporosis |

582
(1)

| | |
| --- | --- |
| | Assessment and Prevention of Risk Factors for Osteoporosis |

582
(1)

| | |
| --- | --- |
| | Nonpharmacological Treatment of Osteomalacia |

583
(1)

| | |
| --- | --- |
| | Nonpharmacological Treatment of Paget's Disease |

584
(1)

| | |
| --- | --- |
| | Healthy People 2010 and Living With Arthritis |

584
(16)

| | |
| --- | --- |
| | Nonpharmacological Treatment of Osteoarthritis |

584
(1)

| | |
| --- | --- |
| | Prevention and Treatment of Osteoarthritis |

585
(2)

| | |
| --- | --- |
| | Nonpharmacological Treatment for Rheumatoid Arthritis |

587
(1)

| | |
| --- | --- |
| | Teaching Guidelines for Rheumatoid Arthritis |

588
(1)

| | |
| --- | --- |
| | Nonpharmacological Treatment to Prevent Falls and Fall-Related Injuries |

588
(2)

| | |
| --- | --- |
| | Treatment of Hip Fractures |

590
(10)
600
(42)
601
(10)

| | |
| --- | --- |
| | Complications of Diabetes Mellitus |

601
(3)
604
(1)

| | |
| --- | --- |
| | Risk Factors for Development of Diabetes Mellitus |

605
(1)
606
(5)
611
(15)
612
(5)

| | |
| --- | --- |
| | Medications Used to Control Diabetes Mellitus |

617
(6)
623
(1)

| | |
| --- | --- |
| | Nonketotic Hyperglycemic-Hyperosmolar Coma |

623
(1)

| | |
| --- | --- |
| | Difficulties in Caring for Older Patients With DM |

624
(1)

| | |
| --- | --- |
| | General Health Promotion for the Older Person With Diabetes |

625
(1)
626
(1)
626
(16)

| | |
| --- | --- |
| | Normal Anatomy and Physiology |

626
(2)

| | |
| --- | --- |
| | Normal Changes of Thyroid Function With Aging |

628
(1)
628
(1)
629
(4)
633
(2)

| | |
| --- | --- |
| | Nursing Diagnoses Associated With Endocrine Problems |

635
(7)

| | |
| --- | --- |
| | The Gastrointestinal System |

642
(42)
643
(3)

| | |
| --- | --- |
| | Common Disorders in Aging |

646
(29)
646
(1)
646
(5)

| | |
| --- | --- |
| | Gastroesophageal Reflux Disease |

651
(7)
658
(4)

| | |
| --- | --- |
| | Lower Gastrointestinal Tract Disorders |

662
(13)

| | |
| --- | --- |
| | Endoscopic Gastrointestinal Procedures |

675
(1)

| | |
| --- | --- |
| | Nursing Diagnoses for Older Patients With Gastrointestinal Tract Problems |

676
(8)
684
(27)
686
(1)

| | |
| --- | --- |
| | Common Disorders in Aging |

686
(12)
688
(6)
694
(1)

| | |
| --- | --- |
| | Chronic Myeloproliferative Disorders |

695
(1)
696
(1)
697
(1)

| | |
| --- | --- |
| | Nursing Assessment of Older Patients With Hematologic Abnormalities |

698
(6)

| | |
| --- | --- |
| | Hypercoagulability and Anticoagulation |

700
(4)

| | |
| --- | --- |
| | Nursing Assessment of the Older Patient With Hypercoagulability |

704
(7)
711
(43)
712
(1)
713
(4)
715
(1)
715
(1)
716
(1)
716
(1)
717
(1)
717
(18)

| | |
| --- | --- |
| | Stages of Alzheimer's Disease and Implications for Nursing Care |

718
(17)
735
(3)
738
(6)
744
(10)
754
(33)
755
(2)

| | |
| --- | --- |
| | Characteristics Unique to the Immune System |

756
(1)
756
(1)

| | |
| --- | --- |
| | Components of the Immune Response |

757
(1)
757
(4)

| | |
| --- | --- |
| | Primary and Secondary Immune Responses |

759
(1)

| | |
| --- | --- |
| | Cell-Mediated Immune Response |

760
(1)

| | |
| --- | --- |
| | Changes in Immunity with Aging |

761
(4)

| | |
| --- | --- |
| | Factors Affecting Aging of the Immune System |

762
(3)

| | |
| --- | --- |
| | Excessive Immune Responses |

765
(5)
766
(4)

| | |
| --- | --- |
| | Deficient Immune Responses |

770
(4)

| | |
| --- | --- |
| | Primary Immunodeficiency Disorders |

770
(3)

| | |
| --- | --- |
| | Secondary Immunodeficiency Disorders |

773
(1)

| | |
| --- | --- |
| | Susceptibility to Infections |

774
(13)
774
(1)
775
(1)
775
(2)
777
(1)
777
(1)
778
(1)

| | |
| --- | --- |
| | Nursing Interventions to Improve Immune Status |

779
(8)

| | |
| --- | --- |
| | Multisystem Problems: Caring for Frail Elders With Comorbidities |

787
(22)
788
(1)
789
(3)

| | |
| --- | --- |
| | Social and Psychological Environments As Contributors to Frailty |

792
(1)

| | |
| --- | --- |
| | Common Diagnoses Associated With Frailty in the Older Adult |

792
(17)

| | |
| --- | --- |
| | Cumulative Effect of Comorbidities |

792
(1)
793
(2)

| | |
| --- | --- |
| | Trajectories of Functional Decline |

795
(1)

| | |
| --- | --- |
| | Frailty and Emotional Health |

796
(1)

| | |
| --- | --- |
| | Frailty, Comorbidities, and Functional Status |

796
(4)
800
(1)

| | |
| --- | --- |
| | Making Treatment Decisions |

801
(1)

| | |
| --- | --- |
| | Acute Illness and Hospitalization |

802
(5)
807
(2)
Conclusion
809
(10)
Appendix A
819
(2)
Appendix B
821
(10)
Index
831