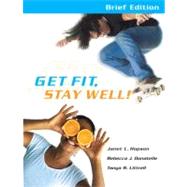 Summary
Get Fit, Stay Well! Brief Editionoffers one of the most modern, reader-focused, flexible, and technology-enhanced approaches to fitness and wellness available today. It is the only fitness and wellness book to employ integrated student-case-studies throughout each chapter. It presents a thoroughly fresh art and photo program featuring strength training photos depicting real, contemporary students, modern-day equipment, and options for those with limited access to equipment. A unique three-pronged (skill acquisition, self-assessment, and plan-for-action) approach to labs helps readers bridge the gap between what they know theyoughtto do and how they actually act. Making Personal Wellness Choices, Understanding Fitness Principles, Committing to Fitness, Conditioning Your Cardiorespiratory System, Building Muscular Strength and Endurance, Maintaining Flexibility and Lower-Back Health, Understanding Body Composition, Improving Your Nutrition, Managing Your Weight, Managing Stress, Reducing Your Risk of Cardiovascular Disease.Intended for those interested in learning the basics of fitness and wellness.
Author Biography
Janet L. Hopson, M.S.
Janet L. Hopson has written or co-written nine books, including six textbooks on general biology for college and high school students. She currently teaches science writing at San Francisco State University, and has also taught writing at two campuses of the University of California. She holds B.A. and M.S. degrees from Southern Illinois University and the University of Missouri. She has won awards for magazine writing, and her articles have appeared in Smithsonian, Psychology Today, Science Digest, Science News, Outside, and elsewhere.
Rebecca J. Donatelle, Ph. D.
Dr. Rebecca (Becky) J. Donatelle is an Associate Professor of Health Promotion and Behavior in the Department of Public Health at Oregon State University in Corvallis, Oregon. She teaches courses in Health Behaviors, Infectious Diseases, Chronic Disease Prevention and Control, and Violence and Public Health, and has taught thousands of students in health-related fields over the years. As a researcher and behavioral scientist with an emphasis on intervention science, much of her work has focused on women's health and the health of elderly populations. Her research has been published in numerous journals, and she has been a guest speaker and presenter at professional conferences throughout the country. Dr. Donatelle is also the author of the highly successful introductory health textbooks Access to Health and Health: The Basics, published by Benjamin Cummings.
Tanya R. Littrell, Ph.D.
Dr. Tanya R. Littrell is a full-time faculty member in Fitness Technology and Physical Education at Portland Community College in Portland, Oregon. Dr. Littrell worked as a fitness director for many years before attending graduate school at Oregon State University, where she earned both a master's degree in Human Performance/Exercise Physiology and a doctoral degree in Exercise Science/Exercise Physiology. Dr. Littrell has been teaching lifetime fitness classes for undergraduates since 1998.
Table of Contents
1. Making Personal Wellness Choices
2. Understanding Fitness Principles
3. Committing to Fitness
4. Conditioning Your Cardiorespiratory System
5. Building Muscular Strength and Endurance
6. Maintaining Flexibility and Lower-Back Health
7. Understanding Body Composition
8. Improving Your Nutrition
9. Managing Your Weight
10. Managing Stress
11. Reducing Your Risk of Cardiovascular Disease