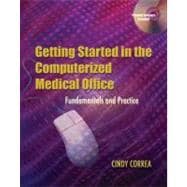 Getting Started in the Computerized Medical Office Fundamentals and Practice
by
Correa, Cindy
Questions About This Book?
Why should I rent this book?
Renting is easy, fast, and cheap! Renting from eCampus.com can save you hundreds of dollars compared to the cost of new or used books each semester. At the end of the semester, simply ship the book back to us with a free UPS shipping label! No need to worry about selling it back.
How do rental returns work?
Returning books is as easy as possible. As your rental due date approaches, we will email you several courtesy reminders. When you are ready to return, you can print a free UPS shipping label from our website at any time. Then, just return the book to your UPS driver or any staffed UPS location. You can even use the same box we shipped it in!
What version or edition is this?
This is the 1st edition with a publication date of 1/25/2005.
What is included with this book?
The Used copy of this book is not guaranteed to include any supplemental materials. Typically, only the book itself is included.
The Rental copy of this book is not guaranteed to include any supplemental materials. You may receive a brand new copy, but typically, only the book itself.
Summary
Getting Started in the Computerized Medical Office: Fundamentals and Practice appeals to those programs needing a more elementary software and approach for students who may not be as adept as others with technology. This reference provides basic hands-on computer skills in a modular unit so instructors can choose to omit it in their class or user it as a review. It allows total flexibility for teaching billing and office management separately and addressing the needs of students to learn medical software and basic computer skills.
Table of Contents
Foreword
xiii
Preface
xv
Acknowledgments
xxv
About the Author
xxvii
How to Use This Book
xxviii
How to Use MOSS Software
xxx

| | |
| --- | --- |
| | Introduction to Computers |

1
(32)
1
(1)
2
(1)

| | |
| --- | --- |
| | The Data Processing Cycle |

2
(2)
4
(2)
4
(1)
5
(1)
6
(4)
6
(2)

| | |
| --- | --- |
| | Random Access Memory (RAM) |

8
(1)

| | |
| --- | --- |
| | Serial, Parallel, and USB Port Connections |

8
(1)

| | |
| --- | --- |
| | Devices for Internet Access |

8
(2)

| | |
| --- | --- |
| | Connecting and Installing Hardware |

10
(1)

| | |
| --- | --- |
| | Using The Computer: A Tour Of Windows |

10
(1)
10
(1)

| | |
| --- | --- |
| | Let's Try It! Booting and Shutting Down the Computer |

11
(8)

| | |
| --- | --- |
| | The Microsoft Windows® Desktop |

10
(2)

| | |
| --- | --- |
| | Application and Document Windows |

12
(1)
12
(4)
16
(2)
18
(1)

| | |
| --- | --- |
| | Let's Try It! Learning to Navigate Windows |

19
(2)
21
(2)
22
(1)

| | |
| --- | --- |
| | Let's Try It! Taking a Look at Windows Explorer |

23
(3)

| | |
| --- | --- |
| | Open and Save Dialog Boxes |

24
(2)

| | |
| --- | --- |
| | Let's Try It! Opening and Saving Files in Windows |

26
(1)
27
(1)

| | |
| --- | --- |
| | Check Your Knowledge---Unit 1 Review |

28
(5)

| | |
| --- | --- |
| | Medical Practice-Management Software |

33
(38)
33
(1)

| | |
| --- | --- |
| | Components of a Practice-Management Software Application |

34
(8)
34
(1)
35
(1)
36
(2)
38
(1)
39
(1)
40
(2)

| | |
| --- | --- |
| | Report Generation (Running Reports) |

42
(1)
42
(1)

| | |
| --- | --- |
| | Advantages and Disadvantages of Computers in the Medical Office |

42
(5)

| | |
| --- | --- |
| | Advantages of Computer Use |

43
(2)

| | |
| --- | --- |
| | Disadvantages of Computer Use |

45
(2)

| | |
| --- | --- |
| | Health Insurance Portability and Accountability Act (HIPAA) |

47
(4)

| | |
| --- | --- |
| | Using Thomson Delmar Learning's Medical Office Simulation Software |

51
(1)

| | |
| --- | --- |
| | Using the Software from the Book |

51
(1)

| | |
| --- | --- |
| | Using the Network Version in a Computer Laboratory or Classroom |

51
(1)

| | |
| --- | --- |
| | Let's Try It! Logon Procedure for MOSS Network Version |

51
(2)

| | |
| --- | --- |
| | Let's Try It! Navigating Thomson Delmar Learning's Medical Office Simulation Software |

53
(6)

| | |
| --- | --- |
| | Using Help Captions and Feedback Features |

59
(2)

| | |
| --- | --- |
| | Let's Try It! Data Entry Guidelines |

61
(4)
65
(1)

| | |
| --- | --- |
| | Check Your Knowledge---Unit 2 Review |

66
(5)

| | |
| --- | --- |
| | Basic Management Concepts for Medical Administrative Staff |

71
(42)
71
(1)

| | |
| --- | --- |
| | The Back Office and the Front Office |

71
(1)

| | |
| --- | --- |
| | Basic Principles of Appointment Scheduling |

72
(8)

| | |
| --- | --- |
| | Established and New Patients |

72
(1)

| | |
| --- | --- |
| | Information Details for Appointment Scheduling |

73
(2)

| | |
| --- | --- |
| | Factors that Affect Appointment Scheduling |

75
(1)

| | |
| --- | --- |
| | Situations that Complicate Appointment Scheduling |

76
(1)

| | |
| --- | --- |
| | Appointment Scheduling Tools |

77
(3)

| | |
| --- | --- |
| | Let's Try It! Navigating the Appointment Scheduler |

80
(6)

| | |
| --- | --- |
| | Let's Try It! Scheduling Appointments for Established Patients |

86
(6)

| | |
| --- | --- |
| | Let's Try It! Scheduling Appointments for New Patients |

92
(6)

| | |
| --- | --- |
| | Let's Try It! Searching and Rescheduling Patient Appointments |

98
(4)

| | |
| --- | --- |
| | Let's Try It! Review and Practice: Scheduling Appointments |

102
(1)

| | |
| --- | --- |
| | Flow of the Office: The Information Cycle |

103
(6)

| | |
| --- | --- |
| | Preparing for Patient Visits: The Day Before Appointments |

103
(1)

| | |
| --- | --- |
| | Preparing Files for Established Patients |

104
(1)

| | |
| --- | --- |
| | Patient Hours: The Check-in and Check-out Process |

105
(3)

| | |
| --- | --- |
| | The Reimbursement Process |

108
(1)
109
(1)

| | |
| --- | --- |
| | Check Your Knowledge---Unit 3 Review |

109
(4)

| | |
| --- | --- |
| | Fundamentals of Medical Insurance |

113
(26)
113
(1)

| | |
| --- | --- |
| | General Information about Medical Insurance |

114
(2)

| | |
| --- | --- |
| | Group and Individual Plans |

116
(1)

| | |
| --- | --- |
| | Common Types of Medical Insurance Plans |

116
(8)
116
(1)

| | |
| --- | --- |
| | Reimbursement and Indemnity Plans |

117
(2)
119
(3)

| | |
| --- | --- |
| | Consumer-Driven Health Plans |

122
(2)
124
(6)

| | |
| --- | --- |
| | Important Details About Medicare |

125
(1)

| | |
| --- | --- |
| | The Original Medicare Plan |

125
(4)
129
(1)
130
(1)

| | |
| --- | --- |
| | Insurance Plans Used for Book Simulations |

130
(4)
131
(1)
131
(1)
132
(1)
132
(1)
132
(2)
134
(1)

| | |
| --- | --- |
| | Check Your Knowledge---Unit 4 Review |

134
(5)

| | |
| --- | --- |
| | Patient Registration and Data Entry |

139
(58)
139
(1)

| | |
| --- | --- |
| | The Patient Registration Process |

140
(3)
140
(3)

| | |
| --- | --- |
| | Let's Try It! Registering Patients in the Office |

143

| | |
| --- | --- |
| | Case Studies: New Patients |

141
(37)

| | |
| --- | --- |
| | Case Study 5--A--Montner, Martin |

141
(7)

| | |
| --- | --- |
| | Special Notes Regarding Case Study 5--A |

148
(1)

| | |
| --- | --- |
| | Case Study 5--B---Adams, Minnie |

149
(6)

| | |
| --- | --- |
| | Special Notes Regarding Case Study 5--B |

155
(1)

| | |
| --- | --- |
| | Case Study 5--C---Corbett, Melissa |

155
(5)

| | |
| --- | --- |
| | Case Study 5--D---Zuhl, Rodney |

160
(3)

| | |
| --- | --- |
| | Case Study 5--E---Tomanaga, Marie |

163
(6)

| | |
| --- | --- |
| | Case Study 5--F---Villanova, Ricky |

169
(2)

| | |
| --- | --- |
| | Case Study 5--G---Pradhan, Kabin |

171
(3)

| | |
| --- | --- |
| | Case Study 5--H---Beals, Kimberly |

174
(2)

| | |
| --- | --- |
| | Case Study 5--I---Kinzler, Linda |

176
(2)

| | |
| --- | --- |
| | Services Rendered Outside the Office |

178
(5)

| | |
| --- | --- |
| | The Physician as an Information Source |

179
(1)

| | |
| --- | --- |
| | New Patients at Outside Facilities |

180
(3)

| | |
| --- | --- |
| | Let's Try It! Patients at Outside Facilities |

183
(2)

| | |
| --- | --- |
| | Registering New Patients Who Receive Services Out-of-Office |

185
(9)

| | |
| --- | --- |
| | Case Study 5--J---Tate, Jason |

185
(1)

| | |
| --- | --- |
| | Case Study 5--K---Munoz, Geraldo |

186
(2)

| | |
| --- | --- |
| | Case Study 5--L---Ruhl, Mary |

188
(2)

| | |
| --- | --- |
| | Case Study 5--M---Mallory, Christina |

190
(2)

| | |
| --- | --- |
| | Case Study 5--N---Goodnow, Leona |

192
(2)
194
(1)

| | |
| --- | --- |
| | Check Your Knowledge---Unit 5 Review |

194
(3)

| | |
| --- | --- |
| | Procedure Posting Routines |

197
(84)
197
(1)
198
(2)

| | |
| --- | --- |
| | Let's Try It! Posting Procedure Charges |

200
(1)

| | |
| --- | --- |
| | Case Study 6--A---Posting Procedures: Practice, Patty |

200
(15)
206
(2)

| | |
| --- | --- |
| | Posting Payments at the Time of Service |

208
(5)

| | |
| --- | --- |
| | Scheduling Follow-up Appointments |

213
(2)

| | |
| --- | --- |
| | Case Study 6--B---Manaly, Richard |

215
(4)

| | |
| --- | --- |
| | Case Study 6--C---Montner, Martin |

219
(4)

| | |
| --- | --- |
| | Case Study 6--D---Conway, John |

223
(3)

| | |
| --- | --- |
| | Case Study 6--E---Shektar, Paula |

226
(4)

| | |
| --- | --- |
| | Case Study 6--F---Villanova, Ricky |

230
(4)

| | |
| --- | --- |
| | Case Study 6--G---Adams, Minnie |

234
(3)

| | |
| --- | --- |
| | Case Study 6--H---Worthington, Cynthia |

237
(4)

| | |
| --- | --- |
| | Case Study 6--I---Zuhl, Rodney |

241
(3)

| | |
| --- | --- |
| | Case Study 6--J---Shinn, Robert |

244
(3)

| | |
| --- | --- |
| | Case Study 6--K---Pradhan, Kabin |

247
(2)

| | |
| --- | --- |
| | Case Study 6--L---Tomanaga, Marie |

249
(4)

| | |
| --- | --- |
| | Case Study 6--M---Beals, Kimberly |

253
(2)

| | |
| --- | --- |
| | Case Study 6--N---Gordon, Eric |

255
(1)

| | |
| --- | --- |
| | Case Study 6--O---Ybarra, Elane |

256
(2)

| | |
| --- | --- |
| | Case Study 6--P---Kinzler, Linda |

258
(2)

| | |
| --- | --- |
| | Case Study 6--Q---James, David |

260
(3)

| | |
| --- | --- |
| | Let's Try It! Posting Charges for Services Outside the Office |

263
(1)

| | |
| --- | --- |
| | Outside Facility Case Studies |

263
(4)

| | |
| --- | --- |
| | Case Study 6--R---Blanc, Francois |

263
(2)

| | |
| --- | --- |
| | Case Study 6--S---Chang, Xao |

265
(1)

| | |
| --- | --- |
| | Case Study 6--T---Pinkston, Anna |

266
(1)

| | |
| --- | --- |
| | Using Extended Billing Information |

267
(11)

| | |
| --- | --- |
| | Case Study 6--U---Tate, Jason |

268
(2)

| | |
| --- | --- |
| | Case Study 6--V---Munoz, Geraldo |

270
(3)

| | |
| --- | --- |
| | Case Study 6--W---Ruhl, Mary |

273
(2)

| | |
| --- | --- |
| | Case Study 6--X---Mallory, Christina |

275
(2)

| | |
| --- | --- |
| | Case Study 6--Y---Goodnow, Leona |

277
(1)
278
(1)

| | |
| --- | --- |
| | Check Your Knowledge---Unit 6 Review |

279
(2)

| | |
| --- | --- |
| | Insurance Billing Routines |

281
(38)
281
(1)

| | |
| --- | --- |
| | The Claims Management Process |

282
(1)

| | |
| --- | --- |
| | Requirements for Insurance Claims Submission |

283
(1)

| | |
| --- | --- |
| | Provider Identification Numbers |

284
(1)
284
(8)
285
(7)

| | |
| --- | --- |
| | Preparing Claims for Submission |

292
(1)

| | |
| --- | --- |
| | Let's Try It! Preparing Paper Claim Forms for Consumer HRA |

293
(4)

| | |
| --- | --- |
| | Let's Try It! Sending Medicare Claims Electronically |

297
(5)

| | |
| --- | --- |
| | Let's Try It! Sending Signal HMO Claims Electronically |

302
(4)

| | |
| --- | --- |
| | Let's Try It! Sending FlexiHealth PPO In-Network Claims Electronically |

306
(4)

| | |
| --- | --- |
| | Let's Try It! Sending FlexiHealth PPO Out-of-Network Claims Electronically |

310
(3)
313
(1)

| | |
| --- | --- |
| | Check Your Knowledge---Unit 7 Review |

314
(5)

| | |
| --- | --- |
| | Posting Payments and Secondary Insurance Billing |

319
(56)
319
(1)

| | |
| --- | --- |
| | Payments from Insurance Companies |

320
(2)

| | |
| --- | --- |
| | Components of the Explanation of Benefits |

320
(2)

| | |
| --- | --- |
| | Posting Medicare Payments |

322
(1)

| | |
| --- | --- |
| | Let's Try It! Posting Medicare Payments---Minnie Adams |

322
(7)

| | |
| --- | --- |
| | Let's Try It! Posting Medicare Payments---All Patients |

329
(6)

| | |
| --- | --- |
| | Let's Try It! Applying Deductibles for Medicare |

335
(4)

| | |
| --- | --- |
| | Reading a General Explanation of Benefits (EOB) |

339
(1)

| | |
| --- | --- |
| | Let's Try It! Using a General EOB to Post Deductibles for Out-of-Network Services---Stanley Kramer |

340
(4)

| | |
| --- | --- |
| | Let's Try It! Using a General EOB to Post an In-Network FlexiHealth PPO Payment---Linda Kinzler |

344
(2)

| | |
| --- | --- |
| | Let's Try It! Posting Payments for Multiple Patients Listed on One EOB |

346
(6)

| | |
| --- | --- |
| | Let's Try It! Posting Payments from HRA Plans |

352
(5)

| | |
| --- | --- |
| | Coordination of Benefits and Secondary Billing |

357
(3)

| | |
| --- | --- |
| | Determining Primary and Secondary Payer |

358
(2)

| | |
| --- | --- |
| | Secondary Insurance Billing Routines |

360
(1)

| | |
| --- | --- |
| | Processing Secondary Insurance Claims |

360
(1)

| | |
| --- | --- |
| | Let's Try It! Sending Secondary Claims to Century SeniorGap |

360
(5)

| | |
| --- | --- |
| | Let's Try It! Preparing and Processing Secondary Claims---Richard Manaly |

365
(2)

| | |
| --- | --- |
| | Let's Try It! Preparing and Processing Secondary Claims---Mary Ruhl |

367
(2)

| | |
| --- | --- |
| | Let's Try It! Printing Secondary Claims for the Patient Record |

369
(1)
370
(1)

| | |
| --- | --- |
| | Check Your Knowledge---Unit 8 Review |

371
(4)

| | |
| --- | --- |
| | Patient Billing and Collections |

375
(52)
375
(1)

| | |
| --- | --- |
| | Discussing Financials with Patients |

376
(2)

| | |
| --- | --- |
| | Let's Try It! Role Play Financial Discussions with Patients |

378
(1)

| | |
| --- | --- |
| | Preparing Patient Statements |

379
(3)
379
(1)
380
(1)

| | |
| --- | --- |
| | Reports as Tools for Preparing Statements |

381
(1)

| | |
| --- | --- |
| | Let's Try It! Generating Reports for Evaluating Patient Accounts |

382
(8)

| | |
| --- | --- |
| | Let's Try It! Preparing Patient Statements with Dunning Messages |

390
(6)
396
(2)
397
(1)

| | |
| --- | --- |
| | Let's Try It! Posting Payments from Patients---Rodney Zuhl |

398
(4)

| | |
| --- | --- |
| | Let's Try It! Posting Payments---All Remaining Patients |

402
(9)
402
(2)
404
(2)
406
(1)
407
(2)
409
(1)
410
(1)

| | |
| --- | --- |
| | Aging Patient Accounts and Collections |

411
(3)
411
(1)

| | |
| --- | --- |
| | Writing Collections Letters |

412
(2)

| | |
| --- | --- |
| | Let's Try It! Generating Reports for Aging Accounts |

414
(1)

| | |
| --- | --- |
| | Let's Try It! Writing Collections Letters |

415
(4)

| | |
| --- | --- |
| | Do's and Don'ts of Telephone Collections |

418
(1)

| | |
| --- | --- |
| | Let's Try It! Role-Play Telephone Collections Calls |

419
(3)
422
(1)

| | |
| --- | --- |
| | Check Your Knowledge---Unit 9 Review |

423
(4)

| | |
| --- | --- |
| | Secondary Insurance Payments, Claims Follow-Up, and Dispute Resolution |

427
427
(1)

| | |
| --- | --- |
| | Payments from Secondary Insurance Carriers |

428
(1)

| | |
| --- | --- |
| | Let's Try It! Posting Secondary Insurance Payments from Century SeniorGap---Geraldo Munoz and Marie Tomanaga |

428
(4)
432
(3)

| | |
| --- | --- |
| | Let's Try It! Posting Secondary Insurance Payments from Medicaid---Francois Blanc, Xao Chang, and Anna Pinkston |

435
(5)

| | |
| --- | --- |
| | Let's Try It! Posting Secondary Insurance Payments from Medicare---Richard Manaly and Mary Ruhl |

440
(5)

| | |
| --- | --- |
| | Tracking and Follow-Up of Outstanding Insurance Claims |

445
(1)
445
(2)

| | |
| --- | --- |
| | Disputing Payment Decisions |

447
(1)

| | |
| --- | --- |
| | Claims Review and Appeals |

447
(3)

| | |
| --- | --- |
| | Assertive Collections Tactics |

450
(2)

| | |
| --- | --- |
| | Let's Try It! Using Reports to Track Insurance Payments |

452
(2)

| | |
| --- | --- |
| | Let's Try It! Documenting Tracking and Follow-Up Information for Outstanding Insurance Claims |

454
(1)

| | |
| --- | --- |
| | Let's Try It! Rebilling Outstanding Insurance Claims after Follow-Up |

455
(1)
456
(1)

| | |
| --- | --- |
| | Check Your Knowledge---Unit 10 Review |

457