Note: Supplemental materials are not guaranteed with Rental or Used book purchases.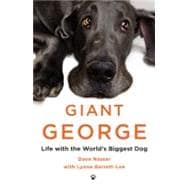 Summary
With his big blue eyes and soulful expression, George was the irresistible runt of the litter. But Dave and Christie Nasser's "baby" ended up being almost five feet tall, seven feet long, and 245 pounds. Eager to play, and boisterous to the point of causing chaos, this big Great Dane was scared of water, scared of dogs a fraction of his size and, most of all, scared of being alone. GIANT GEORGE is the charming story of how this precocious puppy won Dave and Christie's hearts and along the way became a doggie superstar. In 2010, George was named by Guinness World Records as the Tallest Dog in the World- ever.He appeared on Oprah,and even has his own global fan club. But to Dave and Christie, this extraordinary animal is still their beloved pet, the one who has made them laugh, made them cry, and continues to make them incredibly happy.
Table of Contents
Life's Mistakes
p. 1
Things That Go "Bark" in the Night
p. 19
Home Sweet Home
p. 31
It's a Jungle Out There
p. 43
Honey, I Shrunk the House
p. 52
The Birds and the Bees
p. 63
Party Animal
p. 73
The Road Less Traveled
p. 85
Maybe, Baby
p. 99
Into Each Life...
p. 106
...Some Rain Must Fall
p. 116
From Little Acorns
p. 130
Guinness on Tap
p. 142
And Baby Makes Four
p. 152
The Rising of a Star
p. 161
Be Careful What You Wish For
p. 171
The Dark Side of Fame
p. 180
Every Dog Has His Day
p. 191
Love Me, Love My Dog
p. 205
It's a Small World After All
p. 218
Showtime
p. 229
And the Winner Is...
p. 238
Epilogue
p. 251
Acknowledgments
p. 257
About the Author
p. 259
Table of Contents provided by Ingram. All Rights Reserved.