Note: Supplemental materials are not guaranteed with Rental or Used book purchases.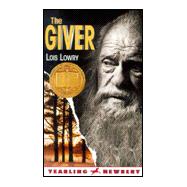 Summary
In a world of perfection and control, where each person is assigned a role, 12-year-old Jonas is singled out to receive special training from The Giver, who alone holds the memories of the true pain and pleasure of life. It's time for Jonas to receive the truth. Among this classic's many honors is the Newbery Medal.
Author Biography
Lois Lowry is a multi-award-winning author who has written many popular books. She lives in Cambridge, Massachusetts. She is the author of the popular Anastasia Krupnik books and was the recipient of the Newbery Medal for <i>Number the Stars</i> and for <i>The Giver</i>.
Table of Contents
Context
p. 1
Plot Overview
p. 5
Character List
p. 9
Analysis of Major Characters
p. 11
Jonas
p. 11
The Giver
p. 12
Jonas's Father
p. 13
Themes, Motifs & Symbols
p. 15
The Importance of Memory
p. 15
The Relationship Between Pain and Pleasure
p. 15
The Importance of the Individual
p. 16
Vision
p. 16
Nakedness
p. 17
Release
p. 17
The Newchild Gabriel
p. 18
The Sled
p. 18
The River
p. 18
Summary & Analysis
p. 19
Chapters 1-2
p. 19
Chapters 3-4
p. 22
Chapters 5-6
p. 25
Chapters 7-9
p. 28
Chapters 10-11
p. 32
Chapters 12-13
p. 35
Chapters 14-16
p. 39
Chapters 17-18
p. 42
Chapters 19-20
p. 46
Chapters 21-23
p. 48
Important Quotations Explained
p. 53
Key Facts
p. 59
Study Questions & Essay Topics
p. 62
Study Questions
p. 62
Suggested Essay Topics
p. 66
Review & Resources
p. 68
Quiz
p. 68
Suggestions for Further Reading
p. 74
Table of Contents provided by Ingram. All Rights Reserved.
Excerpts
An Excerpt from The Giver
        "Jonas," she said, speaking not to him alone but to the entire community
        of which he was a part, "you will be trained to be our next Receiver of
        Memory. We thank you for your childhood."
        Then she turned and left the stage, left him there alone, standing and
        facing the crowd, which began spontaneously the collective murmur of his
        "Jonas." It was a whisper at first: hushed, barely audible. "Jonas. Jonas."
        Then louder, faster. "JONAS. JONAS. JONAS."
        With the chant, Jonas knew, the community was accepting him and his new
        role, giving him life, the way they had given it to the newchild Caleb.
        His heart swelled with gratitude and pride.
        But at the same time he was filled with fear. He did not know what his
        selection meant. He did not know what he was to become.
        Or what would become of him.        
---

Excerpted from The Giver by Lois Lowry
All rights reserved by the original copyright owners. Excerpts are provided for display purposes only and may not be reproduced, reprinted or distributed without the written permission of the publisher.