Note: Supplemental materials are not guaranteed with Rental or Used book purchases.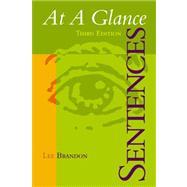 At a Glance: Sentences
ISBN13:
9780618542260
by
BRANDON
Summary
Quick, comprehensive writing guidance at a low cost--theAt a Glanceseries can be paired with any developmental title or used independently. This flexible series includes a separate textbook for sentences, paragraphs, essays, and a reader. Each book features clear, concise instruction reinforced by extensive practice, exercises, and examples. The Third Edition ofAt Glance: Sentencescontinues to focus on the essential grammar and sentence mechanics. In addition, the text features twenty-six new exercises in sentence writing, a section on sentence variety, and new suggested writing topics. Straightforward advice on writing, with extensive practice and abundant explanations and examples. A clear, concise discussion of writing strategies includes examples from student writing to illustrate all stages of the writing process. Classroom-tested exercises help students with sentence, paragraph and essay organization. Career-related and reading-related writing assignments capture students' interest, and questions on the readings stimulate discussion, writing, and critical thinking. A self-evaluation chart helps students measure their own writing progress and identify their difficulties. A writer's checklist at the end of every chapter outlines the stages of the writing process.
Table of Contents
Note: Each chapter concludes with a Chapter Review
Parts of Speech Nouns Pronouns Verbs Adjectives Adverbs Prepositions Conjunctions Interjections
Subjects and Verbs Subjects Verbs Location of Subjects and Verbs
Kinds of Sentences Clauses Types of Sentences
Combining Sentences Coordination: The Compound Sentence Subordination: The Complex Sentence Coordination and Subordination: The Compound-Complex Sentence Other Ways to Combine Ideas Omissions: When Parts are Missing Variety in Sentences: Types, Order, Length, Beginnings
Correcting Fragments, Comma Splices, and Run-Ons Fragments Comma Splices and Run-Ons
Balancing Sentence Parts Basic Principles of Parallelism Signal Words Combination Signal Words
Verbs Regular and Irregular Verbs "Problem" Verbs The Twelve Verb Tenses At A Glance Community Dialects and Standard Usage Subject-Verb Agreement Consistency in Tense Active and Passive Voice Strong Verbs
Pronouns Pronoun Case Pronoun-Antecedent Agreement Pronoun Reference
Adjectives and Adverbs Selecting Adjectives and Adverbs Comparative and Superlative Forms Dangling and Misplaced Modifiers
Punctuation and Capitalization End Punctuation Commas Semicolons Quotation Marks Punctuation with Quotation Marks Italics Dashes Colons Parentheses Brackets Apostrophes Hyphens Capitalization
Spelling and Commonly Confused Words Spelling Tips Frequently Misspelled Words Confused Spelling/Confusing Words Wordy Phrases
The Writing Process: Paragraphs and Essays The Paragraph and Essay Defined The Writing Process Common Paragraph Patterns A Variety of Writing Topics
Table of Contents provided by Publisher. All Rights Reserved.