Note: Supplemental materials are not guaranteed with Rental or Used book purchases.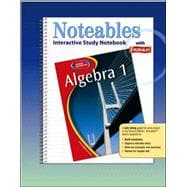 Glencoe Algebra 1, Noteables: Interactive Study Notebook with Foldables
ISBN13:
9780078682100
by
Unknown
Glencoe/McGraw-Hill School Pub
Questions About This Book?
What version or edition is this?
This is the 1st edition with a publication date of 8/20/2004.
What is included with this book?
The New copy of this book will include any supplemental materials advertised. Please check the title of the book to determine if it should include any CDs, lab manuals, study guides, etc.
The Used copy of this book is not guaranteed to include any supplemental materials. Typically, only the book itself is included.
Summary
Noteables TM : Interactive Study Notebook with Foldables TM is a complete note-taking system with guided note taking for every lesson?in a workbook format. Plus, vocabulary builder and a chapter test preparation section are included for every chapter.
Table of Contents
1
(1)
2
(2)

| | |
| --- | --- |
| | Variables and Expressions |

4
(2)
6
(3)
9
(2)

| | |
| --- | --- |
| | Identity and Equality Properties |

11
(2)

| | |
| --- | --- |
| | The Distributive Property |

13
(2)

| | |
| --- | --- |
| | Commutative and Associative Properties |

15
(2)
17
(2)
19
(3)

| | |
| --- | --- |
| | Analyzing Data by Using Tables and Graphs |

22
(10)
25
(4)
29
(1)
30
(2)

| | |
| --- | --- |
| | Rational Numbers on the Number Line |

32
(2)

| | |
| --- | --- |
| | Adding and Subtracting Rational Numbers |

34
(2)

| | |
| --- | --- |
| | Multiplying Rational Numbers |

36
(2)

| | |
| --- | --- |
| | Dividing Rational Numbers |

38
(2)

| | |
| --- | --- |
| | Displaying and Analyzing Data |

40
(3)

| | |
| --- | --- |
| | Simple Probability and Odds |

43
(3)

| | |
| --- | --- |
| | Square Roots and Real Numbers |

46
(10)
49
(4)
53
(1)
54
(2)
56
(3)

| | |
| --- | --- |
| | Solving Equations by Using + and - |

59
(2)

| | |
| --- | --- |
| | Solving Equations by Using x and ÷ |

61
(3)

| | |
| --- | --- |
| | Solving Multi-Step Equations |

64
(3)

| | |
| --- | --- |
| | Solving Equations with the Variable on Each Side |

67
(2)
69
(3)
72
(2)

| | |
| --- | --- |
| | Solving Equations and Formulas |

74
(3)
77
(9)
79
(4)
83
(1)
84
(2)
86
(2)
88
(4)
92
(3)
95
(2)

| | |
| --- | --- |
| | Graphing Linear Equations |

97
(3)
100
(2)
102
(2)

| | |
| --- | --- |
| | Writing Equations from Patterns |

104
(10)
107
(4)
111
(1)
112
(2)
114
(2)

| | |
| --- | --- |
| | Slope and Direct Variation |

116
(2)
118
(3)

| | |
| --- | --- |
| | Writing Equations in Slope-Intercept Form |

121
(2)
123
(2)

| | |
| --- | --- |
| | Parallel and Perpendicular Lines |

125
(3)

| | |
| --- | --- |
| | Scatter Plots and Lines of Fit |

128
(10)
131
(4)
135
(1)
136
(2)

| | |
| --- | --- |
| | Solving Inequalities by + and - |

138
(3)

| | |
| --- | --- |
| | Solving Inequalities by x and ÷ |

141
(2)

| | |
| --- | --- |
| | Solving Multi-Step Inequalities |

143
(2)

| | |
| --- | --- |
| | Solving Compound Inequalities |

145
(3)

| | |
| --- | --- |
| | Solving Open Sentences Involving Absolute Value |

148
(2)

| | |
| --- | --- |
| | Graphing Inequalities in Two Variables |

150
(9)
153
(4)
157
(1)
158
(1)

| | |
| --- | --- |
| | Graphing Systems of Equations |

159
(2)
161
(3)

| | |
| --- | --- |
| | Elimination Using + and - |

164
(2)

| | |
| --- | --- |
| | Elimination Using Multiplication |

166
(2)

| | |
| --- | --- |
| | Graphing Systems of Inequalities |

168
(10)
171
(4)
175
(1)
176
(2)
178
(3)
181
(2)
183
(2)
185
(3)

| | |
| --- | --- |
| | Add and Subtract Polynomials |

188
(2)

| | |
| --- | --- |
| | Multiplying a Polynomial by a Monomial |

190
(2)
192
(3)
195
(8)
197
(4)
201
(1)
202
(1)
203
(3)

| | |
| --- | --- |
| | Factoring Using the Distributive Property |

206
(2)

| | |
| --- | --- |
| | Factoring Trinomials: x2 + bx + c |

208
(2)

| | |
| --- | --- |
| | Factoring Trinomials: ax2 + bx + c |

210
(3)

| | |
| --- | --- |
| | Factoring Differences of Squares |

213
(2)

| | |
| --- | --- |
| | Perfect Squares and Factoring |

215
(11)
219
(4)
223
(1)
224
(2)

| | |
| --- | --- |
| | Graphing Quadratic Functions |

226
(3)

| | |
| --- | --- |
| | Solving Quadratic Equations by Graphing |

229
(3)

| | |
| --- | --- |
| | Solving Quadratic Equations by Completing the Square |

232
(3)

| | |
| --- | --- |
| | Solving Quadratic Equations by Using the Quadratic Formula |

235
(3)
238
(3)
241
(3)
244
(10)
247
(4)
251
(1)
252
(2)

| | |
| --- | --- |
| | Simplifying Radical Expressions |

254
(3)

| | |
| --- | --- |
| | Operations with Radical Expressions |

257
(2)
259
(2)
261
(3)
264
(2)
266
(3)
269
(10)
273
(4)
277
(1)
278
(1)
279
(3)
282
(2)

| | |
| --- | --- |
| | Multiplying Rational Expressions |

284
(2)

| | |
| --- | --- |
| | Dividing Rational Expressions |

286
(3)
289
(2)

| | |
| --- | --- |
| | Rational Expressions with Like Denominators |

291
(2)

| | |
| --- | --- |
| | Rational Expressions with Unlike Denominators |

293
(3)

| | |
| --- | --- |
| | Mixed Expressions and Complex Fractions |

296
(2)

| | |
| --- | --- |
| | Solving Rational Equations and Inequalities |

298
(10)
301
(4)
305
(1)
306
(2)
308
(2)
310
(3)
313
(2)
315
(2)
317
(9)
320
(3)
323
(1)
324
(2)
326
(2)

| | |
| --- | --- |
| | Permutations and Combinations |

328
(2)

| | |
| --- | --- |
| | Probabilities of Compound Events |

330
(3)

| | |
| --- | --- |
| | Probability Distributions |

333
(2)
335
(3)
338