Note: Supplemental materials are not guaranteed with Rental or Used book purchases.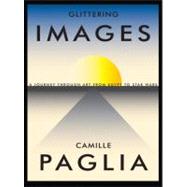 Glittering Images : A Journey Through Art from Egypt to Star Wars
ISBN13:
9780375424601
by
Paglia, Camille
Questions About This Book?
What version or edition is this?
This is the edition with a publication date of 10/16/2012.
What is included with this book?
The New copy of this book will include any supplemental materials advertised. Please check the title of the book to determine if it should include any CDs, lab manuals, study guides, etc.
Summary
In her groundbreaking Sexual Personae, Camille Paglia turned her incisive eye on beauty and decadence in literature, art, and popular culture. Now, America's premier intellectual provocateur returns to the subject that brought her fame, tackling the great themes of Western art in an enthralling tour through more than two dozen seminal images, some famous and others obscure or unknown. With energy, erudition, and wit, Paglia leads us chronologically through the paintings, sculptures, architectural styles, performance pieces, and digital art that have defined and transformed our visual world. She combines close analysis with background that situates each artist and image within its historical context-from an Egyptian tomb to Titian's "Venus With a Mirror;" from an elegant French Rococo interior to Jackson Pollock's abstract "Green Silver;" from Renee Cox's daring performance piece "Chillin' with Liberty" to Eleanor Antin's amusing conceptual art project "100 Boots." In a stunning ending, Paglia declares that the avant-garde tradition is dead and that director George Lucas, creator of Star Wars, is the world's greatest living artist. Brilliantly concise and lucidly designed for general readers and students, this continually surprising book deciphers the messages of the cultural code over the past 3000 years, and once again confirms Camille Paglia's inimitable talent for overturning the received wisdom of her predecessors. Beautifully written, passionately argued, and filled with Paglia's trademark audacity, Glittering Imagesis destined to change the way we think about our visual environment in this high-tech age.
Table of Contents
Introduction
p. vii
Resurrection: Queen Nefertari
p. 3
Mystic Vision: Idols of the Cyclades
p. 11
The Race: Charioteer of Delphi
p. 15
Roof of Air: Porch of the Maidens
p. 21
God's Snare: Laocoön
p. 27
Sky of Gold: Saint John Chrysostom
p. 33
Living Letters: The Book of Kells
p. 39
Solitary Watcher: Donatello, Mary Magdalene
p. 43
Island of Love: Titian, Venus with a Mirror
p. 49
Lord of the Sea: Agnolo Bronzino, Portrait of Andrea Doria as Neptune
p. 53
Blaze of Glory: Gian Lorenzo Bernini, Chair of Saint Peter
p. 59
Satin Knights: Anthony Van Dyck, Lord John Stuart and his Brother, Lord Bernard Stuart
p. 67
Swirling Line: The French Rococo
p. 73
Martyr of the Revolution: Jacques-Louis David, The Death of Marat
p. 79
Arctic Ruin: Caspar David Friedrich, The Sea of Ice
p. 85
City in Motion: Édouard Manet, At the Café
p. 91
Melting Color: Claude Monet, Irises
p. 97
Heaven and Hell: Pablo Picasso, Les Demoiselles d'Avignon
p. 103
Heart of Stone: George Grosz, Life Makes You Happy!
p. 109
Dance of the Mind: Tamara de Lempicka, Portrait of Doctor Boucard
p. 115
Luncheon in the Twilight Zone: René Magritte, The Portrait
p. 121
Romance of the Grid: Piet Mondrian, Composition with Red, Blue, and Yellow
p. 127
Elegance at Ease: John Wesley Hardrick, Xenia Goodloe
p. 133
Shooting Stars: Jackson Pollock, Green Silver
p. 139
Sun and Rain: Andy Warhol, Marilyn Diptych
p. 147
On the Road: Eleanor Antin, 100 Boots
p. 155
Electric: Walter De Maria, The Lightning Field
p. 165
Blue Dawn: Renée Cox, Chillin' with Liberty
p. 173
Red River: George Lucas, Revenge of the Sith
p. 181
Acknowledgments
p. 191
Index
p. 193
Table of Contents provided by Ingram. All Rights Reserved.
Excerpts
From Chapter 1
Resurrection
Queen Nefertari

Ghosts carved out of time. Egyptian art is a vast ruin of messages from the dead. Clean and simple in form, Egyptian painted figures float in an abstract space that is neither here nor there. The background is coolly blank. Everything is flattened into the foreground, an eternal present where serenely smiling pharaohs offer incense and spools of flax to the gods or drive their chariot wheels over fallen foes. Hieroglyphics hang in midair, clusters of sharp pictograms of a rope, reed, bun, viper, owl, human leg, or mystic eye.

Resurrection was the master value of a civilization that dreamed of conquering the terrors of death. At the heart of Egyptian religion was a corpse—the mummy of the great god Osiris, swaddled in linen strips. Osiris was murdered and dismembered by his evil brother, Set, who scattered his fourteen body parts throughout Egypt. Isis, Osiris's sister and devoted wife, collected and reassembled them—except for the missing penis, which she fabricated in wood or clay. As Osiris's embalmer and enhancer, therefore, Isis acted as a resourceful proto-artist, assembling materials and molding a work of mummiform sculpture that would be reproduced in Egyptian art and cult for three thousand years.

Passage to the afterlife meant a descent to the underworld. Souls hoping for rebirth invoked Osiris and literally became him. Despite its preoccupation with death, Egyptian art is rarely claustrophobic. The beyond was no spectral twilight but a lively zone of physical needs and pleasures. Warehousing stools, chairs, tables, chests, clothing, perfumes, ointments, jewelry, games, daggers, boomerangs, chariots, and jars of extracted viscera, the tomb was a distillation of real life. The urbane aristocrats promenading across the walls are wide-eyed and cheerful as they face the great unknown. Their majestically enthroned guardian gods often seem faintly comic, with the large heads of birds, beetles, or hippopotamuses, vestiges of primitive animism.

Resurrection also symbolizes our modern recovery of Egypt. For a millennium after the fall of Rome, Egypt was wrapped in a haze of occult legend. After Islam's arrival, it became a closed world whose pagan remains were ignored and neglected. Napoleon's 1798 invasion helped start Egyptology: a French officer's discovery of the Rosetta Stone led to the decipherment of hieroglyphics, while the immense, multivolumed report by Napoleon's team of surveyors and scientists set off a craze for Egyptian style that swept European architecture and decor and would even produce America's Washington Monument. Over the next century, thanks to photography, knowledge of Egypt was gradually spread throughout the world. The ancient Egyptians have finally achieved their immortality.

From earliest times through the Middle Kingdom, the rulers of Egypt were buried in sprawling necropolises at the desert's edge near the Delta, as the Nile fans out -toward the sea. The principal sacred districts were at Saqqara and Giza, where the Great Sphinx, hacked out of bedrock, still guards Chephren's mammoth pyramid. After a devastating Syrian invasion, the capital of Egypt was moved four hundred miles south to Thebes. There the upstart warrior pharaohs of the New Kingdom created their own cemetery facing toward the setting sun across the Nile—the Valley of the Kings, scarcely more than a dry gulch behind the high, horned escarpment of the Libyan Plateau. Pyramids or telltale markers of any kind were prudently avoided. The coffins were buried deep in the rock and the entryways heaped with rubble. Nevertheless, most tombs in the Valley of the Kings were looted within two centuries. One that escaped detection belonged to a minor king, Tutankhamen, who died young. When his tomb was found and opened in 1922, the staggering treasures, such as his solid-gold mummy case, gave tantalizing hints of what the grave goods of a star pharaoh must have been.

Royal wives and children were buried in the nearby Valley of the Queens, where eighty tombs (called "Houses of Eternity") have been found. The most lavish one belonged to Nefertari, first and favorite wife of the imperialistic Rameses II, who sired at least forty-five sons from eight wives and who ruled for more than sixty years during the thirteenth century B.C.. Nefertari's unusual status was signaled by her figure being made the same size as the king's at her shrine at Abu Simbel, where four seated colossi of Rameses were cut from a Nubian cliff on the Nile. Nefertari (her name means "the Most Beautiful of Them All") was of noble but not royal blood. She may have been a cousin or even a younger sister of Nefertiti, charismatic queen of the rebel monotheist ruler Akhenaten. Nefertari bore Rameses's firstborn son, who died tragically young, perhaps inspiring the story in Exodus of God's curse upon Pharaoh. (In Cecil B. DeMille's epic movieThe Ten Commandments, Anne Baxter plays a seductive Nefretiri to Yul Brynner's arrogant Rameses.) Nefertari had at least five more children, but the robust Rameses (whose -well--preserved mummy survives in the Cairo Museum) outlived them all. Hence his successor, Merneptah, was the son of a lesser, rival queen.

Nefertari's tomb was discovered in 1904 by Ernesto Schiaparelli, an Italian scholar and museum director. Sunk forty feet into the bedrock, it has a twofold axis aligned to the compass points and consists of two large ceremonial chambers, annexed by side chapels and niches and connected by a staircase. All that remains of the queen's pink granite sarcophagus is a smashed lid. The tomb's ceilings were painted midnight blue and spangled with gold stars to represent the heavens, while the walls and square columns were adorned with religious scenes and symbols. The raw limestone surfaces were first coated with a rough plaster of Nile mud, which was sculpted in low relief. A thin layer of fine plaster was then applied, upon which the designs were painted in tempera—always mineral pigments mixed with an unknown binder, perhaps a gum from the acacia trees of Thebes. A sparkling egg glaze was used as a sealant. Nefertari's tomb would suffer damage from an earthquake and serious deterioration from rock-salt crystals slowly deposited behind the plaster by seeping rainwater. Thanks to a major rescue project by the Getty Conservation Institute in collaboration with the Egyptian Antiquities Organization (1986–92), the tomb has been repaired, stabilized, and reopened to the public. The conservators' meticulous cleaning and consolidation (with no new paint whatever) have revealed the murals' still brilliant color.

The paintings are a narrative of Nefertari's journey toward the afterlife. She is presented as a pilgrim soul seeking justification and resurrection. There are oddly few references in the tomb to her husband and none to her children or life story. Everything is focused on Nefertari's spiritual quest. Respectful yet confident of her worthiness, she is a plucky, solitary wayfarer confronting the awesome powers and mysteries of the cosmos. Demons wait to pounce at each of five gates (out of a traditional twelve) leading to Duat, the netherworld. But Nefertari knows the sacred formulas, passes her test, and wins resurrection, proved by her being repeatedly called "the Osiris."