Note: Supplemental materials are not guaranteed with Rental or Used book purchases.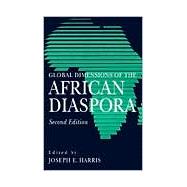 Summary
Global Dimensions of the African Diaspora collects selected essays from the First and Second African Diaspora Institutes and other essays. This revised second edition, with broader geographical scope than the first edition, places greater emphasis on historical and sociopolitical analysis. New essays that examine the African experience and slavery in the Mediterranean, the black experience in Brazil, African religious retentions in Latin American countries, and essays by women that focus on the experience and contributions of African women of the diaspora address significant areas omitted in the first volume.
Table of Contents
Introduction
p. 3
The Diaspora as Concept and Method
p. 9
The Dialectic between Diasporas and Homelands
p. 37
African Diaspora: Concept and Context
p. 48
Return Movements to West and East Africa: a Comparative Approach
p. 63
African Religions in America: Theoretical Perspectives
p. 77
Settlement, Identity, and Transformation
p. 81
The Middle Passage and Personality Change among Diaspora Africans
p. 94
African Culture and Slavery in the United States
p. 106
Howard University and Meharry Medical Schools in the Training of African Physicians, 1868-1978
p. 109
Afro-Mexican Culture and Consciousness during the Sixteenth and Seventeenth Centuries
p. 135
A Lesser-Known Chapter of the African Diaspora: West Indians in Costa Rica, Central America
p. 137
Guinea versus Congo Lands: Aspects of the Collective Memory in Haiti
p. 165
Women of Africa and the African Diaspora: Linkages and Influences
p. 167
Race and Class in Brazil: Historical Perspectives
p. 200
La Madama Francesita: a New World Black Spirit
p. 221
Blacks in Britain: a Historical and Analytical Overview
p. 223
The Impact of Afro-Americans on French-Speaking Black Africans, 1919-45
p. 249
The 1921 Pan-African Congress at Brussels: a Background to Belgian Pressures
p. 284
African Slaves in the Mediterranean World: a Neglected Aspect of the African Diaspora
p. 316
Africans in Asian History
p. 325
Return to the Homeland
p. 337
The Sierra Leone Krios: a Reappraisal from the Perspective of the African Diaspora
p. 361
The Role of African American Women in the Founding of Liberia
p. 383
Afro-American Influence in Colonial Malawi, 1891-1945
p. 387
The Presence of Black Americans in the Lower Congo from 1878 to 1921
p. 405
Brazilian Returnees of West Africa
p. 421
Garvey and Scattered Africa
p. 447
Toward a Synthesis
p. 449
Diaspora Studies and Pan-Africanism
p. 451
Contributors
p. 515
Index
p. 519
Table of Contents provided by Publisher. All Rights Reserved.