Note: Supplemental materials are not guaranteed with Rental or Used book purchases.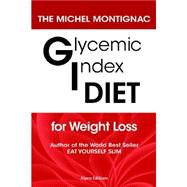 Summary
One of the pioneers of using GI (glycaemic index) in relation to weight loss was Frenchman Michel Montignac. His diet has a large number of followers and is based on the glycaemic index of foods as well as food combinations. According to Michel Montignac, combining certain foods makes you fat, and ultimately we dont put on weight by eating too much but by eating badly. He sees weight gain as being linked to eating bad carbohydrates and bad food combinations.
Author Biography
Michel Montignac was the first person in the world to introduce the glycemic index for weight loss back in 1986. He is still one of the best experts for the application of this concept for preventing and reducing excess weight and obesity.
Table of Contents
Introduction
p. 9
Glycemia
p. 16
Insulin secretion
p. 17
The Insulin Response
p. 18
Hyperinsulinism: the cause of weight gain
p. 20
Two comparable carbohydrates can cause different glycemia
p. 21
Metabolic effects
p. 22
And what about side effects?
p. 23
Glycemic Index
p. 25
Discovering Glycemic Index
p. 25
Glycemic index for weight loss
p. 28
The ˘Fast Sugar÷ and ˘Slow Sugar÷ Classification is False!
p. 28
The Controversial Years
p. 30
Long-Overdue Recognition
p. 32
Analyzing the GI Table
p. 35
Modern and industrially processed foods.
p. 36
The food of our ancestors
p. 40
why more than a third of Americans are obese
p. 43
Why are people in parts of Europe slimmer?
p. 44
Drifting eating habits
p. 45
Factors that Modify Glycemic Index
p. 47
Starch's structure
p. 48
Variations in glycemic index
p. 51
Conclusion
p. 61
Clarifications Regarding Glycemic Indexes
p. 67
Watch out for GI Classifications!
p. 68
The right classification
p. 69
Watch out for the contradictory information
p. 69
Glycemic Load
p. 71
GI Index: Classification Tables
p. 75
Alphabetical classification
p. 76
GI table: Classification by GI
p. 84
Table of Contents provided by Ingram. All Rights Reserved.