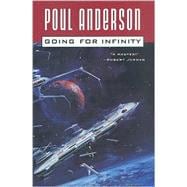 Going for Infinity : A Literary Journey
by
Anderson
Summary
More than just a collection of some of Poul Anderson's most acclaimed works,Going for Infinityis both a celebration and a memoir of Anderson's distinguished sixty-year career in science fiction and fantasy. Along with several Hugo and Nebula Award-winning stories, Anderson also shares autobiographical musings, and fond memories as he looks back at a lifetime spent crafting many of science fiction's most memorable adventures. Between the short story and novel excerpts collected here, which range over the entire length of Anderson's career, he reminisces about his experiences, including his encounters with such peers and colleagues as John W. Campbell, Anthony Boucher, "Gordy" Dickson, Jack Vance, Clifford Simak, and Harlan Ellison. Going for Infinityprovides a firsthand look at six decades of science fiction and fantasy, as lived by one of the field's most honored contributors. From the moons of Saturn to the shores of an enchanted isle, the astounding breadth of Poul Anderson's imagination is on ample display throughout this once-in-a-lifetime collection, along with a personal glimpse into the man himself.
Author Biography
The bestselling author of such classic novels as Brain Wave and The Boat of a Million Years, Poul Anderson won just about every award the science fiction and fantasy field has to offer. He has won multiple Hugos and Nebulas, the John W. Campbell Award, The Locus Poll Award, the Skylark Award, and the SFWA Grandmaster Award for Lifetime Achievement. His recent books include Harvest of Stars, The Stars are also On Fire, Operation Chaos, Operation Luna, Genesis, Mother of Kings, and Going for Infinity, a collection and retrospective of his life's work. Poul Anderson lived in Orinda, California where he passed away in 2001.

Table of Contents
Introduction
p. 11
The Saturn Game
p. 17
Gypsy
p. 65
Sam Hall
p. 81
Death and the Knight
p. 111
Journeys End
p. 128
The Horn of Time the Hunter
p. 137
The Master Key
p. 152
The Problem of Pain
p. 185
Quest
p. 203
Windmill
p. 219
Three Hearts and Three Lions
p. 238
Epilogue
p. 254
Dead Phone
p. 296
Goat Song
p. 313
Kyrie
p. 344
A Midsummer Tempest
p. 355
The Shrine for Lost Children
p. 360
The Queen of Air and Darkness
p. 375
Table of Contents provided by Syndetics. All Rights Reserved.