Note: Supplemental materials are not guaranteed with Rental or Used book purchases.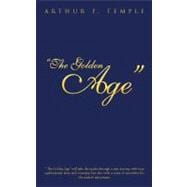 Summary
About the book: "The Golden Age" will take the reader through a journey having very sophisticated ideas and concepts, but also with a sense of sensitivity for the reader's enjoyment. Concepts that are discussed in mystery schools and secret societies, of which the author is a member, are presented to the reader via prose poetry, in a manner that is mesmerizing and enjoyable. Topics include sacred geometry, philosophy, reality creation, and how not to live in the past.
Excerpts
If you can control your thoughts you can control your life and even change your destiny! It is your birthright at this very moment while reading these words to have abundance of love, joy, health, wisdom, strength and eternal beauty. If you are missing any one of these cherished birthrights and you feel your ship is sinking then what are you thinking? Become the divine observer. Then use the wisdom of transformation and the concepts of the six-pointed star. Spirit into matter, matter into spirit – any one thing can become something else through this star. With your third eye visualize thought forms. So please call forth pristine air, water and soil and let the evildoers that attempt to stop you boil! For your chest use white, indigo and green even though it may be unseen. Sound is the key to the unfolding of sacred vibrational and geometrical patterns, and in the finale of this opera you will find nothing but beautiful color. Send pink and blue flames from your heart to all other's hearts, and together the vortex of energy between us all will strike the magic chord that will end all discord. False hope is still hope. What is true today is falsehood tomorrow. You can visit my place without having to travel anywhere. Violet will transmute without delay that which is not of the pink and ruby red rays. Pink and orange accomplish a means to heal broken relationships. Silver and black can be protective or creative sayeth the native. If you ever feel blue, use blue, it calms emotions or as a ray dispenses justice amongst us.