Note: Supplemental materials are not guaranteed with Rental or Used book purchases.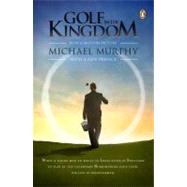 Table of Contents
Preface
p. xiii
Shivas Irons
p. 3
A Footnote Regarding His Name
p. 11
Golf in the Kingdom
p. 13
Singing The Praises of Golf
p. 36
Seamus Macduff's Baffing Spoon
p. 72
We are All Kites in That Wind
p. 96
Epilogue
p. 121
The Game's Hidden But Accessible Meaning
p. 133
Golf as a Journey
p. 133
The Whiteness of the Ball
p. 135
The Mystery of the Hole
p. 137
Replacing the Divot
p. 139
A Game for the Multiple Amphibian
p. 140
Of a Golf Shot cm the Moon
p. 142
The Inner Body
p. 144
As Experience
p. 144
As Fact
p. 148
As Luminous Body
p. 149
Some Notes on True Gravity
p. 152
Occult Backlash
p. 156
A Golfer's Zodiac
p. 160
Hogan and Fleck in the 1955 U.S. Open
p. 162
A Hamartiology of Golf
p. 164
How the Swing Reflects the Soul
p. 164
The Rules of the Game (And How They are Related to Fairy Dust)
p. 168
On Keeping Score (How Shivas Irons helped the British Empire dwindle)
p. 172
The Pleasures of Practice
p. 174
Keeping Your Inner Eye on the Ball
p. 176
Blending
p. 177
Becoming One Sense Organ
p. 180
The Value of Negative Thoughts (Turning the evil urge toward God)
p. 181
On Breakthroughs (The greatest breakthrough is taking forever)
p. 185
Against Our Ever Getting Better
p. 185
The Game Is Meant for Walkin'
p. 186
Visualizing the Ball's Flight: How Images Become Irresistible Paths
p. 187
Shivas Irons' History of the Western World (With some predictions regarding full flight in true gravity, the luminous body, knowledge of the cracks in space-time, and universal transparency)
p. 190
The Crooked Golden River
p. 193
A List of People Who Knew
p. 193
The Higher Self
p. 195
Relativity and the Fertile Void
p. 198
Universal Transparency and a Solid Place to Swing from
p. 200
Humans Have Two Sides, or Dualism is All Right (The psychology of left and right, the myth of the fall, and die need to collapse)
p. 202
His Ideal (The twentieth century is a koan, but that is a very good thing; from a chameleon on a tartan plaid to life in the contemplative one)
p. 207
The Dance of Shiva
p. 211
Afterword: Spring 1997, the Sublime and Uncanny in Golf
p. 214
Reflections on the Rules of Golf
p. 218
A Bibliography for the Reconstructed Golfer
p. 221
The Shivas Irons Society
p. 223
Table of Contents provided by Ingram. All Rights Reserved.