Note: Supplemental materials are not guaranteed with Rental or Used book purchases.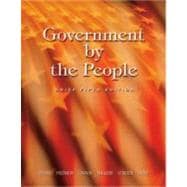 Questions About This Book?
What version or edition is this?
This is the 5th edition with a publication date of 1/1/2004.
What is included with this book?
The Used copy of this book is not guaranteed to include any supplemental materials. Typically, only the book itself is included.
Summary
For the Introduction to American Government or Introduction to American Politics courses. This is the most authoritative text for American Government. Always one step ahead of the competition Government by the People, Brief Edition continues to set the standards for American Government texts by anticipating instructors' needs. Known for its impeccable scholarship and for its distinguished author team, who treats each new edition as a fresh challenge, Government by the People, Brief Edition is the perfect text for the educator who wants students to understand how the American political system works.
Table of Contents
All chapters end with Politics Online, a Summary, Key Terms, and Further Reading. A Message from the Authors. A Message from the Publisher. About the Authors. I. CONSTITUTIONAL PRINCIPLES. 1. Constitutional Democracy. Defining Democracy. People Debate: Liberty Versus Security. The Constitutional Convention, 1787. To Adopt or Not to Adopt? The Living Constitution. Checking Power with Power. Judicial Review and the "Guardians of the Constitution". The Constitution as an Instrument of Government. Changing the Letter of the Constitution. The Constitution of the United States. 2. American Federalism. Defining Federalism. The Constitutional Structure of American Federalism. The Role of the Federal Courts: Umpires of Federalism. Regulatory Federalism, Federal Grants, and Federal Mandates. The Politics of Federalism. The Future of Federalism. II. THE POLITICAL PROCESS. 3. Political Culture and Ideology. The American Political Culture. Ideology and Attitudes Toward Government. People Debate: Ideology. Ideology and the American People. Ideology and Tolerance. 4. The American Political Landscape. A Land of Diversity. Where We Live. Who We Are. Unity in a Land of Diversity. 5. Political Parties and Interest Groups. What Parties Do for Democracy. American Parties Today. Interest Groups. Types of Interest Groups. Characteristics and Power of Interest Groups. The Influence of Lobbyists. Money and Politics. The 2002 Campaign Finance Reforms. Curing the Mischiefs of FactionTwo Centuries Later. 6. Public Opinion, Voting, and Elections. Public Opinion. Participation: Translating Opinions into Action. Voting Choices. Elections: The Rules of the Game. Running for Congress. Running for President. Money in U.S. Elections. Improving Elections. 7. The Media and American Politics. The Influence of the Media on Politics. The Changing Role of the American News Media. Mediated American Politics. The Media and Elections. The Media and Governance. III. POLICY-MAKING INSTITUTIONS. 8. Congress: The People's Branch. Congressional Elections. The Structure and Powers of Congress. Managine the Job of the Legislator. Congress: The Legislative Obstacle Course. People Debate: Dissent in War. Congress: An Assessment and a View on Reform. 9. The Presidency: The Leadership Branch. The Structure and Powers of the Presidency. What Americans Expect of Their Presidents. Roles Assumed by the President. Managing the Presidency. Holding Presidents Accountable. Judging Presidential Greatness. 10. Congress and the President. Separate but Equal Branches. Sources of Discord. The Ebb and Flow of Power Between the Branches. Building Coalitions. The President's Agenda. 11. The Federal Bureaucracy: The Real Power. Defining the Federal Bureaucracy. Working for Government. The Beauracracy's Job. Holding the Bureaucracy Accountable. 12. The Judiciary: The Balancing Branch. The Scope of Judicial Power. The Federal Judicial System. The Politics of Appointing Federal Judges. People Debate: Bush Versus Gore, and the 2000 Presidential Election. The Supreme Court and How It Operates. Judicial Power in a Constitutional Democracy. IV. RIGHTS AND LIBERTIES. 13. First Amendment Freedoms. Rights in the Original Constitution. The Bill of Rights and the States. Freedom of Religion. Free Speech and Free People. Nonprotected and Protected Speech. Freedom of the Press. Other Media and Communications. Freedom of Assembly. 14. Equal Justice Under the Law. Citizenship Rights. Equality and Equal Rights. Equal Protection of the Laws: What Does It Mean? Voting Rights. Educat