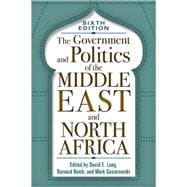 List Price: $52.00

More New and Used
from Private Sellers
Summary
The Government and Politics of the Middle East and North Africacontinues to provide comprehensive, up-to-date coverage of the regionrs"s critical contemporary events and issues. Invited specialists contribute authoritative overviews of the government and politics of each country in the Middle East and North Africa. As in previous editions, country chapters are systematically organized to address historical background, social and economic conditions, politics, and foreign policy, and each chapter features an updated data table for easy compare and contrast. The sixth edition has been revised throughout to reflect recent substantial changes in the Middle East and includes seventeen new maps and a new introductory chapter on the region. In addition, the authors provide vital new considerations of major developments, including Iranrs"s nuclear policies; political dynamics in postwar Iraq; Israelrs"s post-Sharon politics; the fragmentation of Palestinian representation between Hamas in Gaza and Fatah in the West Bank; as well as recent developments in Syria, Turkey, and Lebanon.
Author Biography
David E. Long is a consultant on the Middle East and counterterrorism. He is retired from the US Foreign Service and has taught and lectured extensively on Middle Eastern subjects. He is the author of The United States and Saudi Arabia: Ambivalent Allies and The Anatomy of Terrorism.
Bernard Reich is professor of political science and international affairs at George Washington University. He is a member of the board of advisory editors of the Middle East Journal and a member of the international editorial board of Israel Affairs. He has published widely on the Middle East and international politics and on US foreign policy. His numerous books include A Brief History of Israel, Arab-Israeli Conflict and Conciliation, and Political Dictionary of Israel.
Mark Gasiorowski is professor of political science at Louisiana State University. He specializes in the Middle East and third-world politics. His notable publications include US Foreign Policy and the Shah: Building a Client State in Iran and (with Malcolm Byrne) Mohammad Mosaddeq and the 1953 Coup in Iran.
Table of Contents
Preface
p. vii
About the Book and Editors
p. ix
About the Contributors
p. xi
Introduction: Middle Eastern and North African States in Comparative Perspective
p. 1
Republic of Turkey
p. 15
Islamic Republic of Iran
p. 49
Kingdom of Saudi Arabia
p. 91
Republic of Iraq
p. 123
Eastern Arabian States: Kuwait, Bahrain, Qatar, United Arab Emirates, and Oman
p. 161
Republic of Yemen
p. 205
Republic of Lebanon
p. 233
Syrian Arab Republic
p. 267
Hashimite Kingdom of Jordan
p. 297
State of Israel
p. 321
The Palestinians
p. 365
Arab Republic of Egypt
p. 397
Great Socialist People's Libyan Arab Jamahiriya
p. 423
Kingdom of Morocco
p. 447
Democratic and Popular Republic of Algeria
p. 479
Republic of Tunisia
p. 509
Index
p. 537
Table of Contents provided by Ingram. All Rights Reserved.