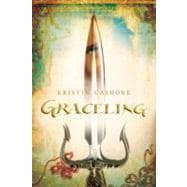 Questions About This Book?
What version or edition is this?
This is the edition with a publication date of 10/1/2008.
What is included with this book?
The New copy of this book will include any supplemental materials advertised. Please check the title of the book to determine if it should include any CDs, lab manuals, study guides, etc.
Summary
With elegant, evocative prose and a cast of unforgettable characters, a debut author creates a mesmerizing medieval world, a death-defying adventure, and a heart-racing romance that will captivate readers.
Author Biography
KRISTIN CASHORE has written for The Horn Book Guide, The Looking Glass: An Online Children's Literature Journal, and Children's Literature in Education. She received a master's degree in children's literature from Simmons College. Graceling is Ms.Cashore's first novel. She lives in Jacksonville, Florida.
Excerpts
CHAPTER ONE IN THESE DUNGEONS the darkness was complete, but Katsa had a map in her mind. One that had so far proven correct, as Olls maps tended to do. Katsa ran her hand along the cold walls and counted doors and passageways as she went. Turning when it was time to turn; stopping finally before an opening that should contain a stairway leading down. She crouched and felt forward with her hands. There was a stone step, damp and slippery with moss, and another one below it. This was Olls staircase, then. She only hoped that when he and Giddon followed her with their torches, they would see the moss slime, tread carefully, and not waken the dead by clattering headlong down the steps. Katsa slunk down the stairway. One left turn and two right turns. She began to hear voices as she entered a corridor where the darkness flickered orange with the light of a torch set in the wall. Across from the torch was another corridor where, according to Oll, anywhere from two to ten guards should be standing watch before a certain cell at the passageways end. These guards were Katsas mission. It was for them that she had been sent first. Katsa crept toward the light and the sound of laughter. She could stop and listen, to get a better sense of how many she would face, but there was no time. She pulled her hood down low and swung around the corner. She almost tripped over her first four victims, who were sitting on the floor across from each other, their backs against the wall, legs splayed, the air stinking with whatever strong drink theyd brought down here to pass the time of their watch. Katsa kicked and struck at temples and necks, and the four men lay slumped together on the floor before amazement had even registered in their eyes. There was only one more guard, sitting before the cell bars at the end of the corridor. He scrambled to his feet and slid his sword from its sheath. Katsa walked toward him, certain that the torch at her back hid her face, and particularly her eyes, from his sight. She measured his size, the way he moved, the steadiness of the arm that held the sword toward her. "Stop there. Its clear enough what you are." His voice was even. He was brave, this one. He cut the air with his sword, in warning. "You dont frighten me." He lunged toward her. She ducked under his blade and whirled her foot out, clipping his temple. He dropped to the ground. She stepped over him and ran to the bars, squinting into the darkness of the cell. A shape huddled against the back wall, a person too tired or too cold to care about the fighting going on. Arms wrapped around legs, and head tucked between knees. He was shiveringshe could hear his breath. She shifted, and the light glanced over his crouched form. His hair was white and cut close to his head. She saw the glimmer of gold in his ear. Olls maps had served them well, for this man was a Lienid. He was the one they were looking for. She pulled on the door latch. Locked. Well, that was no
---

Excerpted from Graceling by Kristin Cashore
All rights reserved by the original copyright owners. Excerpts are provided for display purposes only and may not be reproduced, reprinted or distributed without the written permission of the publisher.