Note: Supplemental materials are not guaranteed with Rental or Used book purchases.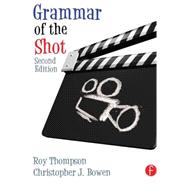 Questions About This Book?
What version or edition is this?
This is the 2nd edition with a publication date of 3/20/2009.
What is included with this book?
The eBook copy of this book is not guaranteed to include any supplemental materials. Typically only the book itself is included.
Summary
Learn how to use the basic "grammar" of making films and videos in Grammar of the Shot! This book shows you in no uncertain terms what you absolutely need to know to put together your own film or video, shot by shot. Whether you are just learning how to frame a shot or if you just need a refresher, this book gives you a basic toolkit of how to build a successful visual story that flows smoothly. Grammar of the Shot begins with an explanation of the essential visual language of filmmaking-the book takes you from the basic shape of a shot, to different types to shots, to composition of visual elements within each frame. You will be given the basic building blocks essential for successful shot lighting, screen direction, 3D elements, camera movement, and many general practices that make for a richer, multi-layered visual presentation. Most importantly, you will be given crucial background information to expand your visual vocabulary and help jumpstart your career in film and video. Designed as an easy-to-use reference, each topic is covered succinctly and is accompanied by clear photographs and diagrams that illustrate the key concepts presented in the book. Simple, elegant, and easy to use, Grammar of the Shot is a staple of any filmmaker's library. * A simple and clear overview of the principles of shooting...timeless information that will improve your work * Designed as a quick reference: each topic covered in a two-page spread * Together with its companion volume Grammar of the Edit, these little books are all the beginning filmmaker needs
Table of Contents
Introduction
Define the material to be covered
Define the Audience for this material
Define the Purpose behind covering this material
Define what one can expect to learn from this presentation
Basics of Film Language
Basic Building Blocks
Shot Types ? As if still pictures a. Wide Shot b. Medium Shot c. Close Up d. ETC
Aspect Ratio
Frame Size a. Brief History b. Technical Explanation (numbers) c. Physical Frame yields aesthetic conventions
The Art of Composition
Framing
What Portion of the World do you Frame?
Simple Rules of Framing People
Head Room
Look Room
No funny objects behind the head
Illusion of 3D on a 2D Medium
Horizon Line
Parallel Lines / Vanishing Point
FG / MG / BG ? object size
Atmosphere to infinity
Mise-en-Scene ? Arrangements of Objects in the Frame
Rule of Thirds
Objects Size Equates Object Importance
Object ?Weight? in Frame
Higher = Dominant
Lower = Submissive
What?s in Focus?
Depth of Field
Focus Pulling
What?s in Light or in Darkness?
Chiaroscuro
Brightness leads the eye
Colors lead the eye, too
Camera Angle
Normal view
Low Angle view
High Angle view
Putting it together: Pre-thinking the editing process
Shooting-for-Editing: Get the coverage
Provide New Information / Detail
Focus Viewer?s Attention on Action in Scene
Match Your Shots
Continuity
Screen direction
180 Degree Rule (or Director?s Line)
Matching Action across edits
Reciprocating Imagery
Matching Shot-Reverse-Shot: Angles on Action
Singles
Over-The-Shoulders
Eyeline Match
Dynamic Images: Talent and camera in motion
Moving Talent
Moving Camera
Pan
Tilt
Dolly
Zoom
Hand-held
General Practices and Good Advice
Know the Rules Before You Break the Rules
Make Appropriate Choices
Enhance the Story
Involve the Viewer ? movies as a participatory experience
Table of Contents provided by Publisher. All Rights Reserved.