Note: Supplemental materials are not guaranteed with Rental or Used book purchases.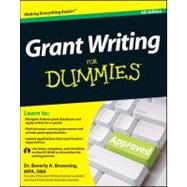 Summary
Grant Writing For Dummies, 4th Edition, guides readers through the entire grant-writing process and provides consumers with 25 percent new and updated material in order to stay current with application protocols and new grant opportunities. Updated information includes: How to separate oneself from the pack and secure your grant in a slow, post-recession economy Advice for NGOs (non-government organizations) and NPOs (non-profit organizations) seeking assistance in the non-domestic grant arena A new chapter on applying online for e-grants; identifying which foundations use the online application; and formatting suggestions for a clean and organized e-application. Step-by-step instruction for registering with and using Grants.gov, the largest online federal grant database Using other government-based grant sites that use different application processes than Grants.gov, including the Justice and Labor Departments Lists and recommendations for up-to-date grant opportunities via newly created Web sites and databases Strategic advice for grant writers during research, program design, and the application process, in order to keep current with the increasing expectations of granting boards A new section on ready-to-use perfect phrases so readers quickly know the right words to use for the three major sections of every successful grant proposal The new edition includes an interactive CD packed with sample materials and proposal templates to get readers started and help tailor their proposals.
Author Biography
Dr. Beverly A. Browning, MPA, DBA, has been consulting in the areas of grant writing, contract bid requests, and organizational development for almost four decades. She has helped clients throughout the United States win more than a combined $350 million in grant monies.
Table of Contents
Introduction 1
Part I: Starting Line Basics for Grant Seekers 7
Chapter 1: Grasping the Nuts and Bolts of Grant Writing 9
Chapter 2: Drawing Up Your Road Map to Getting the Bucks 25
Chapter 3: Getting Ready to Write: Knowing What Funders Want 43
Part II: Cultivating Your Grant Prospects 55
Chapter 4: Dipping Your Toes into Government Grants 57
Chapter 5: Wading Through Federal E-Grant Websites 71
Chapter 6: Navigating Foundation and Corporate Funding Websites 83
Chapter 7: Searching Out Grants for Individuals and Businesses 95
Chapter 8: Investigating International Funders 103
Part III: Increasing Your Odds of Winning Grants during Dire Times 109
Chapter 9: Identifying the Best Government Grant Opportunities for Your Agency 111
Chapter 10: Playing by the Rules to Win Points 123
Chapter 11: Using Telling and Selling Words to Write a Compelling Application 139
Part IV: Writing Winning Proposals 149
Chapter 12: Crafting the Supporting Documents 151
Chapter 13: Conveying Your Capabilities 169
Chapter 14: Stating Your Needs: Relating Your Best Worst 179
Chapter 15: Presenting the Big Picture: Program Design and Accountability 189
Chapter 16: Outlining Your Staff and Resource Availability 209
Chapter 17: Building the Budget for the Program Design 221
Part V: Wrapping Up the Submission and Following Up 241
Chapter 18: Finalizing Your Application 243
Chapter 19: Staying Organized in Your Application Follow-Up 255
Chapter 20: Keeping the Ball Rolling, Win or Lose 265
Chapter 21: Reaching Out to Corporations for Cash and Donations 275
Part VI: The Part of Tens 283
Chapter 22: Ten Tips for Weathering Hard Times 285
Chapter 23: Ten Tips for Increasing Your Chances of Receiving Funding 291
Appendix A: A Complete Example of a Grant Application Narrative 295
Appendix B: About the CD 305
Index 311