Note: Supplemental materials are not guaranteed with Rental or Used book purchases.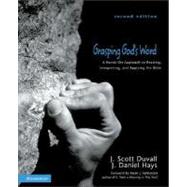 Grasping God's Word : A Hands-on Approach to Reading, Interpreting, and Applying the Bible
ISBN13:
9780310259664
by
J. Scott Duvall and J. Daniel Hays
Harpercollins Christian Pub
Related Products
Summary
This hands-on approach to studying Scripture helps students and seriousreaders get a grip on how to read, interpret, and apply God's Word.This book equips readers with principles of interpretation, then moveson to apply those principles to specific genres and contexts. This secondedition now contains an updated bibliography, a new chapter oninspiration and canon, and new exercises.
Table of Contents
Foreword
9
(2)
Acknowledgments
11
(1)
Preface to the Second Edition
12
(1)
Preface to the First Edition
13
(6)

| | |
| --- | --- |
| | PART 1: How to Read the Book---Basic Tools |

19
(9)

| | |
| --- | --- |
| | How to Read the Book---Sentences |

28
(17)

| | |
| --- | --- |
| | How to Read the Book---Paragraphs |

45
(20)

| | |
| --- | --- |
| | How to Read the Book---Discourses |

65
(22)

| | |
| --- | --- |
| | PART 2: Contexts---Now and Then |

| | |
| --- | --- |
| | What Do We Bring to the Text? |

87
(11)

| | |
| --- | --- |
| | The Historical-Cultural Context |

98
(21)
119
(13)
132
(25)
157
(18)

| | |
| --- | --- |
| | PART 3: Meaning and Application |

| | |
| --- | --- |
| | Who Controls the Meaning? |

175
(9)
184
(21)

| | |
| --- | --- |
| | The Role of the Holy Spirit |

205
(8)
213
(14)

| | |
| --- | --- |
| | PART 4: The Interpretive Journey---New Testament |

227
(17)
244
(21)
265
(17)

| | |
| --- | --- |
| | New Testament---Revelation |

282
(23)

| | |
| --- | --- |
| | PART 5: The Interpretive Journey---Old Testament |

| | |
| --- | --- |
| | Old Testament---Narrative |

305
(23)
328
(18)
346
(22)
368
(20)
388
(21)
Appendix 1: Inspiration and Canon
409
(12)
Appendix 2: Writing an Exegetical Paper
421
(4)
Appendix 3: Building a Personal Library
425
(26)
Scripture Index
451
(6)
Subject Index
457
Excerpts
Grasping God's Word–Second Edition
Copyright © 2001, 2005 by J. Scott Duvall and J. Daniel Hays
Requests for information should be addressed to:
Zondervan, Grand Rapids, Michigan 49530
Library of Congress Cataloging-in-Publication Data
Duvall, J. Scott
Grasping God's word : a hands-on approach to reading, interpreting, and applying
the Bible / J. Scott Duvall, J. Daniel Hays ; foreword by Kevin Vanhoozer.—2nd ed.
p. cm.
Includes bibliographical references and index.
ISBN–10: 0–310–25966–5 (hardcover)
ISBN–13: 978-0310-25966-4
1. Bible—Hermeneutics. I. Hays, J. Daniel, 1953– II. Title.
BS476.D88 2005
220.6'01—dc22
2004017826
CIP
This edition printed on acid-free paper.
All Scripture quotations, unless otherwise indicated, are taken from the Holy Bible: New
International Version®. NIV®. Copyright © 1973, 1978, 1984 by International Bible Society.
Used by permission of Zondervan Publishing House. All rights reserved.
All rights reserved. No part of this publication may be reproduced, stored in a retrieval system,
or transmitted in any form or by any means—electronic, mechanical, photocopy, recording,
or any other—except for brief quotations in printed reviews, without the prior
permission of the publisher.
Interior design by Beth Shagene
Printed in the United States of America
05 06 07 08 09 10 11 /?DCI/ 12 11 10 9 8 7 6 5 4 3 2 1
Part 2
How to Read the Book—Basic Tools
Chapter 1 of Grasping God's Word introduces you to the process of
reading, interpreting, and applying the Bible, a process that we refer to as
the "Interpretive Journey." This journey starts with a call to careful reading,
because this is where we determine what the biblical text meant in
its original context (their town). Before we are ready to apply that meaning
to our lives (our town), however,we need to measure the width of the
river that separates us from the world of the text. Once we have crossed
the river,we will be able to apply the meaning of the Bible in relevant and
reliable ways.
In chapter 2 we will start learning how to read with more insight
and understanding. Superficial reading needs to be replaced by serious
reading.We will show you how to observe smaller sections of text, looking
for things like repeated words, contrasts, comparisons, lists, figures of
speech, influential verbs, nouns, and conjunctions.Here we will learn how
to read carefully at the sentence level. In chapters 3–4 we will move
beyond the sentence level to the longer and more complex units of text—
paragraphs and discourses.We will learn to detect things like dialogue,
questions and answers, tone, connections between episodes, and story
shifts. This is important to know if you really want to hear what God is
saying through his Word.
In these first four chapters of Grasping God's Word you will get your
hands dirty as you dig deeply into the process of biblical interpretation.
The theory can wait for a few chapters as we learn how to read carefully
and thoughtfully. This becomes the foundation for understanding what
the Bible means and how it applies to us.
The Interpretive Journey
Introduction
Basics of the Journey
An Example—Joshua 1:1–9
The Journey and Grasping God's Word
Assignments
Introduction
A wrinkled old man in the mountains of Ethiopia sips coffee and peers through
weathered, ancient bifocals at his worn Amharic Bible to read once again the
story of David and Goliath. A middle-aged woman is bouncing along on a bus
in Buenos Aires, reading and reflecting on Psalm 1. A young Korean executive,
on his way home to Seoul from a business trip in Singapore, flies above the
clouds at 35,000 feet, reading and pondering the words of the apostle Paul in
Romans 5. And in a dorm room in San Diego, California, a young college student
polishes off another Mountain Dew and then looks back down at her laptop
computer to finish reading Mark's account of how Jesus miraculously
calmed a raging storm on the Sea of Galilee.
People all over the world love reading the Bible—and they have loved it
for thousands of years.Why? People read the Bible because it is a fascinating
book, filled with gripping stories and challenging exhortations. People read it
because it is an important book, dealing with the big issues of life—God, eternal
life, death, love, sin, and morals. People read it because they believe that in
the Bible God speaks to them through written words. The Bible encourages us,
lifts our spirits, comforts us, guides us, chides us, builds us up, gives us hope,
and brings us close to the living God.
Some parts of the Bible are easy to understand, but much of it is not.Most
Christians, however, desire to understand all of God's Word, not just the easy
portions.Many of us want to be able to dig deeper into that Word.We want to
see more and to understand more of the biblical text.We also want to know
that we understand the Bible correctly. That is,we want to be confident that we
can pull the actual truth out of a text and not just develop an arbitrary, fanciful,
or incorrect interpretation. Our book is designed for such people.
The process of interpreting and grasping the Bible is similar to embarking
on a journey. Reading the text thoroughly and carefully lies at the beginning
of the journey. From this careful reading we become able to determine
what the passage meant in the biblical context—that is, what it meant to the
biblical audience.
Often, however, when we try to apply this meaning directly to ourselves,
we run into problems.We are separated from the biblical audience by culture
and customs, language, situation, and a vast expanse of time. These differences
form a barrier—a river that separates us from the text and that often prohibits
us from grasping the meaning of the text for ourselves.
If that were not enough, the Old Testament widens the river by adding
another major interpretive barrier that separates us from the audience. Between
the Old Testament biblical audience and Christian readers today lies a change
in covenant. We as New Testament believers are under the new covenant, and
we approach God through the sacrifice of Christ. The Old Testament people,
however, were under the old covenant, and for them the law was central. In
other words, the theological situation for the two groups is different. There is
a covenant barrier between the Old Testament audience and us because we are
under different covenants.
Thus, the river between the Old Testament text and us consists not only
of culture, language, situation, and time, but also of covenant.We have much
more in common with the New Testament audience; yet even in the New Testament,
the different culture, language, and specific situations can present a
formidable barrier to our desire to grasp the meaning of the text. The river is
often too deep and too wide simply to wade across.
As a result, today's Christian is often uncertain about how to interpret
much of the Bible.How should we understand Leviticus 19:19, which prohibits
wearing a garment made of two types
---

Excerpted from Grasping God's Word: A Hands-on Approach to Reading, Interpreting, and Applying the Bible by J. Scott Duvall, J. Daniel Hays, Duvall
All rights reserved by the original copyright owners. Excerpts are provided for display purposes only and may not be reproduced, reprinted or distributed without the written permission of the publisher.