Note: Supplemental materials are not guaranteed with Rental or Used book purchases.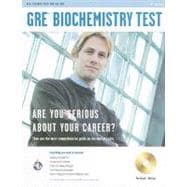 GRE Biochemistry, Cell and Molecular Biology Test: Testware Edition
ISBN13:
9780738608341
by
Smith, Thomas E.
Research & Education Assn
This title is currently not available.
Summary
If You're Serious About Your Career,Use the Most Comprehensive GRE Guide on the Market Today! REA's NEW GRE Biochemistry, Cell, and Molecular Biology Test Prep with Practice Tests on CDGets You into Grad School! Higher GRE scores mean better options! Scoring well on the GREBiochemistry Subject Testdoesn't just help you get into grad school, it helps move your career forward. So it's worth every minute of your valuable time to be knowledgeable, confident, and prepared to do your best. REA's new test prep will get you ready for the GRE and on your way to grad school! Designed for students and professionals looking to advance their careers, this second edition of our popular test prep contains everything you need to succeed.Focused chapter reviews cover all the information tested on the GRE Biochemistry exam. Each targeted review chapter contains all the formulas, definitions, and information you need to master the material and achieve an excellent score. The book includes two full-length practice testsbased on the most recent GRE Biochemistry exam. Each test contains every type of question that can be expected on the GRE so you can "practice for real" and boost your confidence before taking the exam. Both of the book's exams are featured on our TestWare CD with the most powerful scoring and diagnostic tools available today.Automatic scoring and instant reports help you zero in on the topics and types of questions that give you trouble now, so you'll succeed when it counts! Our on-screen detailed explanations of answers help you identify your strengths and weaknesses. We don't just say which answers are right we also explain why the other answer choices are incorrect so you'll be prepared on test day! Our exclusive Pro Study Planhelps you maximize your valuable study time while learning effective test-taking strategies and timesaving tips from the pros. As an added bonus, up-to-the-minute GRE test information and updates are available at: www.rea.com/GRE If you're serious about your career and are ready to take on the GRE Biochemistry Subject Test get the most comprehensive guide on the market today!
Author Biography
About the Authors  
Thomas E. Smith, Ph.D., is a professor in the Department of Biochemistry and Molecular
Biology, College of Medicine, Howard University in Washington, D.C. He is also professor of
ophthalmology at Howard University Hospital. 
He began his career at Benedict College in S.C., where he received a B.S. in chemistry/biology. In 1959 he received an M.S., and in 1962 a Ph.D., in biochemistry at George Washington
University in Washington, D.C., and a post-doctoral in 1963 at Washington University in
St. Louis, Mo.  
Dr. Smith's professional experience spans five decades, from his work as a chemist with the
National Heart Institute in 1953 to his work 50 years later with the National Science Foundation.
In various roles under the umbrella of biochemistry and chemistry, his expertise has been
exercised at Melpar, Inc.; the Lawrence Livermore Laboratory at the University of California;
National Urban League (Black Executive Exchange Program); E.I. du Pont de Nemours and
Company; University of Texas Health Science Center; United Negro College Fund; College of
Medicine at Howard University, and others.  
Among his many activities, Dr. Smith was on the editorial board of the Archives of Biochemistry
and Biophysics from 1976-1994, was a leading member of the Association of Medical
and Graduate Departments of Biochemistry from 1980-1999. Over the years he has also
been active in various roles with Massachusetts Institute of Technology, Washington
Academy of Sciences, the American Association of Medical Colleges, the American Society
of Biochemistry and Molecular Biology, the National Board of Medical Examiners, the National
Institutes of Health, and the Committee on Research Infastructure in Minority Institutions,
University of the District of Columbia.  
Dr. Smith is the recipient of a number of research and teaching awards, a member of many
professional societies, and is a published contributing author. 
Marguerite Wilton Coomes, Ph.D., is associate professor in the Department of Biochemistry
and Molecular Biology, College of Medicine, Howard University in Washington, D.C., where
she has been since 1983. In 1994, she received the Kaiser-Permanente Award for Teaching from
Howard University College of Medicine. In the same year, she received the Howard University
Health Science Teaching Award.  
A sometime GRE question writer in cell and molecular biology, Dr. Coomes received her
Ph.D. in Biochemistry in 1980 from The University of Texas Health Science Center, Dallas,
Texas. She received her M.S. in 1975 and B.S. (summa cum laude) in 1973, both from North
Texas State University in Denton, Texas. 

Dr. Coomes has applied her professional expertise to review activities with the Minority
Biomedical Research Support (MBRS) Program, National Institute of General Medical
Sciences, as well as manuscripts submitted to the Archives of Biochemistry and Biophysics.
Her other credentials include various projects and workshops with the American Association
for the Advancement of Science; subcommittees with American Association for Biochemistry
and Molecular Biology; 10 years as Chief Proctor of the United States Medical Licensure
Examination for Howard University College of Medicine; and she has served on the review panel
for graduate and postdoctoral awards for the Howard Hughes Foundation and the Ford Foundation.
She is also a published author and contributing author of scientific books and papers. 
Excerpts
Introduction

ABOUT THIS BOOK & TESTWARE®

This book, along with REA's exclusive TestWare®
software, provides you with an accurate and complete
representation of the GRE Biochemistry, Cell
and Molecular Biology Subject Test. REA's two full-length
practice tests are based on the latest editions of
the exam. Our topical reviews are designed to prepare
you for the very kind of material you are most likely
to encounter when taking the actual test.
Our sample tests have been carefully calibrated to match the GRE
Biochemistry, Cell and Molecular Biology Subject
Test's level of difficulty, its format, and, of course, the
type and proportional representation of its content. Following
each practice test you will find an answer key
along with detailed step-by-step explanations designed
to help you master the relevant material and score high.

The practice tests in this book and software package
are included in two formats: in printed form in the
book and in TestWare® format on the enclosed CD. We
recommend that you begin your preparation by first taking
the practice exams on your computer. The software
provides timed conditions, and instantaneous, accurate
scoring that makes it easier to pinpoint your strengths
and weaknesses.

ABOUT REA'S TEST EXPERTS

To aid us in meeting our objective of providing you
with the best possible study guide for the GRE Biochemistry,
Cell and Molecular Biology Test, REA's test
experts have carefully prepared our topical reviews and
practice exams. Our authors come armed with specific
knowledge of the GRE Biochemistry, Cell and Molecular
Biology Test. They have thoroughly examined and
researched the mechanics of the GRE Biochemistry, Cell
and Molecular Biology Test to ensure that our model
tests accurately depict the exam and appropriately challenge
the student. Our experts are highly regarded in the
educational community. They have taught and conducted
scientific research at competitive institutions. They have
an in-depth knowledge of the subjects presented in the
book and provide accurate questions that will put you in
a position to do your very best on the exam.

ABOUT THE TEST

The GRE Biochemistry, Cell and Molecular Biology
Test is taken by students applying to graduate programs
in biochemistry. Most programs require that
applicants submit scores for both the GRE General Test
and the GRE Biochemistry, Cell and Molecular Biology
Test; together with other undergraduate records, they
are part of the highly competitive admission process to
graduate school. Both tests are offered by Educational
Testing Service (ETS) and administered throughout the
United States and abroad. You can obtain a test registration
booklet from your college or by contacting ETS
directly. To determine if you should take the GRE Biochemistry,
Cell and Molecular Biology Test, contact the universities you are
applying to for admission. For questions pertaining to GRE
Biochemistry, Cell and Molecular Biology policies, contact:

Graduate Record Examinations
Educational Testing Service
P.O. Box 6000
Princeton, NJ 08541-6000
Phone: (866) 473-4373
Fax: 1-610-290-8975
Website:www.gre.org

SSD ACCOMMODATIONS FOR
STUDENTS WITH DISABILITIES

Many students qualify for extra time to take the GRE
Biochemistry, Cell and Molecular Biology Test. For information
on how ETS meets disability needs, contact:

ETS Disability Services
Educational Testing Service
P.O. Box 6054
Princeton, NJ 08541–6054
Phone: 1-866-387-8602 (toll free)
Monday–Friday 8:30 a.m. to 5:00 p.m.
Eastern Time (New York)
TTY: 1-609-771-7714
Fax: 1-973-735-1892
E-mail:stassd@ets.org

THE GRE BIOCHEMISTRY, CELL AND MOLECULAR BIOLOGY
SUBJECT TEST AT A GLANCE

Subject                             Percent

Biochemistry:                       36%
Chemical and Physical Foundations
Biomolecules: Structure, Assembly, Organization, and Dynamics
Catalysis and Binding
Major Metabolic Pathways
Bioenergetics (Including Respiration and Photosynthesis)
Regulation and Integration of Metabolism
Methodology

Cell Biology:                            28%
Cellular Compartments of Prokaryotes and Eukaryotes:
Organization, Dynamics, and Functions
Cell Surface and Communication
Cytoskeleton, Motility, and Shape Actin-Based Systems
(Including Muscle Contraction)
Protein Synthesis and Processing
Cell Division, Differentiation, and Development

Molecular Biology and Genetics:    36%
Genetic Foundations
Chromatin and Chromosomes
Genomics
Genome Maintenance
Gene Expression
Gene Regulation in Prokaryotes
Gene Regulation in Eukaryotes
Bacteriophages and Animal and Plant Viruses
Methodology


FORMAT OF THE GRE BIOCHEMISTRY, CELL
AND MOLECULAR BIOLOGY TEST

The test is usually given three times a year and
contains approximately 180 multiple-choice questions,
which you must answer in 2 hours and 50 minutes.
Each of the 180 questions is worth one point. There is
a penalty for wrong answers, which serves to correct
for "guessing." For each wrong answer, one-quarter of
a point is deducted from your score. Unanswered questions
don't count for or against you.

ABOUT THE REVIEW

REA's targeted subject review concisely and systematically
summarizes the main areas tested on the GRE Biochemistry,
Cell and Molecular Biology Test.
We have prepared it to help you better grasp concepts
that your textbook explores in far greater detail.
By studying our review, your chances of scoring
well on the actual exam will be greatly increased. It
affords you a kind of master checklist for everything
you need to know. After thoroughly studying the material
presented in the review, you should go on to take
the practice tests. Used in combination, the review
and practice tests will enhance your test-taking skills
and give you the confidence needed to obtain a high
score.

HOW TO PREPARE FOR THE GRE BIOCHEMISTRY, CELL
AND MOLECULAR BIOLOGY TEST

As with other GRE subject tests, the GRE Biochemistry,
Cell and Molecular Biology Test gauges knowledge that
you have gained throughout your academic career.
Most of what's tested on the GRE Biochemistry, Cell and
Molecular Biology Test will require you to make use of
information you learned in your General Biochemistry
courses in college.

We at REA believe the best way to prep for the
GRE Biochemistry, Cell and Molecular Biology Test
is to replicate the complete GRE test-taking experience.
Toward that end, we provide two full-length
exams that accurately reflect this subject test in terms
of format, content, and degree of difficulty. Our practice
exams mirror the latest GRE Biochemistry, Cell
and Molecular Biology Test forms and include every
type of question that you can expect to encounter
when you take the exam.
Following each of our practice
exams is an answer key complete with detailed
explanations and solutions. Designed specifically to
clarify the material for the student, the explanations
not only provide the correct answers, but also explain
why the answer to a particular question is indeed the
best choice. By completing both practice exams and
studying the explanations that follow, you will isolate
your strengths and weaknesses. This, in turn, will
enable you to concentrate on attacking the sections of
the exam you find to be toughest.

Participate in Study Groups
As a final word on how to study for this test, you
may want to study with others. This will allow you to
share knowledge and obtain feedback from other members
of your study group. Study groups may make preparing
for the exam more enjoyable.
 
TEST-TAKING STRATEGIES

Although you will probably have to take both the
GRE General Test and the GRE Biochemistry, Cell
and Molecular Biology Subject Test, try to avoid taking
them on the same day. Taking any test is stressful,
and after sitting for one extremely long standardized
test, you will hardly be at your best for a second.

Be sure to register for testing dates several months
before the due date to ensure that the graduate schools
you designate will receive your scores by the application
deadlines. Most schools will not consider an incomplete
application.

Because the test is not divided into sections, you are
completely responsible for budgeting your own time. All
the questions are worth the same number of points, so
you should not spend too much time on any one item.

The GRE Biochemistry, Cell and Molecular Biology Test
attempts to cover a broad range of topics. It is unlikely
that you will have complete knowledge of all of them.
It is important that you do not spend too much time on
questions you find difficult at the expense of working on
those that are easier for you.

The time constraints are such that, on average, a little
less than a minute is allotted for each question. Thus,
it is unlikely that you will have time to answer all 180
questions; however, you can still receive an excellent
score without answering all of them. Because the questions
are in no particular order, we recommend making
a complete sweep through all the questions on the
test. Answer the ones that are immediately easy for you
and mark those that you want to revisit.
Once you have answered all of the easier questions,
you can use the remaining time to go back through the
test and work on the harder questions, which require a
greater amount of your time. In this way, you will ensure
that you have the chance to answer all the questions
you are likely to get correct, instead of spending valuable
time on difficult questions near the beginning of the test
and leaving easy questions at the end of the test unanswered.

The penalty for wrong answers should not deter you
completely from guessing. If you have no clue what the
answer might be, by all means press on. However, if
you can eliminate one or two of the five choices, it is to
your advantage to make an educated guess. Statistically,
guessing randomly among the five choices would give
you the possibility of guessing correctly 1/5 of the time.
(This is what the quarter-point deduction for wrong
answers is designed to balance.) Being able to eliminate
three of the choices as wrong answers means that guessing
between the two remaining choices would give you
a far better chance of being correct.