Note: Supplemental materials are not guaranteed with Rental or Used book purchases.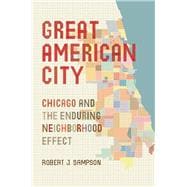 Great American City: Chicago and the Enduring Neighborhood Effect
ISBN13:
9780226734569
by
Sampson, Robert J.
Summary
For over fifty years numerous public intellectuals and social theorists have insisted that community is dead. Some would have us believe that we act solely as individuals choosing our own fates regardless of our surroundings, while other theories place us at the mercy of global forces beyond our control. These two perspectives dominate contemporary views of society, but by rejecting the importance of place they are both deeply flawed. Based on one of the most ambitious studies in the history of social science, Great American Cityargues that communities still matter because life is decisively shaped by where you live. To demonstrate the powerfully enduring impact of place, Robert J. Sampson presents here the fruits of over a decade's research in Chicago combined with his own unique personal observations about life in the city, from Cabrini Green to Trump Tower and Millennium Park to the Robert Taylor Homes. He discovers that neighborhoods influence a remarkably wide variety of social phenomena, including crime, health, civic engagement, home foreclosures, teen births, altruism, leadership networks, and immigration. Even national crises cannot halt the impact of place, Sampson finds, as he analyzes the consequences of the Great Recession and its aftermath, bringing his magisterial study up to the fall of 2010. Following in the influential tradition of the Chicago School of urban studies but updated for the twenty-first century, Great American Cityis at once a landmark research project, a commanding argument for a new theory of social life, and the story of an iconic city.
Table of Contents
Foreword
p. vii
Acknowledgments
p. xv
Setting and Thesis
Placed
p. 3
Neighborhood Effects: The Evolution of an Idea
p. 31
Principles and Method
Analytic Approach
p. 53
The Making of the Chicago Project
p. 71
Community-Level Processes
Legacies of Inequality
p. 97
"Broken Windows" and the Meanings of Disorder
p. 121
The Theory of Collective Efficacy
p. 149
Civic Society and the Organizational Imperative
p. 179
Social Altruism, Cynicism, and the "Good Community"
p. 210
Interlocking Structures
Spatial Logic; or, Why Neighbors of Neighborhoods Matter
p. 237
Trading Places: Experiments and Neighborhood Effects in a Social World
p. 261
Individual Selection as a Social Process
p. 287
Network Mechanisms of Interneighborhood Migration
p. 309
Leadership and the Higher-Order Structure of Elite Connections
p. 329
Synthesis and Revisit
Neighborhood Effects and a Theory of Context
p. 355
Aftermath-Chicago 2010
p. 386
The Twenty-First-Century Gold Coast and Slum
p. 414
Notes
p. 427
References
p. 493
Index
p. 525
Table of Contents provided by Ingram. All Rights Reserved.