Note: Supplemental materials are not guaranteed with Rental or Used book purchases.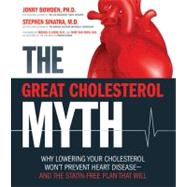 The Great Cholesterol Myth: Why Lowering Your Cholesterol Won't Prevent Heart Disease--and the Statin-Free Plan That Will
ISBN13:
9781592335213
by
Bowden, Jonny
Summary
Heart disease is the #1 killer. However, traditional heart disease protocols--with their emphasis on lowering cholesterol--have it all wrong. Emerging science is showing that cholesterol levels are a poor predictor of heart disease and that standard prescriptions for lowering it, such as ineffective low-fat/high-carb diets and serious, side-effect-causing statin drugs, obscure the real causes of heart disease. Even doctors at leading institutions have been misled for years based on creative reporting of research results from pharmaceutical companies intent on supporting the $31-billion-a-year cholesterol-lowering drug industry. The Great Cholesterol Mythreveals the real culprits of heart disease, including: - Inflammation - Fibrinogen - Triglycerides - Homocysteine - Belly fat - Triglyceride to HCL ratios - High glycemic levels Bestselling health authors Jonny Bowden, Ph.D., and Stephen Sinatra, M.D. give readers a 4-part strategy based on the latest studies and clinical findings for effectively preventing, managing, and reversing heart disease, focusing on diet, exercise, supplements, and stress and anger management. Get proven, evidence-based strategies from the experts with The Great Cholesterol Myth.
Author Biography
Acclaimed authors Jonny Bowden, Ph.D., C.N.S., and Stephen Sinatra, M.D., F.A.C.C., reveal the shoddy science, manipulated research, and corporate greed that has perpetuated the myth and reveal the true culprits of heart disease-including sugar (not fat), inflammation, stress, and high-carb diets full of processed foods. Based on the latest studies and clinical findings, The Great Cholesterol Myth provides a statin-free plan for preventing, managing, and reversing heart disease and staying healthy for life.
Table of Contents
Foreword
p. 13
Why You Should Be Skeptical of Cholesterol as an Indicator of Heart Disease
p. 16
"Cholesterol Is Harmless!"
p. 28
Inflammation: The True Cause of Heart Disease
p. 43
Sugar: The Real Demon in the Diet
p. 55
The Truth about Fat: It's Not What You Think
p. 72
The Statin Scam
p. 94
Help Your Heart with These Supplements
p. 126
Stress: The Silent Killer
p. 146
Putting It All Together-A Simple and Easy Blueprint for a Healthy Heart-and Life!
p. 170
Glossary
p. 196
Endnotes
p. 205
About the Authors
p. 220
Acknowledgments
p. 222
Index
p. 224
Table of Contents provided by Ingram. All Rights Reserved.
Excerpts
A Note on Materials

I have a studio full of art supplies I rarely use. In the end, I prefer to work with a fairly small list. With a few exceptions, the following is all you will need to do the projects in this book:

- Mechanical pencil
- Ultra Fine-Point Sharpie (permanent marker)
- Ballpoint pen
- White paint pen
- Watercolors
- #12 round watercolor brush
- Soft vine charcoal
- White gesso
- White acrylic ink
- Colored pencils
- Markers (any kind)
- 1 or 2 light grey Copic markers (or something similar)

I work in small 5 1/2 x 5 1/2 inch (14 x 14 cm) sketchbooks, on white card stock from the office supply store, #140 hot-press watercolored paper, or wood.