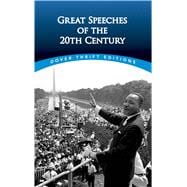 Questions About This Book?
What version or edition is this?
This is the edition with a publication date of 2/17/2011.
What is included with this book?
The New copy of this book will include any supplemental materials advertised. Please check the title of the book to determine if it should include any CDs, lab manuals, study guides, etc.
Summary
A great speech can stir the soul and inspire a nation. This compact and affordable anthology gathers complete speeches and selected excerpts from memorable addresses by Martin Luther King, Mohandas Gandhi, Winston Churchill, Nelson Mandela, Malcolm X, Ronald Reagan, Elie Wiesel, the Dalai Lama, Cesar Chavez, and many others.
Table of Contents
Theodore Roosevelt. "The Natural Wonder of the Grand Canyon" (May 6, 1903)
Mary Church Terrell. "What It Means to Be Colored in the Capital of the United States" (October 10, 1906)
Emma Goldman. "What Is Patriotism?" (May 1908)
Carlos Montezuma (Wassaja). "Light on the Indian Situation" (October 5, 1912)
Emmeline Pankhurst. "Militant Suffragists" (November 13, 1913)
David Lloyd George. "An Appeal to the Nation" (September 19, 1914)
Vladimir Lenin. "The Dictatorship of the Proletariat" (March 4, 1919)
Mohandas K. Gandhi. "Ahmedabad" (April 14, 1919)
Marcus Garvey. "The Handwriting Is on the Wall" (August 31, 1921)
Margaret Sanger. "Morality of Birth Control" (November 18, 1921)
Alfred E. Smith. "Religious Prejudcie and Politics" (September 20, 1928)
Eamon de Valera. "Ireland among the Nations" (February 6, 1933)
Haile Selassie. "Address to the League of Nations" (June 30, 1936)
Edward VII. "Farewell Address" (December 11, 1936)
Winston Churchill. "Blood, Sweat and Tears" (May 13, 1940)
Charles de Gaulle. "The Flame of French Revolution" (June 22, 1940)
Franklin Delano Roosevelt. "The Arsenal of Democracy" (December 29, 19400)
George S. Patton, Jr. "The Invasion of Normandy" (May 17, 1944)
W. E. B. Du Bois. "Behold the Land" (October 20, 1946)
Jawaharlal Nehru. "A Glory Has Departed" (February 2, 1948)
Paul Robeson. "For Freedom and Peace" (June 19, 1949)
Margaret Chase Smith. "Declaration of Conscience" (June 1, 1950)
Eleanor Roosevelt. "The United Nations as a Bridge" (December 17, 1954)
Nikita Sergeyevich Khrushchev. "The Personality Cult and Its Consequences" (February 24-25, 1956)
Douglas A. MacArthur. "Duty, Honor, Country" (May 12, 1962)
John F. Kennedy. "The Strategy for Peace" (June 10, 1963)
Martin Luther King, Jr. "I Have a Dream" (August 28, 1963)
Che Guevara. "Colonialism Is Doomed" (December 11, 1964)
Cesar Chavez. "The Mexican-American and the Church" (March 10, 1968)
Lyndon Baines Johnson. "On Vietnam and on the Decision Not to Seek Reelection" (March 31, 1968)
Shirley Chisholm. "Equal Rights for Women" (May 21, 1969)
Pierre Trudeau. "Notes for a National Broadcast" (October 16, 1970)
Chaim Herzog. "Response to 'Zionism Is Racism" (November 10, 1975)
Harvey Milk. "The Hope Speech" (March 10, 1978)
Ursula K. Le Guin. "A Left-Handed Commencement Address" (May 19, 1983)
Ralph Nader. "The Megacorporate World of Ronald Reagan" (June 6, 1984)
Ronald Reagan. "The Berlin Wall" (June 12, 1987)
Nelson Mandela. "Address to a Rally in Cape Town on His Release from Prison" (February 11, 1990)
Vaclav Havel. "Address to a Joint Session of Congress" (February 21, 1990)
Mother Teresa. National Prayer Breakfast Speech (February 3, 1994)
Daw Aung San Suu Kyi. Opening Keynote Address, Fourth World Conference on Women (August 31, 1995)
Benazir Bhutto. "Male Domination of Women" (September 4, 1995)
Elie Wiesel. "The Perils of Indifference" (April 12, 1999)
Appendix: Great Speeches of the Twenty-First Century:
Rudolph Giuliani. "9/11" (September 11, 2001)
Barack Obama. Presidential Election-Night Speech (November 5, 2008)