Note: Supplemental materials are not guaranteed with Rental or Used book purchases.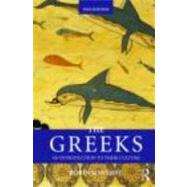 The Greeks: An Introduction to their Culture
ISBN13:
9780415469371
by
Sowerby
;
Robin
Summary
The Greeks has provided a concise yet wide-ranging introduction to the culture of ancient Greece since its first publication. This new and expanded edition of the best selling volume covers literature, drama, philosophy, art and architecture, and provides political, social and historical context. It includes new material on religion, as well as more illustration, maps, and a new glossary.
Author Biography
Robin Sowerby is Senior Lecturer of English Studies at the University of Stirling, Scotland. His research interests centre on the classical tradition. He has written introductory studies of the major classical epics and is the author of The Augustan Art of Poetry (2006) and The Classical Legacy in Renaissance Poetry (1994).
Table of Contents
List of figures and tables
p. ix
Preface
p. xiv
The Homeric World
p. 1
Bronze Age Greece
p. 1
Minoan
p. 1
Mycenaean
p. 4
Homer and history
p. 7
The Iliad
p. 11
The Odyssey
p. 18
Homeric ideals: civilized social living
p. 22
Homeric ideals: poetry and art
p. 24
The Greek love of beauty and Homer's style
p. 26
History
p. 30
The main historical sources
p. 30
The city state before the Persian Wars
p. 42
The Persian Wars
p. 48
Democracy and empire: Periclean Athens
p. 52
The Peloponnesian War
p. 58
Spartan hegemony and the Second Athenian League
p. 61
The rise of Phillip of Macedon
p. 62
The opposition of Demosthenes
p. 63
Alexander the Great and the Hellenistic age
p. 67
Religion and Social Life
p. 71
Religion
p. 71
The household
p. 82
Women
p. 83
Slaves
p. 87
The gymnasium
p. 90
Games
p. 94
The symposium
p. 96
Homosexuality
p. 98
Literature
p. 103
Introduction
p. 103
Tragedy: festivals and conventions
p. 108
Aeschylus (525-456)
p. 113
Sophocles (c. 496-406)
p. 117
Euripides (c. 485-406)
p. 122
Old Comedy: Aristophanes (c. 450-c. 385)
p. 126
Later comedy
p. 131
Oratory and prose
p. 132
Hellenistic literature: Alexandrianism
p. 139
Philosophy
p. 142
The Presocratics
p. 142
Socrates (469-399) and the sophists
p. 144
Plato (c. 427-347)
p. 151
Aristotle (384-322)
p. 158
Hellenistic philosophy: post-Aristotelians
p. 164
Art
p. 169
Geometric beginnings
p. 170
The Archaic period
p. 172
The Classical period
p. 179
The Hellenistic period
p. 207
Appendices
p. 220
Chronological table
p. 220
List of translations cited in the text
p. 226
Glossary
p. 229
Suggestions for further reading
p. 233
Index
p. 237
Table of Contents provided by Ingram. All Rights Reserved.