Note: Supplemental materials are not guaranteed with Rental or Used book purchases.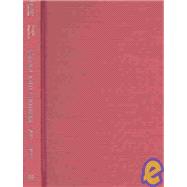 Summary
This collection is the first to examine the relation of grief and gender from 700-1700 in the literature and visual arts of England, France, Italy, and Germany. These essays on Anglo-Saxon, later medieval, and Renaissance texts illustrate how representations of grief need to be differentiated historically and in terms of cultural factors that influenced the gendering of this emotion. The collection features original essays by leading authorities in literature and art history, who approach the timely subject of grief and gender from a wide range of theoretical perspectives, including psychoanalysis, historicism, feminism, and cultural materialism and in terms of theories of masculinity and intertextuality.
Author Biography
Jennifer Vaught is Assistant Professor of English, University of Louisiana at Lafayette.

Lynne Dickson Bruckner is Assistant Professor of English, Chatham College in Pittsburgh.

Table of Contents
Acknowledgements
xi
List of Illustrations
xiii
Introduction
1
(16)
Part I: Anglo-Saxon and Middle High German Laments

| | |
| --- | --- |
| | 1. From Kinship to Kingship: Mourning, Gender, and Anglo-Saxon Community |

17
(16)

| | |
| --- | --- |
| | 2. Death Rituals and Manhood in the Middle High German Poems The Lament, Johannes von Tepl's The Plowman, and Heinrich Wittenwiler's Ring |

33
(18)
Part II: Medieval Tears and Trauma

| | |
| --- | --- |
| | 3. Disordered Grief and Fashionable Afflictions in Chaucer's Franklin's Tale and the Clerk's Tale |

51
(14)

| | |
| --- | --- |
| | 4. Grief in Avalon: Sir Palomydes' Psychic Pain |

65
(16)
Part III: Male, Female, and Cross-Gendered Mourning Rituals in Renaissance Italy and France

| | |
| --- | --- |
| | 5. Augustine's Concessions and Other Failures: Mourning and Masculinity in Fifteenth-Century Tuscany |

81
(14)

| | |
| --- | --- |
| | 6. Petrarch's "Ladies" and Sappho's "Sirens": Fetishism and Mourning in Renaissance Women's Poetry |

95
(10)

| | |
| --- | --- |
| | 7. Family Grief: Mourning and Gender in Marguerite de Navarre's Les Prisons |

105
(18)
Part IV: Elizabethan Loss and Regeneration

| | |
| --- | --- |
| | 8. Grief and Creativity in Spenser's Daphnaida |

123
(10)

| | |
| --- | --- |
| | 9. Mother's Sorrow, Mother's Joy: Mourning Birth in Edmund Spencer's Garden of Adonis |

133
(16)

| | |
| --- | --- |
| | 10. Venus and Adonis: Spencer, Shakespeare, and the Forms of Desire |

149
(14)
Part V: Gendered Performances of Affect in Shakespeare

| | |
| --- | --- |
| | 11. Tears and Masculinity in the History Play: Shakespeare's Henry VI |

163
(14)

| | |
| --- | --- |
| | 12. Hamlet and the Genders of Grief |

177
(20)
Part VI: The Family, Absence, and Memory in the Seventeenth Century

| | |
| --- | --- |
| | 13. "I might againe have been the Sepulcure": Paternal and Maternal Mourning in Early Modern England |

197
(18)

| | |
| --- | --- |
| | 14. "Mine Own Breaking": Resistance, Gender, and Temporality in Seventeenth-Century English Elegies and Jonson's "Eupheme" |

215
(18)
Part VII: Elegies and Rites of Passage-Then and Now

| | |
| --- | --- |
| | 15. For Tommy: Commencement Address, June 1976 |

233
(10)

| | |
| --- | --- |
| | 16. Afterword; Only a Rite |

243
(6)
Notes
249
(50)
Contributors
299
(4)
Index
303