Note: Supplemental materials are not guaranteed with Rental or Used book purchases.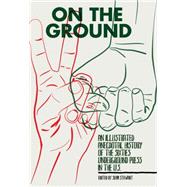 On the Ground : An Illustrated Anecdotal History of the Sixties Underground Press in the U. S.
ISBN13:
9781604864557
by
Unknown
Summary
Forthright anecdotes and interviews fill this eye-opening account of the birth of the underground newspaper movement. Stemming from frustration with the lack of any mainstream media criticism of the Vietnam War, the creation of the papers was emboldened by the victories of the Civil Rights-era, anticolonial movements in the Third World and the use of LSD. In the four short years from 1965-1969, the subversive press grew from five small newspapers in five cities in the United States to more than 500 newspapers--with millions of readers--all over the world. Stories by the people involved with the production and distribution of the papers, such as Bill Ayers, Paul Buhle, Paul Krassner, and Trina Robbins, bring the history of the movement to life. Full-color scans taken from a broad range of publications, from the Berkeley Barband the Los Angeles Free Pressto Chicago Seedand Screw: The Sex Review, are also included, showing the incredible energy that fueled the counterculture of the 1960s.
Author Biography
Sean Stewart is the former owner of Babylon Falling, a bookstore and gallery in San Francisco. He lives in New York City.