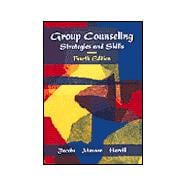 Questions About This Book?
What version or edition is this?
This is the 4th edition with a publication date of 2/26/2001.
What is included with this book?
The New copy of this book will include any supplemental materials advertised. Please check the title of the book to determine if it should include any CDs, lab manuals, study guides, etc.
Summary
This widely used and respected book presents an active, multi-sensory approach to group leading, focusing heavily on group leadership skills. While written with the counselor in mind, this book also provides an outstanding discussion of group dynamics for professionals in group leadership positions. The authors discuss the many facets of group counseling and provide examples that show how each skill can be applied in a wide range of group settings to produce efficient working groups.
Table of Contents
1
(29)
2
(1)

| | |
| --- | --- |
| | Reasons for Leading Groups |

2
(3)
5
(14)

| | |
| --- | --- |
| | Group Versus Individual Counseling |

19
(1)
19
(1)

| | |
| --- | --- |
| | Our Approach to Groups: Impact Therapy |

20
(1)

| | |
| --- | --- |
| | Group Counseling in a Multicultural Context |

21
(1)
21
(3)
24
(1)

| | |
| --- | --- |
| | What Makes an Effective Leader? |

25
(2)
27
(1)
28
(1)

| | |
| --- | --- |
| | Stages of Groups, Group Process, and Therapeutic Forces |

29
(20)
29
(3)
32
(1)

| | |
| --- | --- |
| | Group Dynamics of Different Kinds of Groups |

33
(5)
38
(9)
47
(1)
48
(1)
48
(1)
49
(13)

| | |
| --- | --- |
| | When the Leader Is Unclear About the Purpose |

50
(2)

| | |
| --- | --- |
| | Determining the Purpose of the Group |

52
(1)

| | |
| --- | --- |
| | Common Questions About Purpose |

53
(7)

| | |
| --- | --- |
| | Purpose in Single-Session Groups |

60
(1)
60
(2)
62
(21)
62
(5)
67
(1)
68
(2)

| | |
| --- | --- |
| | Planning the Phases of the Session |

70
(4)
74
(4)

| | |
| --- | --- |
| | Frequent Mistakes in Planning |

78
(4)
82
(1)

| | |
| --- | --- |
| | Getting Started: The Beginning Stage and Beginning Phase |

83
(36)
83
(26)
109
(5)

| | |
| --- | --- |
| | The Beginning Phase of Subsequent Sessions |

114
(3)
117
(2)

| | |
| --- | --- |
| | Basic Skills for Group Leaders |

119
(20)
119
(1)
120
(1)

| | |
| --- | --- |
| | Clarification and Questioning |

121
(1)
122
(2)
124
(1)

| | |
| --- | --- |
| | Mini-Lecturing and Information Giving |

124
(1)

| | |
| --- | --- |
| | Encouraging and Supporting |

125
(1)
126
(2)

| | |
| --- | --- |
| | Modeling and Self-Disclosure |

128
(1)
129
(6)
135
(1)

| | |
| --- | --- |
| | Use of the Leader's Energy |

136
(1)
137
(1)

| | |
| --- | --- |
| | Multicultural Understanding |

137
(1)
138
(1)
139
(17)
139
(3)
142
(4)
146
(4)
150
(4)
154
(2)

| | |
| --- | --- |
| | Cutting Off and Drawing Out |

156
(28)
156
(14)
170
(12)
182
(2)
184
(20)
184
(12)
196
(7)
203
(1)
204
(27)
205
(3)
208
(1)
208
(22)
230
(1)

| | |
| --- | --- |
| | Introducing, Conducting, and Processing Exercises |

231
(26)
231
(7)
238
(5)
243
(12)
255
(2)

| | |
| --- | --- |
| | Leading the Middle Stage of a Group |

257
(21)
257
(5)

| | |
| --- | --- |
| | Leadership Skills and Techniques for the Middle Sessions |

262
(4)

| | |
| --- | --- |
| | Middle-Session Topic Outlines |

266
(5)

| | |
| --- | --- |
| | Middle-Session Leadership Tactics for Specific Groups |

271
(3)

| | |
| --- | --- |
| | Common Mistakes Made During the Middle Sessions |

274
(3)
277
(1)

| | |
| --- | --- |
| | Counseling and Therapy in Groups |

278
(29)
278
(1)

| | |
| --- | --- |
| | Establishing Therapy Group Size and Membership of Therapy Groups |

279
(1)

| | |
| --- | --- |
| | The Leader's Role and Responsibilities in Therapy Groups |

280
(3)

| | |
| --- | --- |
| | The Process of Therapy in a Group |

283
(7)

| | |
| --- | --- |
| | Techniques for Conducting Therapy in Groups |

290
(8)
298
(3)

| | |
| --- | --- |
| | Therapy That Focuses on Process |

301
(1)
302
(1)

| | |
| --- | --- |
| | Providing Therapy in a Nontherapy Group |

303
(1)

| | |
| --- | --- |
| | Common Mistakes Made When Leading Therapy Groups |

304
(1)
305
(2)

| | |
| --- | --- |
| | Closing a Session or Group |

307
(28)
307
(15)
322
(11)
333
(2)

| | |
| --- | --- |
| | Dealing with Problem Situations |

335
(18)
335
(3)
338
(1)
338
(1)
339
(1)
340
(1)
341
(1)

| | |
| --- | --- |
| | The Member Who Tries to ``Get the Leader'' |

342
(2)
344
(1)

| | |
| --- | --- |
| | Dealing with Sexual Feelings |

345
(1)
346
(2)

| | |
| --- | --- |
| | Dealing with Mutually Hostile Members |

348
(2)
350
(1)

| | |
| --- | --- |
| | Dealing with Prejudiced, Narrow-Minded, or Insensitive Members |

351
(1)
352
(1)

| | |
| --- | --- |
| | Working with Specific Populations |

353
(30)
354
(4)
358
(4)
362
(4)
366
(4)
370
(3)

| | |
| --- | --- |
| | Clients with Chronic Diseases or Disabilities |

373
(3)

| | |
| --- | --- |
| | Survivors of Sexual Abuse |

376
(2)
378
(2)

| | |
| --- | --- |
| | Adult Children of Alcoholics (ACOA) |

380
(2)
382
(1)

| | |
| --- | --- |
| | Issues in Group Counselling |

383
(20)
383
(5)
388
(5)
393
(1)
394
(3)
397
(1)

| | |
| --- | --- |
| | Training of Group Counselors |

397
(2)
399
(2)
401
(1)

| | |
| --- | --- |
| | Final Thoughts Regarding Leading Groups |

402
(1)
Appendix A Best Practice Guidelines: Association for Specialists in Group Work
403
(6)
Appendix B Principles for Diversity-Competent Group Workers: Association for Specialists in Group Work
409
(8)
References
417
(6)
Index
423