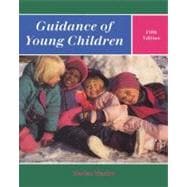 List Price: $41.00
Currently Available, Usually Ships in 24-48 Hours
Questions About This Book?
What version or edition is this?
This is the 5th edition with a publication date of 10/1/1998.
What is included with this book?
The New copy of this book will include any supplemental materials advertised. Please check the title of the book to determine if it should include any CDs, lab manuals, study guides, etc.
Summary
This text, appropriate for guidance courses, provides practical child guidance strategies based on a solid foundation of child development research and family studies. Using a three-part approach, the author provides excellent coverage of the issues that are influencing child guidance today. Part I discusses three styles of caregiving, positive discipline strategies and how to manage a child's environment, and child development. Part II applies practical, constructive child guidance strategies designed to help children deal with stress, self-esteem, anger management, aggression, and prosocial behavior. Part III describes a variety of theories of child guidance and advocates an eclectic decision-making model to choosing positive discipline strategies and encourages problem solving using real-life examples. As the most established child guidance text, the latest updates and revisions make it even more valuable to those who work with children.
Table of Contents
PART ONE: DEVELOPMENTALLY APPROPRIATE CHILD GUIDANCE: ESSENTIAL ELEMENTS
1
(132)

| | |
| --- | --- |
| | Chapter 1: Understanding Child Development: The Foundation for Developmentally Appropriate Child Guidance |

4
(36)

| | |
| --- | --- |
| | Case Studies: Child Guidance Based on Child Development |

6
(1)

| | |
| --- | --- |
| | The Concept of Developmentally Appropriate Child Guidance |

7
(1)

| | |
| --- | --- |
| | Piaget: Cognitive Development |

8
(9)
8
(1)
9
(3)

| | |
| --- | --- |
| | Special Focus: Q & A: Why Are Social Perspective-Taking Skills Important? |

12
(4)

| | |
| --- | --- |
| | Concrete Operational Stage |

16
(1)
17
(2)

| | |
| --- | --- |
| | Perception During Early Childhood |

17
(1)

| | |
| --- | --- |
| | How Perception Changes as Children Get Older |

18
(1)
19
(4)
19
(2)

| | |
| --- | --- |
| | The Development of Memory in Childhood |

21
(1)

| | |
| --- | --- |
| | How Can We Explain the Changes in Memory? |

21
(1)

| | |
| --- | --- |
| | Special Focus: Teachers Can Set the Stage for Memory Development |

22
(1)
23
(3)
23
(1)

| | |
| --- | --- |
| | Three Basic Temperamental Styles |

24
(1)

| | |
| --- | --- |
| | Parent Talk. Creating a "Good Fit" Between Temperament and Child Guidance |

25
(1)
26
(4)

| | |
| --- | --- |
| | How Children Describe Other People and Their Behavior |

26
(2)

| | |
| --- | --- |
| | How Children Understand Intentional/Accidental Behavior |

28
(1)

| | |
| --- | --- |
| | How Children View Friendship |

28
(2)
30
(1)
30
(3)
30
(1)

| | |
| --- | --- |
| | How Children Demonstrate Self-Control |

31
(1)

| | |
| --- | --- |
| | How Does Self-Control Evolve? |

32
(1)

| | |
| --- | --- |
| | Stages in the Development of Self-Control |

32
(1)

| | |
| --- | --- |
| | Case Study Analysis: Child Guidance Based on Child Development |

33
(1)

| | |
| --- | --- |
| | Reflecting on Key Concepts |

34
(1)
35
(1)
36
(4)

| | |
| --- | --- |
| | Chapter 2: Guiding with Positive Discipline and an Authoritative Caregiving Style |

40
(28)

| | |
| --- | --- |
| | Case Studies: Styles of Caregiving |

42
(1)

| | |
| --- | --- |
| | Some Questions About Discipline |

43
(3)

| | |
| --- | --- |
| | What Part Does Discipline Have in Socialization? |

43
(1)

| | |
| --- | --- |
| | What Is a Discipline Encounter? |

43
(1)

| | |
| --- | --- |
| | What Are Discipline Strategies? |

44
(1)

| | |
| --- | --- |
| | What Influences the Discipline Strategies That Adults Use? |

44
(1)

| | |
| --- | --- |
| | Is Discipline Positive or Negative? |

45
(1)

| | |
| --- | --- |
| | Two Major Caregiving Dimensions: Responsiveness and Demandingness |

46
(4)
46
(3)
49
(1)

| | |
| --- | --- |
| | Styles of Caregiving: Authoritative, Authoritarian, and Permissive |

50
(10)
51
(3)
54
(4)
58
(2)

| | |
| --- | --- |
| | Case Study Analysis: Styles of Caregiving |

60
(1)

| | |
| --- | --- |
| | Parent Talk. Helping Parents Feel Competent and Confident About Dealing With Discipline Encounters |

60
(1)

| | |
| --- | --- |
| | Basic Processes Adults Use to Influence Children |

60
(4)
61
(1)

| | |
| --- | --- |
| | Direct Instruction and Coaching |

62
(1)

| | |
| --- | --- |
| | Using Reinforcement and Feedback |

63
(1)

| | |
| --- | --- |
| | Managing the Child's Environment |

63
(1)

| | |
| --- | --- |
| | Stating Expectations of Desired Behaviors |

63
(1)

| | |
| --- | --- |
| | Encouraging Children to Modify Attitudes and Understanding |

63
(1)

| | |
| --- | --- |
| | Reflecting on Key Concepts |

64
(1)
65
(1)
66
(2)

| | |
| --- | --- |
| | Chapter 3: Positive Discipline Strategies: Direct Guidance |

68
(32)

| | |
| --- | --- |
| | Case Studies: Positive Discipline Strategies |

70
(1)

| | |
| --- | --- |
| | Positive Discipline Strategies |

71
(4)

| | |
| --- | --- |
| | Develop Appropriate Limits |

71
(3)

| | |
| --- | --- |
| | Help Children Accept Limits |

74
(1)
75
(17)

| | |
| --- | --- |
| | Teach More Appropriate Behavior and Give Signals or Cues for Appropriate Behavior |

78
(1)

| | |
| --- | --- |
| | Support Children in Using More Appropriate Behavior |

78
(1)

| | |
| --- | --- |
| | Change Something About a Situation |

79
(2)

| | |
| --- | --- |
| | Ignore Behavior When It Is Appropriate to Do So |

81
(2)

| | |
| --- | --- |
| | Redirect Children's Behavior--Divert and Distract the Youngest Children |

83
(1)

| | |
| --- | --- |
| | Redirect Children's Behavior--Make Substitutions When Dealing with Older Children |

83
(2)
85
(1)
86
(1)

| | |
| --- | --- |
| | Use Natural and Logical Consequences |

86
(2)

| | |
| --- | --- |
| | Teach Conflict Resolution and Problem-Solving |

88
(1)

| | |
| --- | --- |
| | Parent Talk. "But, What About Spanking?" |

89
(1)

| | |
| --- | --- |
| | Understand and Manage Strong Emotions |

90
(1)

| | |
| --- | --- |
| | Withdraw from Situations (Not Time-out) |

90
(2)

| | |
| --- | --- |
| | Save Face and Preserve Dignity |

92
(1)

| | |
| --- | --- |
| | Choosing an Effective Positive Discipline Strategy |

92
(1)

| | |
| --- | --- |
| | Case Study Analysis: Positive Solutions for Jenny's Mother |

93
(1)

| | |
| --- | --- |
| | Reflecting on Key Concepts |

94
(1)
95
(2)
97
(3)

| | |
| --- | --- |
| | Chapter 4: Developmentally Appropriate Practices and Early Childhood Classroom Management |

100
(33)

| | |
| --- | --- |
| | Case Studies: Classrooms Based on Developmentally Appropriate Practice |

102
(2)

| | |
| --- | --- |
| | Classroom Spaces Based on DAP |

104
(2)

| | |
| --- | --- |
| | Principles of Designing DAP Early Childhood Classrooms |

105
(1)

| | |
| --- | --- |
| | The Effects of DAP Classrooms |

105
(1)

| | |
| --- | --- |
| | Setting up the Physical Environment: DAP Classrooms for Preschool, Kindergarten, and the Primary Grades |

106
(15)

| | |
| --- | --- |
| | Organize the Classroom into Activity Areas |

109
(5)

| | |
| --- | --- |
| | Develop Enough Activity Areas |

114
(2)

| | |
| --- | --- |
| | Arrange Activity Areas Logically |

116
(2)

| | |
| --- | --- |
| | Create Attractive, Sensory-Rich Activity Areas |

118
(3)

| | |
| --- | --- |
| | Curriculum, Activities, and Materials in a DAP Early Childhood Classroom |

121
(1)

| | |
| --- | --- |
| | DAP Classrooms for Infants and Toddlers |

122
(6)

| | |
| --- | --- |
| | Brief Summary of Infant/Toddler Development |

122
(2)

| | |
| --- | --- |
| | Supportive Physical Environments for Infants/Toddlers |

124
(1)

| | |
| --- | --- |
| | Designing Physical Environments for Infants/Toddlers |

125
(2)

| | |
| --- | --- |
| | Supportive Caregiving Environments for Infants/Toddlers |

127
(1)

| | |
| --- | --- |
| | Parent Talk. "Babies Often Cry When They Are..." |

128
(1)

| | |
| --- | --- |
| | Case Study Analysis: Discovering DAP in Activities |

128
(1)

| | |
| --- | --- |
| | Reflecting on Key Concepts |

129
(1)
130
(1)
131
(2)
PART TWO: SPECIAL TOPICS IN CHILD GUIDANCE
133
(120)

| | |
| --- | --- |
| | Chapter 5: Guiding Children in Times of Stress |

136
(24)

| | |
| --- | --- |
| | Case Study: Joseph's New School |

138
(1)

| | |
| --- | --- |
| | Resilience and Stress in Young Children |

139
(3)

| | |
| --- | --- |
| | Resilience in Young Children |

139
(1)
139
(2)

| | |
| --- | --- |
| | Sources of Stress for Children |

141
(1)

| | |
| --- | --- |
| | How Stress Can Affect Children |

142
(1)

| | |
| --- | --- |
| | Stages in Responding to Stress |

142
(3)
143
(1)
143
(1)

| | |
| --- | --- |
| | Searching for a Coping Strategy |

143
(2)

| | |
| --- | --- |
| | Coping Effectively with Stressors |

145
(4)
145
(2)

| | |
| --- | --- |
| | Children's Developmental Level Affects Their Ability to Understand and Effectively Cope with Stressors |

147
(2)

| | |
| --- | --- |
| | Guiding Children as They Experience Stress |

149
(5)
149
(2)

| | |
| --- | --- |
| | Guidelines for Helping Children Who Face the Specific Stressor of Moving |

151
(3)

| | |
| --- | --- |
| | Parent Talk. Moving to a New Home? How to Help Your Child Cope with the Move |

154
(1)

| | |
| --- | --- |
| | Case Study Analysis: Buffering Joseph's Move to His New School |

155
(1)

| | |
| --- | --- |
| | Reflecting on Key Concepts |

156
(1)
156
(2)
158
(2)

| | |
| --- | --- |
| | Chapter 6: Guiding Children Toward a Healthy Sense of Self and Self-Esteem |

160
(22)
162
(1)

| | |
| --- | --- |
| | The Nature and Development of Self-Esteem |

163
(2)

| | |
| --- | --- |
| | Parts of the "Self-System" |

163
(2)

| | |
| --- | --- |
| | Ideas About Self-Esteem to Remember |

165
(1)

| | |
| --- | --- |
| | The Building Blocks of Self-Esteem: Competence, Control, and Worth |

165
(2)

| | |
| --- | --- |
| | How Does Self-Esteem Develop? |

167
(3)

| | |
| --- | --- |
| | Self-Esteem Develops in a Social Context |

167
(2)

| | |
| --- | --- |
| | How Adults Influence a Child's Self-Esteem |

169
(1)

| | |
| --- | --- |
| | Guiding Children Toward Healthy Self-Esteem |

170
(5)

| | |
| --- | --- |
| | Practices That Guide Children Toward Healthy and Balanced Self-Esteem |

170
(3)

| | |
| --- | --- |
| | Practices Likely to Contribute to Unhealthy Self-Esteem |

173
(2)

| | |
| --- | --- |
| | Children Need a Strong Moral Compass |

175
(1)

| | |
| --- | --- |
| | Case Study Analysis: Self-Esteem |

175
(1)

| | |
| --- | --- |
| | Parent Talk. Parents, Infants, and Toddlers--Architects of Self-Esteem |

176
(1)

| | |
| --- | --- |
| | Reflecting on Key Concepts |

177
(1)
177
(1)

| | |
| --- | --- |
| | Resources for Specific Activities |

178
(1)
179
(3)

| | |
| --- | --- |
| | Chapter 7: Guiding Young Children's Understanding and Management of Anger |

182
(20)

| | |
| --- | --- |
| | Case Study: Anger in an Early Childhood Classroom |

184
(1)

| | |
| --- | --- |
| | Three Components of Anger: State, Expression, and Understanding |

185
(6)

| | |
| --- | --- |
| | Anger as an Emotional State |

185
(1)
186
(2)
188
(3)

| | |
| --- | --- |
| | Implications for Guiding Children's Expressions of Anger |

191
(6)

| | |
| --- | --- |
| | Create a Safe Emotional Climate |

191
(1)

| | |
| --- | --- |
| | Model Responsible Anger Management |

192
(1)

| | |
| --- | --- |
| | Help Children Develop Self-Regulatory Skills |

193
(1)

| | |
| --- | --- |
| | Teach Children to Use Words to Describe Angry Feelings |

193
(1)

| | |
| --- | --- |
| | Help Children Expand Their Feelings Vocabulary |

194
(1)

| | |
| --- | --- |
| | Use Active Listening When Children Are Having an Anger Conflict |

194
(1)

| | |
| --- | --- |
| | Plan Discussions About Anger |

195
(1)

| | |
| --- | --- |
| | Use Appropriate Books and Stories About Anger Management |

195
(1)

| | |
| --- | --- |
| | Teach Children How to Deal with the Stress of Anger |

196
(1)

| | |
| --- | --- |
| | Work with Other Professionals |

197
(1)

| | |
| --- | --- |
| | Parent Talk. Building Anger Management Skills and Emotional Intelligence in Children |

197
(1)

| | |
| --- | --- |
| | Resources for Parents on Emotional Intelligence |

197
(1)

| | |
| --- | --- |
| | Resources for Teachers on Emotional Intelligence |

198
(1)

| | |
| --- | --- |
| | Case Study Analysis: Anger in an Early Childhood Classroom |

198
(1)

| | |
| --- | --- |
| | Reflecting on Key Concepts |

198
(1)
198
(2)
200
(2)

| | |
| --- | --- |
| | Chapter 8: Understanding and Guiding Aggressive Children |

202
(26)

| | |
| --- | --- |
| | Case Study: Aggression in Mrs. Spencer's School |

204
(1)
205
(4)
205
(1)
205
(3)

| | |
| --- | --- |
| | Gender Differences in Aggression |

208
(1)

| | |
| --- | --- |
| | How Children Become Aggressive: A Systems/Ecological Approach |

209
(8)

| | |
| --- | --- |
| | Aggressive Families Teach Aggression to Children |

210
(3)

| | |
| --- | --- |
| | Aggressive Peers Teach Aggression |

213
(2)

| | |
| --- | --- |
| | Television Affects the Development of Aggression |

215
(2)

| | |
| --- | --- |
| | Strategies For Guiding Aggressive Children |

217
(4)

| | |
| --- | --- |
| | Work with Individual Children |

217
(3)

| | |
| --- | --- |
| | Use Early Childhood Family Education to Teach Families About Aggression |

220
(1)

| | |
| --- | --- |
| | Focus on the "Larger Picture" of Aggression at the Community Level |

220
(1)

| | |
| --- | --- |
| | Parent Talk. Recommendations for Parents from the National Television Violence Study |

221
(1)

| | |
| --- | --- |
| | Case Study Analysis: Aggression in Mrs. Spencer's School |

222
(1)

| | |
| --- | --- |
| | Reflecting on Key Concepts |

223
(1)
223
(1)
224
(4)

| | |
| --- | --- |
| | Chapter 9: Prosocial Behavior: Guiding Its Development |

228
(25)

| | |
| --- | --- |
| | Case Studies: Prosocial Behavior |

230
(1)

| | |
| --- | --- |
| | Understanding Prosocial Behavior |

231
(8)

| | |
| --- | --- |
| | What Is Prosocial Behavior? |

231
(1)

| | |
| --- | --- |
| | Forms of Prosocial Behavior |

232
(3)

| | |
| --- | --- |
| | What Motivates People to Act Prosocially? |

235
(1)

| | |
| --- | --- |
| | Focus on Development to Understand Prosocial Behavior |

235
(4)

| | |
| --- | --- |
| | Implications: Guide Children's Prosocial Behavior by Using Developmentally Appropriate Strategies |

239
(6)
239
(1)

| | |
| --- | --- |
| | Encourage Children to Develop Helpful Emotional Scripts |

240
(1)

| | |
| --- | --- |
| | State Expectations for Prosocial Behavior and Accept Children's Help When Offered |

241
(1)

| | |
| --- | --- |
| | Use Positive Discipline Strategies |

241
(1)

| | |
| --- | --- |
| | Verbally Label and Discuss Prosocial Behavior |

242
(1)

| | |
| --- | --- |
| | Practice Prosocial Behavior |

243
(1)

| | |
| --- | --- |
| | Recognize and Encourage Prosocial Behavior |

244
(1)

| | |
| --- | --- |
| | What Are the Benefits of Encouraging Prosocial Behavior? |

245
(1)

| | |
| --- | --- |
| | Parent Talk. Raising a Prosocial Child: Tips for Parents |

246
(1)

| | |
| --- | --- |
| | Case Study Analysis: Prosocial Behavior |

247
(1)

| | |
| --- | --- |
| | Reflecting on Key Concepts |

247
(1)
248
(1)

| | |
| --- | --- |
| | Resources for Specific Activities |

249
(1)
250
(3)
PART THREE: DEVELOPING AN "ECLECTIC" APPROACH TO CHILD GUIDANCE
253
(45)

| | |
| --- | --- |
| | Chapter 10: Child-Guidance Theories and Their Strategies |

256
(28)

| | |
| --- | --- |
| | Case Studies: Theories and Child Guidance |

258
(1)

| | |
| --- | --- |
| | Child-Guidance Strategies Must Be Developmentally Appropriate for Adults, Too |

259
(1)

| | |
| --- | --- |
| | Rogerian Theory and Child Guidance |

259
(6)
259
(1)

| | |
| --- | --- |
| | Applying Rogerian Concepts to Child Guidance |

260
(1)

| | |
| --- | --- |
| | Guidance Strategies Used in a Rogerian-Based Program |

261
(4)

| | |
| --- | --- |
| | Case Study Analysis: Child Guidance Based on Rogerian Theory |

265
(1)

| | |
| --- | --- |
| | Adlerian Theory and Child Guidance |

266
(5)
266
(2)

| | |
| --- | --- |
| | Goals of Misbehavior: Attention, Power, Revenge, and Inadequacy |

268
(3)

| | |
| --- | --- |
| | Case Study Analysis: Child Guidance Based on Adlerian Theory |

271
(1)

| | |
| --- | --- |
| | Social Learning Theory and Child Guidance |

271
(7)

| | |
| --- | --- |
| | Social Learning Principles Applied to Child Guidance |

272
(2)

| | |
| --- | --- |
| | Types of Positive Reinforcement: Effective Praise and Token Systems |

274
(2)

| | |
| --- | --- |
| | Pitfalls to Avoid: Ineffective Praise |

276
(1)

| | |
| --- | --- |
| | Withdrawing a Reinforcer: Extinction |

277
(1)

| | |
| --- | --- |
| | Parent Talk. Tips for Dealing with Bedtime Hassles |

278
(2)

| | |
| --- | --- |
| | Teaching and Strengthening More Appropriate Behavior |

279
(1)

| | |
| --- | --- |
| | Social Learning Theory's View of Punishment |

279
(1)

| | |
| --- | --- |
| | Case Study Analysis: Child Guidance Based on Social Learning Theory |

280
(1)

| | |
| --- | --- |
| | Reflecting on Key Concepts |

281
(1)
281
(2)
283
(1)

| | |
| --- | --- |
| | Chapter 11: The Decision-Making Model of Child Guidance: An "Eclectic" Approach |

284
(14)

| | |
| --- | --- |
| | Case Study: What Should We Do About the Cursing? |

286
(1)

| | |
| --- | --- |
| | Some Questions About the Decision-Making Model of Child Guidance |

287
(3)

| | |
| --- | --- |
| | What Is the Decision-Making Model of Child Guidance? |

287
(1)

| | |
| --- | --- |
| | Do You Think That Everybody Can Use This Model? |

287
(1)

| | |
| --- | --- |
| | It Seems as if an Adult Is "Active" and Has to "Be on His Toes" in Such a Model. Is That True? |

288
(1)

| | |
| --- | --- |
| | What Does "Eclectic" Mean? |

289
(1)

| | |
| --- | --- |
| | I Don't Quite Understand Why I Have to Understand Child and Family Development to Deal with Discipline Encounters. Is It Really All That Necessary? |

289
(1)

| | |
| --- | --- |
| | Using the Decision-Making Model |

290
(5)

| | |
| --- | --- |
| | Steps in the Decision-Making Model |

290
(1)

| | |
| --- | --- |
| | Case Study Analysis: The Decision-Making Model in Action |

290
(1)

| | |
| --- | --- |
| | Practicing the Decision-Making Model |

291
(3)

| | |
| --- | --- |
| | What the Decision-Making Model Means for Children |

294
(1)

| | |
| --- | --- |
| | Reflecting on Key Concepts |

295
(1)
296
(1)
296
(2)
Appendix: Review: Major Positive Discipline Strategies
298
(10)
Author Index
308
(6)
Subject Index
314