Note: Supplemental materials are not guaranteed with Rental or Used book purchases.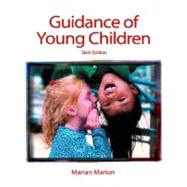 Summary
Based on the idea that childhood professionals, like physicians, should "first, do no harm," this popular, reader-friendly book exemplifies a positive, constructivist approach to guidance that respects, protects, and helps children become self-responsible, competent, independent, cooperative people who like themselves and have strong values. Content is organized around three styles of caregiving: authoritarian, authoritative, and permissive; and based on a solid understanding of child development. The authornever mandates a "cookbook" of techniques for guiding children; but, encourages readers to use the Decision-Making Model of Child Guidance, a model that evolves from an understanding of a variety of child guidance theories, including those of Piaget, Vygotsky, Rogers, and Adler. For individuals employed and involved, in any capacity, in the guidance and management of young children.
Table of Contents
I. GUIDANCE OF YOUNG CHILDREN: THREE ESSENTIAL ELEMENTS.
1. DAP Child Guidance: Authoritative Style and Decision-Making Model.
2. Construct Child Guidance Decisions: Apply Knowledge of Child Development.
3. Observing Behavior in Child Guidance.

II. "DIRECT" AND "INDIRECT" CHILD GUIDANCE.
4. Positive Guidance and Discipline Strategies: Direct Guidance.
5. Early Childhood Classroom Management: Indirect Guidance.

III. SPECIAL TOPICS IN CHILD GUIDANCE.
6. Authentic Self-Esteem and Moral Identity.
7. Resilience and Stress in Childhood.
8. Emotional Intelligence and Anger Management.
9. Preventing Violent Behavior and Understanding Aggression in Children.
10. Guiding the Development of Prosocial Behavior.

IV. DEVELOP AN ECLECTIC APPROACH TO CHILD GUIDANCE.
11. Theories: Strengthening the Foundation of DAP Child Guidance.
12. Apply Your Knowledge: Use the Decision-Making Model of Child Guidance.
Appendix.
Author Index.
Subject Index.