Note: Supplemental materials are not guaranteed with Rental or Used book purchases.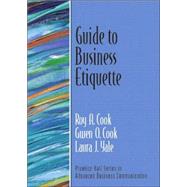 Summary
Designed to answer specific etiquette questions for the busy professional, this book will become your best quick reference resource for answers on how to deal with new situations and with answers to recurring etiquette questions. Readers will learn poise, build confidence, and appear professional by using the essential information in this book and by learning from the practical examples of important etiquette practices in today's changing work environment. Topics include: first impressions; business relationships; communications; business dining and event etiquette; successful meetings; and cross-cultural etiquette. A necessary handbook for anyone in business who wants to avoid etiquette pitfalls.
Table of Contents
Understanding the Rules of Etiquette
Etiquette Lessons from History
The Basis of Etiquette Today
Creating a Powerful First Impression
Dressing to Make a Good Impression
Introducing Yourself and Others
Shaking Hands
Interviewing Basics
Maintaining Business Relationships
Conflict Resolution
Office Romances
Business Travel
Personal Work Space
Communication Etiquette
Communication Etiquette
Face-to-Face Etiquette
Telephone Etiquette
Writing Etiquette
E-mail Etiquette
Web Page Etiquette
Public Speaking Etiquette
Basic Business Dining Etiquette
Basic Dining Behavior
Basic Table Settings
Basic Table Settings
Host Etiquette
Guest Etiquette
Special Dining Events
Invitations
Formal Dining
Casual Dining
Business Banquets
Successful Meetings
Before the Meeting
During and After the Meeting
Being a Productive Participant
Distance Meetings
Use Parliamentary Procedure
Cross-Cultural Etiquette
Preparing for Your Trip
Greeting People
Establishing Relationships
Eating and Gift-Giving
Considering Gender Issues
Table of Contents provided by Publisher. All Rights Reserved.
Excerpts
HOW THIS BOOK CAN HELP YOU This book is for you if you want to secure a foundation of business etiquette knowledge, to answer specific etiquette questions, and to put your best foot forward to be recognized as a professional. The book will answer questions such as: How do I introduce others and myself? How do I dress for different occasions? What is the etiquette for a job interview? How can I handle conflict in the office? How can I take stress out of business travel? Which is the etiquette for telephone, email, and other kinds of communication? How can I be an effective host or guest during business meals? How do I moderate a meeting? How do etiquette rules change in international settings? If you want to learn about business etiquette in general, read through this entire book. If you already know the basics of business etiquette, skim for specific, straightforward answers to your questions. You will then be able to: Double check your knowledge to avoid potential etiquette blunders. Learn more and refine your skills. Become familiar with a quick reference resource for answers on how to deal with new situations or provide answers to recurring etiquette questions. Perhaps most importantly, this book will help you appear poised, confident, and professional by providing essential information and practical examples of important etiquette practices in today's changing working environment. WHO CAN USE THIS BOOK This book was written for you if you want to become more adept at business etiquette--those important do's and don'ts for every business setting. Here are just a few reasons why mastering the basics of business etiquette is so important to your career. Etiquette mistakes can result in lost jobs, lost sales, and poor working relationships. You spend the majority of your working hours interacting with people. Learning the etiquette necessary to navigate these working relationships successfully gives you confidence and poise. Those who practice business etiquette are respected and recognized for their professionalism. Maneuvering successfully in cross-cultural situations can save you career embarrassingfaux pas. Basic business etiquette is expected, but rarely taught. WHY THIS BOOK WAS WRITTEN We have conducted seminars and coached students and experienced managers on the basics of business etiquette for years. After many discussions, it became clear to us that, no matter who was asking the questions about proper etiquette, those questions began to show similarities: it seems that business people have many of the same concerns and discomforts when it comes to questions of etiquette. As we searched for a book that provided clear, concise, and useful guidelines for these questions, we were disappointed. What we found tended to fall into one of two categories: one group of books was both cutesy and almost flippant about etiquette issues; the second group read like tomes covering everything you could ever think to ask--and in excruciating detail. To fill that gap and address the needs of busy professionals, Prentice Hall has created the Prentice Hall Series in Advanced Business Communication: brief, practical, reader-friendly guides for people who communicate in professional contexts. (See the inside front cover for more information on the series.) Like the other books in the series, this book is . . . Brief:The book summarizes key ideas only. Culling from thousands of pages of text, we have omitted bulky examples, cases, footnotes, exercises, and discussion questions Practical:This book offers clear, straightforward tools you can use. It includes only information you will find useful in a professional context. Reader friendly:We have tried