Note: Supplemental materials are not guaranteed with Rental or Used book purchases.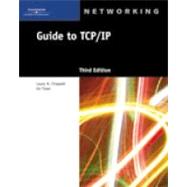 Questions About This Book?
Why should I rent this book?
Renting is easy, fast, and cheap! Renting from eCampus.com can save you hundreds of dollars compared to the cost of new or used books each semester. At the end of the semester, simply ship the book back to us with a free UPS shipping label! No need to worry about selling it back.
How do rental returns work?
Returning books is as easy as possible. As your rental due date approaches, we will email you several courtesy reminders. When you are ready to return, you can print a free UPS shipping label from our website at any time. Then, just return the book to your UPS driver or any staffed UPS location. You can even use the same box we shipped it in!
What version or edition is this?
This is the 3rd edition with a publication date of 8/14/2006.
What is included with this book?
The Used copy of this book is not guaranteed to include any supplemental materials. Typically, only the book itself is included.
The Rental copy of this book is not guaranteed to include any supplemental materials. You may receive a brand new copy, but typically, only the book itself.
Related Products
Summary
Learn the concepts, terminology, protocols and services that the Transmission Control Protocol/Internet Protocol (TCP/IP) suite uses to make the Internet work! This book clearly displays and demonstrates TCP/IP capabilities while encouraging readers to interact with the protocols as well as to read and learn about them. It provides both the knowledge and tools would-be network administrators and analysts need to understand what's happening on their networks, and to appreciate that behavior from the perspectives of traffic analysis and characterization, error detection and troubleshooting, security analysis and remedial action, and more.
Table of Contents
Preface
xvii
1
(54)
2
(1)

| | |
| --- | --- |
| | The Origins and History of TCP/IP |

2
(5)
2
(1)
3
(3)
6
(1)

| | |
| --- | --- |
| | Meet the Standards Groups That Manage TCP/IP |

6
(1)

| | |
| --- | --- |
| | TCP/IP Standards and RFCs |

7
(1)

| | |
| --- | --- |
| | OSI Network Reference Model Overview |

8
(8)

| | |
| --- | --- |
| | Models Break Networking into Layers |

9
(1)

| | |
| --- | --- |
| | The ISO/OSI Network Reference Model |

10
(1)

| | |
| --- | --- |
| | How Protocol Layers Behave |

11
(5)

| | |
| --- | --- |
| | The TCP/IP Networking Model |

16
(6)

| | |
| --- | --- |
| | TCP/IP Network Access Layer |

17
(1)

| | |
| --- | --- |
| | TCP/IP Network Access Layer Protocols |

18
(1)

| | |
| --- | --- |
| | TCP/IP Internet Layer Functions |

19
(1)

| | |
| --- | --- |
| | TCP/IP Internet Layer Protocols |

20
(1)

| | |
| --- | --- |
| | TCP/IP Transport Layer Functions |

21
(1)

| | |
| --- | --- |
| | TCP/IP Transport Layer Protocols |

21
(1)
21
(1)

| | |
| --- | --- |
| | TCP/IP Protocols, Services, Sockets, and Ports |

22
(3)
23
(1)
24
(1)
25
(1)

| | |
| --- | --- |
| | Data Encapsulation in TCP/IP |

25
(1)
26
(7)

| | |
| --- | --- |
| | Useful Roles for Protocol Analysis |

26
(1)

| | |
| --- | --- |
| | Protocol Analyzer Elements |

27
(4)

| | |
| --- | --- |
| | Placing a Protocol Analyzer on a Network |

31
(2)
33
(2)
35
(10)
45
(4)
49
(4)
53
(2)

| | |
| --- | --- |
| | IP Addressing and Related Topics |

55
(44)
56
(2)
58
(1)
58
(5)

| | |
| --- | --- |
| | More About Class A Addresses |

59
(1)

| | |
| --- | --- |
| | More About Class B Addresses |

60
(1)

| | |
| --- | --- |
| | More About Class C Addresses |

61
(1)

| | |
| --- | --- |
| | More About Address Classes D and E |

62
(1)

| | |
| --- | --- |
| | Network, Broadcast, Multicast, and Other Special IP Addresses |

63
(3)

| | |
| --- | --- |
| | Broadcast Packet Structures |

63
(1)

| | |
| --- | --- |
| | Multicast Packet and Address Structures |

64
(2)

| | |
| --- | --- |
| | The Vanishing IP Address Space |

66
(1)

| | |
| --- | --- |
| | Understanding Basic Binary Arithmetic |

67
(4)

| | |
| --- | --- |
| | Converting Decimal to Binary |

68
(1)

| | |
| --- | --- |
| | Converting Binary to Decimal |

69
(1)
70
(1)
70
(1)

| | |
| --- | --- |
| | IP Networks, Subnets, and Masks |

71
(6)
71
(6)

| | |
| --- | --- |
| | Classless Inter-Domain Routing |

77
(2)

| | |
| --- | --- |
| | Public Versus Private IP Addresses |

79
(2)

| | |
| --- | --- |
| | Managing Access to IP Address Information |

81
(1)

| | |
| --- | --- |
| | Obtaining Public IP Addresses |

81
(1)
82
(3)
82
(2)
84
(1)
85
(1)
86
(4)
90
(4)
94
(3)
97
(2)

| | |
| --- | --- |
| | Data Link and Network Layer TCP/IP Protocols |

99
(62)
100
(5)

| | |
| --- | --- |
| | The Serial Line Internet Protocol |

101
(1)
102
(2)

| | |
| --- | --- |
| | Special Handling for PPP Links |

104
(1)
105
(10)
105
(6)
111
(4)

| | |
| --- | --- |
| | Hardware Addresses in the IP Environment |

115
(9)

| | |
| --- | --- |
| | ARP Packet Fields and Functions |

117
(4)
121
(2)
123
(1)
124
(1)
124
(5)
125
(1)
125
(4)

| | |
| --- | --- |
| | Lifetime of an IP Datagram |

129
(1)

| | |
| --- | --- |
| | Fragmentation and Reassembly |

130
(2)
132
(3)
133
(1)
133
(1)

| | |
| --- | --- |
| | Differentiated Services and Explicit Congestion Notification |

134
(1)

| | |
| --- | --- |
| | IP Header Fields and Functions |

135
(9)
135
(1)
136
(1)
136
(1)

| | |
| --- | --- |
| | New TOS Field Function: Differentiated Services and Congestion Control |

137
(3)
140
(1)
140
(1)
141
(1)
142
(1)
142
(1)
142
(1)
142
(1)
143
(1)

| | |
| --- | --- |
| | Destination Address Field |

143
(1)
143
(1)
144
(2)
146
(6)
152
(3)
155
(4)
159
(2)

| | |
| --- | --- |
| | Internet Control Message Protocol |

161
(50)

| | |
| --- | --- |
| | Understanding the Internet Control Message Protocol |

162
(2)
162
(1)

| | |
| --- | --- |
| | ICMP's Vital Role on IP Networks |

163
(1)

| | |
| --- | --- |
| | Testing and Troubleshooting Sequences for ICMP |

164
(14)

| | |
| --- | --- |
| | Connectivity Testing with PING |

164
(2)

| | |
| --- | --- |
| | Path Discovery with TRACEROUTE |

166
(2)

| | |
| --- | --- |
| | Path Discovery with PATHPING |

168
(1)

| | |
| --- | --- |
| | Path MTU Discovery with ICMP |

168
(4)

| | |
| --- | --- |
| | Routing Sequences for ICMP |

172
(4)
176
(2)

| | |
| --- | --- |
| | ICMP Packet Fields and Functions |

178
(18)
179
(3)

| | |
| --- | --- |
| | The Variable ICMP Structures and Functions |

182
(14)
196
(1)
196
(4)
200
(4)
204
(5)
209
(2)

| | |
| --- | --- |
| | Transport Layer TCP/IP Protocols |

211
(42)

| | |
| --- | --- |
| | UDP---A Connectionless Transport Layer Protocol |

212
(6)
213
(1)

| | |
| --- | --- |
| | UDP Header Fields and Functions |

213
(4)

| | |
| --- | --- |
| | UDP Port Numbers and Processes |

217
(1)

| | |
| --- | --- |
| | TCP---A Connection-Oriented Protocol |

218
(20)
219
(1)

| | |
| --- | --- |
| | TCP Startup Connection Process |

220
(5)
225
(1)

| | |
| --- | --- |
| | TCP Connection Termination |

226
(2)

| | |
| --- | --- |
| | TCP Sequence and Acknowledgment Process |

228
(1)

| | |
| --- | --- |
| | TCP Error-Detection and Error-Recovery Process |

229
(2)
231
(2)
233
(1)

| | |
| --- | --- |
| | TCP Header Fields and Functions |

234
(4)

| | |
| --- | --- |
| | Choosing Between TCP and UDP |

238
(2)
240
(1)
241
(3)
244
(4)
248
(4)
252
(1)
253
(58)

| | |
| --- | --- |
| | How Application Layer IP Protocols Work and Behave |

254
(2)
256
(7)
256
(3)

| | |
| --- | --- |
| | Sample FTP Communications |

259
(2)
261
(2)
263
(5)
263
(3)

| | |
| --- | --- |
| | Sample Telnet Communications |

266
(2)
268
(4)
268
(2)

| | |
| --- | --- |
| | Sample SMTP Communications |

270
(2)
272
(6)
273
(2)

| | |
| --- | --- |
| | Sample HTTP Communications |

275
(3)

| | |
| --- | --- |
| | Understanding MSN Messenger |

278
(6)
278
(1)
279
(3)

| | |
| --- | --- |
| | Sample MSN Messenger Communications |

282
(2)
284
(5)
284
(3)

| | |
| --- | --- |
| | Sample VoIP Communications |

287
(2)

| | |
| --- | --- |
| | Other Common TCP/IP-based Services |

289
(5)
290
(1)
290
(1)
290
(1)
291
(1)

| | |
| --- | --- |
| | Trivial File Transfer Protocol |

291
(1)
291
(1)
292
(1)

| | |
| --- | --- |
| | Simple Network Management Protocol |

292
(1)
293
(1)

| | |
| --- | --- |
| | Decoding Application Layer Protocols |

294
(2)
296
(1)
297
(4)
301
(4)
305
(5)
310
(1)
311
(50)

| | |
| --- | --- |
| | DNS History and Background |

312
(8)
313
(2)
315
(1)
316
(1)
317
(1)
317
(2)
319
(1)

| | |
| --- | --- |
| | How Domain Name Servers Work |

320
(3)
321
(1)

| | |
| --- | --- |
| | Iterative or Non-Recursive Queries |

322
(1)

| | |
| --- | --- |
| | The Importance of DNS Caching |

323
(1)

| | |
| --- | --- |
| | DNS Configuration Files and Resource Record Formats |

324
(4)

| | |
| --- | --- |
| | Start of Authority Record |

324
(2)

| | |
| --- | --- |
| | Address and Canonical Name Records |

326
(1)

| | |
| --- | --- |
| | Mapping Addresses to Names |

327
(1)

| | |
| --- | --- |
| | Handling the Loopback Address |

328
(2)

| | |
| --- | --- |
| | Obtaining and Storing Root Server Data |

329
(1)

| | |
| --- | --- |
| | Examining the named.root File |

330
(1)
330
(4)
331
(1)
332
(2)

| | |
| --- | --- |
| | DNS Query/Response Packet Formats |

334
(7)
341
(2)
342
(1)

| | |
| --- | --- |
| | Additional Readings on DNS |

343
(1)
343
(1)
344
(4)
348
(4)
352
(6)
358
(3)

| | |
| --- | --- |
| | The Dynamic Host Configuration Protocol |

361
(40)
362
(5)
363
(1)
364
(1)
365
(1)
366
(1)
366
(1)

| | |
| --- | --- |
| | Understanding IP Address Management with DHCP |

367
(1)
368
(6)
369
(2)
371
(1)
372
(1)

| | |
| --- | --- |
| | The Acknowledgment Packet |

373
(1)

| | |
| --- | --- |
| | The Address Renewal Process |

374
(1)
374
(1)
374
(1)

| | |
| --- | --- |
| | The DHCP Address Release Process |

375
(1)
376
(6)
378
(4)

| | |
| --- | --- |
| | Broadcast and Unicast in DHCP |

382
(1)

| | |
| --- | --- |
| | Communications with a DHCP Relay Agent |

383
(1)

| | |
| --- | --- |
| | Microsoft DHCP Scopes and Classes |

384
(1)

| | |
| --- | --- |
| | Setting Up a Simple DHCP Server |

384
(4)
388
(2)
390
(1)
391
(2)
393
(4)
397
(3)
400
(1)

| | |
| --- | --- |
| | Securing TCP/IP Environments |

401
(64)

| | |
| --- | --- |
| | Understanding Computer and Network Security |

402
(8)

| | |
| --- | --- |
| | Principles of IP Security |

402
(2)

| | |
| --- | --- |
| | Understanding Typical IP Attacks, Exploits, and Break-Ins |

404
(3)

| | |
| --- | --- |
| | Common Types of IP-Related Attacks |

407
(1)

| | |
| --- | --- |
| | What IP Services Are Most Vulnerable? |

408
(1)

| | |
| --- | --- |
| | Holes, Back Doors, and Other Illicit Points of Entry |

409
(1)

| | |
| --- | --- |
| | The Anatomy of IP Attacks |

410
(3)

| | |
| --- | --- |
| | Reconnaissance and Discovery Processes |

410
(2)
412
(1)
412
(1)

| | |
| --- | --- |
| | Common IP Points of Attack |

413
(11)

| | |
| --- | --- |
| | Viruses, Worms, and Trojan Horse Programs |

413
(3)

| | |
| --- | --- |
| | Denial of Service Attacks |

416
(2)

| | |
| --- | --- |
| | Distributed Denial of Service Attacks |

418
(1)

| | |
| --- | --- |
| | Buffer Overflows/Overruns |

419
(1)
420
(1)
421
(1)
422
(2)
424
(18)

| | |
| --- | --- |
| | Apply Security Patches and Fixes |

424
(1)

| | |
| --- | --- |
| | Knowing Which Ports to Block |

425
(1)

| | |
| --- | --- |
| | Recognizing Attack Signatures |

426
(2)
428
(3)

| | |
| --- | --- |
| | Protecting the Perimeter of the Network |

431
(1)

| | |
| --- | --- |
| | Understanding the Basics of Firewalls |

432
(4)

| | |
| --- | --- |
| | Understanding the Basics of Proxy Servers |

436
(1)

| | |
| --- | --- |
| | Implementing Firewalls and Proxy Servers |

436
(1)

| | |
| --- | --- |
| | Planning and Implementing, Step by Step |

436
(3)

| | |
| --- | --- |
| | Understanding the Test-Attack-Tune Cycle |

439
(1)

| | |
| --- | --- |
| | Understanding the Role of IDS and IPS in IP Security |

440
(1)

| | |
| --- | --- |
| | Updating Anti-Virus Engines and Virus Lists |

441
(1)

| | |
| --- | --- |
| | The Security Update Process |

441
(1)

| | |
| --- | --- |
| | Understanding Security Policies and Recovery Plans |

442
(3)

| | |
| --- | --- |
| | Windows XP and Windows Server 2003: Another Generation of Network Security |

445
(2)
447
(1)
448
(1)
449
(7)
456
(4)
460
(3)
463
(2)

| | |
| --- | --- |
| | Routing in the IP Environment |

465
(40)
466
(7)

| | |
| --- | --- |
| | How Entries Are Placed in the Routing Table |

467
(1)

| | |
| --- | --- |
| | Routing Protocols and Routed Protocols |

468
(1)

| | |
| --- | --- |
| | Grouping Routing Protocols |

468
(5)
473
(4)
473
(1)
473
(1)
473
(1)
474
(1)

| | |
| --- | --- |
| | Multicast Versus Broadcast Update Behavior |

475
(1)

| | |
| --- | --- |
| | ICMP Router Advertisements |

475
(1)
475
(1)

| | |
| --- | --- |
| | Areas, Autonomous Systems, and Border Routers |

475
(2)

| | |
| --- | --- |
| | Interior Gateway Protocols |

477
(9)
477
(4)
481
(5)

| | |
| --- | --- |
| | Enhanced Interior Gateway Routing Protocol |

486
(1)
486
(1)

| | |
| --- | --- |
| | Managing Routing on an In-House Internetwork |

487
(1)
488
(1)

| | |
| --- | --- |
| | Routing On and Off a Wide Area Network |

489
(2)
489
(1)
489
(1)
490
(1)
490
(1)

| | |
| --- | --- |
| | Routing To and From the Internet |

491
(1)

| | |
| --- | --- |
| | Securing Routers and Routing Behavior |

492
(1)

| | |
| --- | --- |
| | Troubleshooting IP Routing |

493
(1)
493
(2)
495
(2)
497
(4)
501
(2)
503
(2)

| | |
| --- | --- |
| | Monitoring and Managing IP Networks |

505
(32)

| | |
| --- | --- |
| | Understanding Network Management Practices and Principles |

506
(6)

| | |
| --- | --- |
| | Network Management Architectures |

506
(2)

| | |
| --- | --- |
| | The OSI Network Management Model |

508
(1)

| | |
| --- | --- |
| | Practical Network Management |

509
(1)

| | |
| --- | --- |
| | In-band Versus Out-of-band Management |

510
(2)
512
(9)

| | |
| --- | --- |
| | Management Information Base Objects |

513
(4)
517
(1)
518
(1)
518
(1)
519
(2)

| | |
| --- | --- |
| | Installing and Configuring SNMP Agents and Consoles |

521
(3)
521
(1)
522
(1)
523
(1)
523
(1)

| | |
| --- | --- |
| | SNMP Consoles, Tools, Utilities, and Key Files |

524
(1)

| | |
| --- | --- |
| | Integrating SNMP with Other Management Environments |

525
(1)
526
(1)
526
(1)
527
(2)
529
(4)
533
(2)
535
(2)

| | |
| --- | --- |
| | TCP/IP, NETBIOS, and WINS |

537
(48)
538
(1)

| | |
| --- | --- |
| | What Is NetBIOS (and Why Do I Care)? |

539
(1)

| | |
| --- | --- |
| | How Windows 2000, Windows XP, and Windows Server 2003 Work with NetBIOS |

540
(1)
541
(3)
541
(1)
541
(1)

| | |
| --- | --- |
| | Combining TCP/IP and NetBIOS |

542
(2)
544
(2)
544
(1)

| | |
| --- | --- |
| | Registering and Challenging NetBIOS Names |

545
(1)
545
(1)
545
(1)
546
(3)

| | |
| --- | --- |
| | Structure of NetBIOS Names |

546
(2)
548
(1)

| | |
| --- | --- |
| | NetBIOS Name Registration and Resolution |

549
(6)

| | |
| --- | --- |
| | Name Resolution Regimes by Node Type |

549
(2)

| | |
| --- | --- |
| | NetBIOS Name Cache and LMHOSTS File |

551
(1)

| | |
| --- | --- |
| | WINS Name Registration and Resolution |

552
(2)
554
(1)
555
(1)

| | |
| --- | --- |
| | NetBIOS and DNS Name Resolution |

556
(2)

| | |
| --- | --- |
| | Creating a Usable Host Name from a NetBIOS Name |

556
(1)

| | |
| --- | --- |
| | Converting an Encoded NetBIOS Name to a Fully Qualified Domain Name |

557
(1)
558
(4)
558
(1)

| | |
| --- | --- |
| | Different WINS Configurations |

559
(3)
562
(4)

| | |
| --- | --- |
| | Pointing DNS at WINS for NetBIOS Name Resolution |

563
(2)

| | |
| --- | --- |
| | Reverse DNS Lookup for NetBIOS Names |

565
(1)

| | |
| --- | --- |
| | Windows Server 2003 WINS Improvements |

566
(1)

| | |
| --- | --- |
| | Troubleshooting WINS and NetBIOS |

566
(1)

| | |
| --- | --- |
| | Common Sources of Failure |

567
(1)

| | |
| --- | --- |
| | Tools for Troubleshooting NetBIOS and WINS Problems |

567
(1)
567
(3)

| | |
| --- | --- |
| | Typical Errors in NetBIOS and WINS |

569
(1)
570
(1)
570
(1)
571
(2)
573
(4)
577
(5)
582
(3)

| | |
| --- | --- |
| | Internet Protocol Version 6 |

585
(54)

| | |
| --- | --- |
| | Why Create a New Version of IP? |

586
(1)
587
(10)

| | |
| --- | --- |
| | Address Format and Allocations |

587
(4)
591
(6)
597
(3)

| | |
| --- | --- |
| | Neighbor Discovery and Router Advertisement |

598
(1)

| | |
| --- | --- |
| | Path MTU Discovery and Changes in Fragmentation |

599
(1)

| | |
| --- | --- |
| | Working with IPv6 Protocols |

600
(1)
600
(1)
601
(9)
602
(3)
605
(5)

| | |
| --- | --- |
| | New and Enhanced IPv6 Features |

610
(10)
611
(2)
613
(2)
615
(1)

| | |
| --- | --- |
| | Router Alerts and Hop-by-Hop Options |

616
(1)
617
(3)

| | |
| --- | --- |
| | Coexistence of IPv4 and IPv6 |

620
(2)
620
(1)

| | |
| --- | --- |
| | Tunneling Through the IPv4 Cloud |

621
(1)
621
(1)

| | |
| --- | --- |
| | Transitioning to IPv6: The Reality |

622
(4)
622
(2)

| | |
| --- | --- |
| | Transitioning to IPv6 from the Windows Perspective |

624
(1)
625
(1)
626
(1)
626
(1)
627
(3)
630
(5)
635
(2)
637
(2)

| | |
| --- | --- |
| | APPENDIX A Important RFCs |

639
(10)

| | |
| --- | --- |
| | APPENDIX B Key IP Resources Online |

649
(8)

| | |
| --- | --- |
| | General IP/Internet Overviews |

650
(1)
650
(1)

| | |
| --- | --- |
| | General Pointers to Internet and Networking Topics |

650
(1)
651
(1)

| | |
| --- | --- |
| | IP Addressing, Subnetting, and Supernetting |

651
(1)

| | |
| --- | --- |
| | Binary Arithmetic Overviews |

651
(1)

| | |
| --- | --- |
| | General IP Protocol Information |

651
(1)
652
(1)
652
(1)
652
(1)
653
(1)
653
(1)
654
(1)
654
(1)
655
(2)

| | |
| --- | --- |
| | APPENDIX C Command-line IP Utilities |

657
(8)
658
(1)
658
(1)
658
(1)
658
(1)
659
(1)
659
(1)
660
(1)
660
(1)
661
(1)
661
(1)
661
(1)
662
(1)
662
(1)
662
(1)
663
(2)
663
(2)

| | |
| --- | --- |
| | APPENDIX D Windows 2000, Windows Server 2003, and Windows XP Registry Settings |

665
(8)

| | |
| --- | --- |
| | APPENDIX E Contents of the Online Companion |

673
(4)
674
(1)

| | |
| --- | --- |
| | Engineer's Edition Toolset |

674
(1)
674
(1)
674
(1)
675
(1)
675
(1)
675
(1)
675
(1)
675
(1)
675
(2)

| | |
| --- | --- |
| | APPENDIX F TCP/UDP Port Numbers |

677
(2)
679
(2)
Glossary
681
(42)
Index
723