Note: Supplemental materials are not guaranteed with Rental or Used book purchases.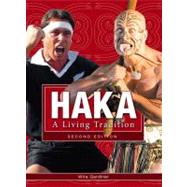 Summary
Most visitors identify New Zealand with the haka, but few know the meaning or history of this powerful challenge. The haka has always been and important part of the Maori culture and tradition. Today it has a growing influence on the lives of all New Zealanders. This little book is an excellent beginner's guide to haka, covering the various types of haka and their use including the famous Ka Mate haka and the new Kapa O Pango. Both black and white and full colour photographs showcase the haka in history as well as modern renditions by kapa haka groups. Both a source of pride and a source of controversy, the haka is an integral part of New Zealand's culture.
Author Biography
Mother Knows Best was created by long-time friends Dean Buckhorn and Scott Gardiner after years of observing their wives' ongoing struggles to maintain both a household and their sanity. They've licensed this clever idea through bCreative, Inc. (www.bcreative.com), of Charlottesville, Va. Dedicated to helping great ideas succeed in the marketplace, bCreative, Inc., gives licensees access to the freshest, hottest ideas around. Other bCreative-licensed products include The Perfect Man, published by Andrews McMeel Publishing in 2002. Sales of this 6 x 6 gift book have reached over 45,000 copies.