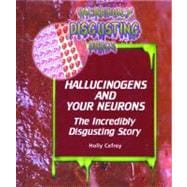 Hallucinogens and Your Neurons : The Incredibly Disgusting Story
by
Cefrey, Holly
Summary
Discusses the nature, effects, and dangers of hallucinogens and their damaging physiological effects on the mind and body.
Table of Contents
Hallucinogens: the basics
Types of hallucinogens
Hallucinogens and you: the disgusting truth
The unpredictable dangers
The effects of hallucinogens
Saying "no!" to disgusting drugs
Table of Contents provided by Publisher. All Rights Reserved.