Note: Supplemental materials are not guaranteed with Rental or Used book purchases.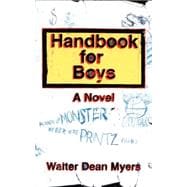 Questions About This Book?
What version or edition is this?
This is the Reprint edition with a publication date of 1/26/2010.
What is included with this book?
The New copy of this book will include any supplemental materials advertised. Please check the title of the book to determine if it should include any CDs, lab manuals, study guides, etc.
Summary
Jimmy and Kevin could really use a guide to life.Their activities almost land them in juvenile detention until Duke employs them in his Harlem barbershop. Duke has rules for everything. But is he offering good advice or just more aggravation?In the groundbreaking tradition of the awardwinning Monster and Bad Boy: A Memoir, Walter Dean Myers fashions a complex, layered novel about the rules for success. Handbook for Boys is the book that he wishes he could have read while growing up. It is also the book young people need to read today.Ages 10+
Excerpts
Handbook for Boys
A Novel
Chapter One
Duke's Place
The barbershop was on 145th Street, just off Seventh Avenue. They call it Duke's Place, but me and Kevin call it the Torture Chamber. Some people said that it was the oldest barbershop in the neighborhood, maybe even the oldest in Harlem. When I got there, I looked up at the wall clock and saw that it was three twenty-nine. I was early by one minute. Duke, who owned the place, was giving a guy a haircut. Mister M and Cap, the regular crew of old dudes, were already there. Cap was sitting in his favorite chair sipping on cold coffee like he always did. Mister M was reading El Diario, a Spanish newspaper. Cap took his pocket watch out and checked the time and then gave me a mean look. I knew he was glad when I was late so he could get on my case. That was just the way the guy was made. He had probably been the meanest baby in the nursery.
"Hey, looka here." Mister M looked up from his newspaper. "They got this guy down in Georgia who's going to give away fifty million dollars. Man, some people just don't know what to do with themselves."
"What would you do with the money, Duke?" Cap asked.
Duke put the finishing touches on his customer's fade, then held up a mirror so the man could see how his haircut had come out.
"I'd put the money in the bank, down in the safe deposit vault," Duke said. "And maybe once a month I'd go visit it. Rub some all over myself till I got satisfied, then I'd put it all back until the next visit."
"Think you would move away from Harlem?" Cap asked. "Maybe go down to Florida or someplace like that?"
"You taking me out of Harlem would be like taking a fish out of water," Duke said. "I've got this place in my blood."
He took the money for the haircut and put it in the cash register.
"See you next month," he called after the customer.
"Wasn't that the guy who used to own the grocery store on Eighth Avenue?" Cap asked as the door closed.
"Yeah," Duke said, cleaning off his barbering tools. "Bill McCormick used to have that little piece of store on the corner until he started spending more time at the racetrack than he spent in his store."
Just then the door flew open and Kevin, sweating and puffing, came rushing in.
"Am I late?" Kevin asked, looking up at the clock that read three thirty-three.
"It depends," Duke said, "on whether you mean for today or for tomorrow. You're late for today, but you got a real good jump on tomorrow."
"Duke, you're wasting your money on this boy," Cap said as Kevin took off his jacket. "Your deal with him is that he's going to work for you after school for two years and you're going to pay his first two years of college, is that right?"
"That's right," Duke said.
"If he can't even tell time, how's he going to make it all the way through college?"
"Maybe he's fixing to learn how to tell time when he reaches college," Mister M said. "Even this ten-year-old boy knows how to tell time. What's your name again, boy?"
"My name is Jimmy, and I'm sixteen, not ten," I said.
"You got to keep them straight," Cap said. "Jimmy here's the young one. He's sixteen, and he's on parole from Alcatraz, or some place like that. Kevin is seventeen, and he's the one Duke is paying to get out of town."
Mister M cracked up on that. He's got this high laugh, and he slapped his leg like he was getting a big kick out of it. It wasn't funny to me. I started to say something, but when I looked over at Duke, he was shaking his head like he was disgusted, so I just kept my mouth shut and started dusting around the plants in the window. By this time Kevin had grabbed a broom and started sweeping the floor.
That's why me and Kevin call the place the Torture Chamber. Duke lets his old-time friends hang around all the time and stay on our cases.
I guess they were okay in their way, but they didn't understand what being young was all about. Maybe they knew once, but they had definitely forgotten somewhere along the way.
Duke was tall and thin and always stood up straight even though he was sixty-eight years old. He told us he had gone to Storer, a black college in West Virginia, to study biology but ended up taking over his father's barbershop business.
"When I was coming up, you had to take what opportunities you could find," Duke was always saying.
I had heard about Duke's studying biology at least a hundred times. That's where he had met his wife, Janice. She had opened a beauty school on 125th Street that she ran for a whole bunch of years. When she died three years ago, Duke sold the school and said he was going to use the money to send some kids to college. Kevin was supposed to be the first, and Duke said if I finished high school I might be the second. The first thing I needed to do was to finish the six months on probation so I wouldn't have to go to a youth house.
They called Edward Mills "Cap" because he used to work in the courts as a guard and always talked about all the criminals he had seen. Cap was about the same age as Duke. He and Duke met when they were playing basketball in a tournament back in the olden days...
Handbook for Boys
A Novel
. Copyright © by Walter Myers. Reprinted by permission of HarperCollins Publishers, Inc. All rights reserved. Available now wherever books are sold.
---

Excerpted from Handbook for Boys: A Novel by Walter Dean Myers
All rights reserved by the original copyright owners. Excerpts are provided for display purposes only and may not be reproduced, reprinted or distributed without the written permission of the publisher.