Note: Supplemental materials are not guaranteed with Rental or Used book purchases.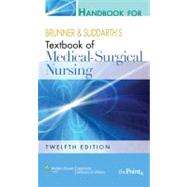 Questions About This Book?
What version or edition is this?
This is the 12th edition with a publication date of 11/24/2009.
What is included with this book?
The New copy of this book will include any supplemental materials advertised. Please check the title of the book to determine if it should include any CDs, lab manuals, study guides, etc.
Related Products
Summary
This concise clinical companion to the twelfth edition of Brunner and Suddarth's Textbook of Medical-Surgical Nursing presents nearly 200 diseases and disorders in alphabetical format, allowing rapid access to need-to-know information on the most commonly clinical problems nurses are likely to encounter. The content is completely cross-referenced to the main text. Pages are tabbed alphabetically for speedy reference.
Table of Contents
Acquired Immunodeficiency Syndrome (HIV Infection) Acute Coronary Syndrome and Myocardial Infarction Acute Respiratory Distress Syndrome Addison's Disease (Adrenocortical Insufficiency) Alzheimer's Disease Amyotrophic Lateral Sclerosis Anaphylaxis Anemia Anemia, Aplastic Anemia, Iron-Deficiency Anemia, Megaloblastic (Vitamin B12 and Folic Acid Deficiency) Anemia, Sickle Cell Aneurysm, Aortic Aneurysm, Intracranial Angina Pectoris Aortic Insufficiency (Regurgitation) Aortic Stenosis Appendicitis Arterial Embolism and Arterial Thrombosis Arteriosclerosis and Atherosclerosis Arthritis, Rheumatoid Asthma Asthma: Status Asthmaticus Back Pain, Low Bell's Palsy Benign Prostatic Hyperplasia and Prostatectomy Bone Tumors Bowel Obstruction, Large Bowel Obstruction, Small Brain Abscess Brain Tumors Bronchiectasis Bronchitis, Chronic Buerger's Disease (Thromboangiitis Obliterans) Burn Injury Cancer Cancer of the Bladder Cancer of the Breast Cancer of the Cervix Cancer of the Colon and Rectum (Colorectal Cancer) Cancer of the Endometrium Cancer of the Esophagus Cancer of the Kidneys (Renal Tumors) Cancer of the Larynx Cancer of the Liver Cancer of the Lung (Bronchogenic Carcinoma) Cancer of the Oral Cavity and Pharynx Cancer of the Ovary Cancer of the Pancreas Cancer of the Prostate Cancer of the Skin (Malignant Melanoma) Cancer of the Stomach (Gastric Cancer) Cancer of the Testis Cancer of the Thyroid Cancer of the Vagina Cancer of the Vulva Cardiac Arrest Cardiomyopathies Cataract Cerebral Vascular Accident (Ischemic Stroke) Cholelithiasis (and Cholecystitis) Chronic Obstructive Pulmonary Disease (COPD) Cirrhosis, Hepatic Constipation Contact Dermatitis Coronary Atherosclerosis and CAD Cushing's Syndrome Cystitis (UTI) Diabetes Insipidus Diabetes Mellitus Diabetic Ketoacidosis Diarrhea Disseminated Intravascular Coagulopathy Diverticular Disease Emphysema, Pulmonary Empyema Endocarditis, Infective Endocarditis, Rheumatic Endometriosis Epididymitis Epilepsies Epistaxis (Nosebleed) Esophageal Varices, Bleeding Exfoliative Dermatitis Fractures Gastritis Glaucoma Glomerulonephritis, Chronic Gout Guillain-Barré Syndrome (Polyradiculoneuritis) Headache Head Injury (Brain Injury)Heart Failure (Cor Pulmonale) Hemophilia Hepatic Encephalopathy and Hepatic Coma Hepatic Failure, Fulminant Hepatitis, Viral: Types A, B, C, D, E, and G Hiatal Hernia Hodgkin's Disease Huntington's Disease Hyperglycemic Hyperosmolar Nonketotic Syndrome (HHNKS) Hypertension (and Hypertensive Crisis) Hyperthyroidism (Graves' Disease) Hypoglycemia (Insulin Reaction) Hypoparathyroidism Hypopituitarism Hypothyroidism and Myxedema Idiopathic Thrombocytopenia Purpura Impetigo Increased Intracranial Pressure Influenza Kaposi's Sarcoma Abbreviated table of contents