Note: Supplemental materials are not guaranteed with Rental or Used book purchases.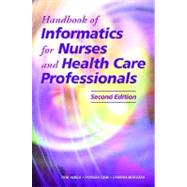 Questions About This Book?
What version or edition is this?
This is the 2nd edition with a publication date of 1/1/2001.
What is included with this book?
The New copy of this book will include any supplemental materials advertised. Please check the title of the book to determine if it should include any CDs, lab manuals, study guides, etc.
Related Products
Summary
For undergraduate- and graduate-level courses in Nursing Informatics and/or Healthcare, Nursing Trends and Issues, and Nursing Research.The Handbook serves as an introduction to informatics for students in the healthcare professions, as well as practicing professionals. It is an easy-to-read guide that provides useful information on topics that range from basic computing concepts and electronic communication, data integrity and security, to information system selection and implementation, disaster planning and recovery, telehealth, and Informatics applications for education and research.
Table of Contents
Preface
xvii
Acknowledgments
xxi
About the Authors
xxiii
SECTION ONE General Computer Information
1
(80)

| | |
| --- | --- |
| | Informatics in the Health Care Professions |

2
(11)

| | |
| --- | --- |
| | Applications of Nursing Informatics |

4
(2)
4
(1)
4
(1)
5
(1)
5
(1)

| | |
| --- | --- |
| | The Current Status of Health Care Delivery |

6
(1)

| | |
| --- | --- |
| | Benefits of Nursing Informatics for Other Health Care Professionals |

6
(2)

| | |
| --- | --- |
| | The Role of the Nurse in Information Handling |

8
(2)

| | |
| --- | --- |
| | The Role of the Nursing Informatics Specialist |

10
(1)
11
(1)
11
(1)
11
(2)

| | |
| --- | --- |
| | Hardware, Software, and the Roles of Support Personnel |

13
(20)
14
(2)
14
(1)

| | |
| --- | --- |
| | Central Processing Unit (CPU) |

15
(1)
15
(1)
16
(1)
16
(1)
17
(1)

| | |
| --- | --- |
| | Peripheral Hardware Items |

18
(2)
20
(2)
22
(1)

| | |
| --- | --- |
| | Binary Representation of an Arabic Number |

22
(1)
23
(2)
24
(1)
25
(1)

| | |
| --- | --- |
| | Measures to Reduce Computer-Related Discomfort |

25
(1)
25
(1)

| | |
| --- | --- |
| | Examples of Ergonomic Devices |

26
(1)
26
(1)
27
(1)
27
(1)

| | |
| --- | --- |
| | Common Types of PC Software Applications |

28
(1)

| | |
| --- | --- |
| | Roles of Support Personnel |

28
(3)
29
(1)
29
(1)

| | |
| --- | --- |
| | Microcomputer or PC Specialist |

29
(1)
29
(1)
29
(1)
30
(1)
30
(1)
30
(1)
30
(1)

| | |
| --- | --- |
| | Chief Information Officer (CIO) |

30
(1)
31
(1)
31
(1)
31
(1)
31
(2)

| | |
| --- | --- |
| | Ensuring the Quality of Information |

33
(15)

| | |
| --- | --- |
| | Example of Coded Data: Employment Status Codes |

35
(1)

| | |
| --- | --- |
| | Examples of Data and Information |

35
(1)
35
(3)

| | |
| --- | --- |
| | Ensuring Correct Data Collection and Entry |

36
(2)
38
(2)
38
(1)

| | |
| --- | --- |
| | Outsourcing Data Management and Storage |

39
(1)
40
(3)
41
(1)
42
(1)

| | |
| --- | --- |
| | Characteristics of Quality Information |

43
(1)

| | |
| --- | --- |
| | Threats to Information Quality, Availability, and Confidentiality |

44
(1)
45
(1)
46
(1)
47
(1)

| | |
| --- | --- |
| | Electronic Communication and the Internet |

48
(33)
50
(2)
51
(1)

| | |
| --- | --- |
| | E-Mail: Advantages and Disadvantages |

52
(2)
53
(1)

| | |
| --- | --- |
| | Informal Rules for E-Mail Use |

54
(1)
54
(1)

| | |
| --- | --- |
| | The World Wide Web: Advantages and Disadvantages |

55
(3)

| | |
| --- | --- |
| | Steps in Creating, Posting, and Maintaining a Home Page |

58
(11)
59
(1)
60
(1)
60
(1)
61
(1)
62
(1)

| | |
| --- | --- |
| | Access to Health Care Information |

62
(3)

| | |
| --- | --- |
| | On-Line Publication and Journals |

65
(1)
66
(1)
67
(2)

| | |
| --- | --- |
| | Concerns Related to the Use of the Internet |

69
(3)
69
(1)
70
(1)
71
(1)
72
(1)
72
(1)

| | |
| --- | --- |
| | The Development of Intranets |

72
(1)
73
(1)
73
(1)
74
(1)
74
(1)
74
(1)
75
(1)
76
(5)
SECTION TWO Health Care Information Systems
81
(176)

| | |
| --- | --- |
| | Health Care Information Systems |

82
(17)

| | |
| --- | --- |
| | Clinical Information Systems |

83
(3)

| | |
| --- | --- |
| | Nursing Information Systems |

85
(1)

| | |
| --- | --- |
| | Advantages of a Nursing Information System |

86
(1)

| | |
| --- | --- |
| | Automation of Traditional Nursing Documentation Methods |

87
(2)

| | |
| --- | --- |
| | Clinician Information Systems |

88
(1)
88
(1)
89
(1)

| | |
| --- | --- |
| | Features of Monitoring Systems |

89
(4)
89
(1)
90
(2)
92
(1)
93
(1)

| | |
| --- | --- |
| | Using Information Systems to Reduce Medication Errors |

93
(1)
94
(1)

| | |
| --- | --- |
| | Other Common Clinical Systems |

94
(1)

| | |
| --- | --- |
| | Administration Information Systems Used in the Hospital Setting |

94
(1)

| | |
| --- | --- |
| | Decision Support and Expert Systems |

95
(1)
95
(1)
95
(1)

| | |
| --- | --- |
| | Decision Support and Expert Systems |

95
(2)
97
(1)
97
(1)
97
(2)
99
(15)
100
(1)

| | |
| --- | --- |
| | Mission Statement of St. Francis Medical Center, Pittsburgh, PA |

101
(1)
101
(1)
102
(1)

| | |
| --- | --- |
| | Areas of Potential Strategic Planning |

102
(1)

| | |
| --- | --- |
| | Strategic Planning for Information Systems |

103
(1)

| | |
| --- | --- |
| | Steps of the Strategic Planning Process |

104
(4)

| | |
| --- | --- |
| | Identification of Goals and Scope |

105
(1)

| | |
| --- | --- |
| | Scanning the External and Internal Environments |

105
(1)
106
(1)

| | |
| --- | --- |
| | Identification of Potential Solutions |

107
(1)

| | |
| --- | --- |
| | Selecting a Course of Action |

107
(1)

| | |
| --- | --- |
| | Information Technology Considerations for Strategic Planning |

108
(1)

| | |
| --- | --- |
| | Pros and Cons Associated with the Outsourcing of Services |

109
(2)
109
(1)

| | |
| --- | --- |
| | Ongoing Evaluation and Feedback |

110
(1)

| | |
| --- | --- |
| | Measures to Ensure a Positive Outsourcing Experience |

111
(1)
111
(1)
112
(1)
112
(2)

| | |
| --- | --- |
| | Selecting a Health Care Information System |

114
(18)
115
(4)
117
(1)
118
(1)

| | |
| --- | --- |
| | Developing a Common Vision |

118
(1)

| | |
| --- | --- |
| | Qualities of an Effective Consultant |

119
(1)

| | |
| --- | --- |
| | Understanding the Current System |

119
(1)

| | |
| --- | --- |
| | Determining System Requirements |

119
(1)

| | |
| --- | --- |
| | Sample of Criteria Defining ``Musts'' and ``Wants'' |

120
(4)
124
(1)

| | |
| --- | --- |
| | Additional Sources of Information |

125
(1)
125
(1)

| | |
| --- | --- |
| | System Selection Criteria |

125
(4)
126
(2)

| | |
| --- | --- |
| | Evaluation of RFP Responses |

128
(1)

| | |
| --- | --- |
| | Questions to Ask During a Site Visit |

129
(1)
130
(1)
130
(1)
130
(1)
131
(1)

| | |
| --- | --- |
| | System Implementation and Maintenance |

132
(13)
133
(1)

| | |
| --- | --- |
| | Develop an Implementation Committee |

133
(1)
133
(1)

| | |
| --- | --- |
| | Characteristics of a Successful Implementation Committee |

134
(6)

| | |
| --- | --- |
| | Analyze Hardware Requirements |

136
(1)

| | |
| --- | --- |
| | Develop Procedures and Documentation |

136
(1)
137
(1)
137
(1)
138
(1)

| | |
| --- | --- |
| | Common Implementation Pitfalls |

139
(1)
140
(2)

| | |
| --- | --- |
| | User Feedback and Support |

140
(1)
141
(1)
141
(1)

| | |
| --- | --- |
| | The Information System's Life Cycle |

142
(1)
142
(1)
143
(1)
144
(1)

| | |
| --- | --- |
| | Information Systems Training |

145
(18)

| | |
| --- | --- |
| | Identification of Training Needs |

147
(1)
147
(1)
148
(3)
149
(2)
151
(1)

| | |
| --- | --- |
| | Sample Screen Options for Reviewing Lab Results |

151
(2)

| | |
| --- | --- |
| | Hardware and Software Requirements |

152
(1)
152
(1)
152
(1)
153
(1)

| | |
| --- | --- |
| | Selecting a Training Site: Factors to Consider |

153
(1)

| | |
| --- | --- |
| | Selecting a Training Method: Factors to Consider |

154
(1)

| | |
| --- | --- |
| | Training Approaches: Advantages, Disadvantages, and Tips |

155
(3)
157
(1)

| | |
| --- | --- |
| | Selecting a Trainer: Factors to Consider |

158
(1)

| | |
| --- | --- |
| | Additional Training Considerations |

158
(2)
159
(1)
160
(1)
160
(1)
161
(2)

| | |
| --- | --- |
| | Information Security and Confidentiality |

163
(22)

| | |
| --- | --- |
| | Privacy, Confidentiality, and Security |

164
(1)

| | |
| --- | --- |
| | Information System Security |

165
(3)
165
(3)

| | |
| --- | --- |
| | Characteristics of Malicious Programs |

168
(1)
168
(1)

| | |
| --- | --- |
| | Tips for How to Avoid Malicious Programs |

169
(1)
169
(1)

| | |
| --- | --- |
| | Passwords and Other Means of Authentication |

169
(1)

| | |
| --- | --- |
| | Recommendations for Password Selection and Use |

170
(2)
171
(1)
171
(1)
172
(1)

| | |
| --- | --- |
| | Administrative and Personnel Issues |

172
(5)
173
(1)
174
(1)
174
(2)

| | |
| --- | --- |
| | System Security Management |

176
(1)
177
(1)

| | |
| --- | --- |
| | Handling and Disposal of Confidential Information |

177
(3)
178
(1)
178
(2)
180
(1)

| | |
| --- | --- |
| | Web-Based Applications for Health Care |

180
(1)
180
(1)
180
(1)
181
(1)
182
(3)
185
(12)
187
(1)

| | |
| --- | --- |
| | The Benefits of Integration |

187
(1)

| | |
| --- | --- |
| | Interface Engine Benefits |

188
(1)
189
(1)

| | |
| --- | --- |
| | Factors that Slow Integration |

189
(1)

| | |
| --- | --- |
| | The Need for Integration Standards |

190
(2)
190
(1)
190
(1)
191
(1)
191
(1)
192
(1)

| | |
| --- | --- |
| | Integration Implications for Nursing |

193
(1)

| | |
| --- | --- |
| | Emerging Integration Solutions |

194
(1)
194
(1)
194
(2)
196
(1)

| | |
| --- | --- |
| | The Computer-Based Patient Record |

197
(14)
198
(1)

| | |
| --- | --- |
| | Characteristics of the CPR |

199
(4)
203
(1)

| | |
| --- | --- |
| | Current Status of the CPR |

204
(1)

| | |
| --- | --- |
| | Qualities of a Successful CPR |

205
(1)

| | |
| --- | --- |
| | Impediments to CPR Development |

205
(1)

| | |
| --- | --- |
| | Concerns Associated with the CPR |

206
(2)
207
(1)

| | |
| --- | --- |
| | Ownership of the Patient Record |

207
(1)

| | |
| --- | --- |
| | Privacy and Confidentiality |

207
(1)
208
(1)
208
(1)

| | |
| --- | --- |
| | Considerations for the Future |

208
(1)
209
(1)
209
(1)
210
(1)

| | |
| --- | --- |
| | Regulatory and Accreditation Issues |

211
(15)

| | |
| --- | --- |
| | Privacy and Confidentiality Issues |

212
(1)

| | |
| --- | --- |
| | Previous Attempts at Legislation to Protect the Privacy of Medical Records |

213
(1)

| | |
| --- | --- |
| | ACLU Principles for Formulating a Health Information Privacy Policy |

214
(1)

| | |
| --- | --- |
| | The Health Insurance Portability and Accountability Act |

215
(2)
215
(1)
216
(1)

| | |
| --- | --- |
| | Accreditation and Reimbursement Issues |

216
(1)

| | |
| --- | --- |
| | Evaluation of Current Security Measures for HIPAA Compliance |

217
(3)
217
(2)
219
(1)
219
(1)

| | |
| --- | --- |
| | Minimum Data Set for Nursing Home Resident Assessment and Care |

220
(1)
221
(2)

| | |
| --- | --- |
| | Geriatric and Long-Term Facilities |

222
(1)
223
(1)
223
(1)
224
(1)
224
(2)

| | |
| --- | --- |
| | Community Health Information Networks |

226
(9)
227
(2)

| | |
| --- | --- |
| | Information Available in a CHIN Data Repository |

229
(1)

| | |
| --- | --- |
| | Services Provided by CHINs |

229
(1)
229
(2)
229
(1)
229
(1)

| | |
| --- | --- |
| | Centralized Data Repository |

229
(1)
229
(2)

| | |
| --- | --- |
| | Benefits Associated with CHINs |

231
(1)

| | |
| --- | --- |
| | Access to Client Information |

231
(1)
231
(1)
232
(1)

| | |
| --- | --- |
| | Client Confidentiality Issues |

232
(1)
232
(1)

| | |
| --- | --- |
| | Initial Development Costs |

232
(1)
233
(1)
233
(1)
233
(1)
234
(1)

| | |
| --- | --- |
| | Disaster Planning and Recovery |

235
(22)

| | |
| --- | --- |
| | What Is Disaster Planning? |

236
(1)

| | |
| --- | --- |
| | Advantages of Disaster Planning |

237
(1)

| | |
| --- | --- |
| | Environmental Disaster Versus System Failure |

238
(1)

| | |
| --- | --- |
| | Threats to Normal System Operation |

239
(1)

| | |
| --- | --- |
| | Suggested Areas for Yearly Review to Avert System Disasters |

240
(1)

| | |
| --- | --- |
| | Steps of the Disaster Planning Process |

240
(4)

| | |
| --- | --- |
| | Identification of Essential Information |

240
(1)

| | |
| --- | --- |
| | IS Policy and Procedure Development |

241
(2)
243
(1)

| | |
| --- | --- |
| | Manual versus Automated Alternatives |

244
(1)

| | |
| --- | --- |
| | Recommended PC Maintenance |

245
(1)

| | |
| --- | --- |
| | Ways to Increase Disaster Awareness and Successful Recovery |

246
(1)
247
(1)

| | |
| --- | --- |
| | Salvaging Damaged Records |

248
(1)
248
(1)
249
(1)

| | |
| --- | --- |
| | Recommended Storage Media Recovery Techniques |

249
(1)
250
(1)

| | |
| --- | --- |
| | Recommended Insurance Coverage |

250
(2)

| | |
| --- | --- |
| | Using Postdisaster Feedback to Improve Planning |

252
(1)
252
(1)
252
(2)
254
(3)
SECTION THREE Specialty Applications
257
(65)

| | |
| --- | --- |
| | Using the Computer to Support Health Care Education |

258
(21)

| | |
| --- | --- |
| | Applications of Computers in Health Care Education |

260
(2)

| | |
| --- | --- |
| | Potential Audiences for Educational Computer Uses |

262
(1)
262
(1)

| | |
| --- | --- |
| | Evaluation Criteria for Instructional Software |

263
(1)

| | |
| --- | --- |
| | Features to Look for in Computerized NCLEX-RN Preparation Programs |

264
(2)
265
(1)
265
(1)

| | |
| --- | --- |
| | Instructional Applications of Computer Technology |

266
(2)

| | |
| --- | --- |
| | Computer-Assisted Instruction (CAI) |

266
(1)
267
(1)
268
(1)

| | |
| --- | --- |
| | Strategies to Maximize the Benefits of Multimedia Instruction |

268
(2)
269
(1)

| | |
| --- | --- |
| | Web-Based Instruction (WBI) |

269
(1)

| | |
| --- | --- |
| | Key Points for Students Involved in Distance Learning |

270
(2)
271
(1)

| | |
| --- | --- |
| | Do's and Don'ts for Developing a Web-Based Course |

272
(1)

| | |
| --- | --- |
| | Evaluation Criteria for a Computer Lab |

273
(1)

| | |
| --- | --- |
| | Educational Opportunities in Nursing Informatics |

274
(1)
274
(1)
275
(1)
276
(3)
279
(23)

| | |
| --- | --- |
| | Terms Related to Telehealth |

280
(1)

| | |
| --- | --- |
| | Some Common Telehealth Terms |

281
(1)
281
(1)
282
(1)

| | |
| --- | --- |
| | Desktop Videoconferencing (DTV) |

282
(1)
282
(1)
283
(1)
284
(1)
284
(1)

| | |
| --- | --- |
| | On-Line Databases and Tools |

284
(1)

| | |
| --- | --- |
| | Current and Proposed Telehealth Applications |

285
(2)
286
(1)
287
(1)
287
(1)
287
(3)
287
(1)
288
(1)
289
(1)

| | |
| --- | --- |
| | Barriers to the Use of Telehealth Applications |

290
(1)
290
(1)
290
(1)

| | |
| --- | --- |
| | Establishing a Telehealth Link |

291
(1)

| | |
| --- | --- |
| | Formulating a Telehealth Plan |

291
(1)

| | |
| --- | --- |
| | Building the Supporting Framework |

292
(1)

| | |
| --- | --- |
| | Strategies to Ensure Successful Teleconferences |

292
(2)
293
(1)
294
(1)
294
(1)
294
(1)

| | |
| --- | --- |
| | Basic DTV Components for Telehealth Applications |

294
(1)
295
(2)
296
(1)
297
(1)
297
(1)
298
(4)
302
(20)

| | |
| --- | --- |
| | Using Computers to Support Research |

303
(1)

| | |
| --- | --- |
| | Identification of Research Topics |

303
(1)

| | |
| --- | --- |
| | Computer Applications That Support Nursing Research |

304
(1)
305
(1)

| | |
| --- | --- |
| | Suggested Health Care Informatics Research Topics |

305
(1)

| | |
| --- | --- |
| | Pros and Cons of On-Line Literature Searches |

306
(3)
306
(3)

| | |
| --- | --- |
| | Tips for Design and Administration of Web-Based Data Collection Tools |

309
(4)
309
(2)

| | |
| --- | --- |
| | Data Presentation: Graphics |

311
(1)

| | |
| --- | --- |
| | Computer-Aided Research in Nursing (CARIN) |

312
(1)

| | |
| --- | --- |
| | On-Line Access to Databases |

313
(1)

| | |
| --- | --- |
| | Impediments to Health Care Research |

313
(1)

| | |
| --- | --- |
| | Possible Funding Sources for Nursing Research |

314
(2)
314
(1)

| | |
| --- | --- |
| | Multi-Institutional Research |

315
(1)

| | |
| --- | --- |
| | Some Databases That Support Nursing |

316
(1)
316
(1)
317
(1)

| | |
| --- | --- |
| | Students Using Computers for Research |

317
(1)
318
(1)
318
(1)
319
(3)
Appendix A: Internet Primer
322
(9)
Appendix B: Career Resources on the Internet
331
(4)
Appendix C: Internet Resources for Nurses and Health Care Professionals
335
(14)
Appendix D: Case Study Exercises--Suggested Responses
349
(18)
Glossary
367
(12)
Index
379