Note: Supplemental materials are not guaranteed with Rental or Used book purchases.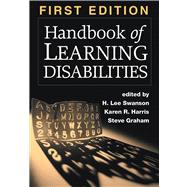 Related Products
Summary
This comprehensive handbook reviews the major theoretical, methodological, and instructional advances that have occurred in the field of learning disabilities over the last 20 years. With contributions from leading researchers, the volume synthesizes a vast body of knowledge on the nature of learning disabilities, their relationship to basic psychological and brain processes, and how students with these difficulties can best be identified and treated. Findings are reviewed on ways to support student performance in specific skill areas--including language arts, math, science, and social studies--as well as general principles of effective instruction that cut across academic domains.
Author Biography
H. Lee Swanson, PhD, is Distinguished Professor and holds an endowed chair at the University of California, Riverside. He did his doctoral studies at the University of New Mexico and his postdoctoral work at University of California, Los Angeles. Dr. Swanson was recently awarded a large U.S. Department of Education grant, which provides support for a longitudinal study of working memory in children with and without math disabilities. He served as Editor of Learning Disability Quarterly for 10 years, and has also published over 200 articles, 13 books, and 30 chapters.

Karen R. Harris, PhD, is Currey Ingram Professor of Special Education and Literacy at Vanderbilt University. She has taught kindergarten and fourth-grade students, as well as elementary and secondary students with ADHD, learning disabilities, and behavioral/emotional difficulties. Dr. Harris's research focuses on theoretical and intervention issues in the development of academic and self-regulation strategies among students with ADHD, learning disabilities, and other challenges. Author of over 100 scholarly publications, she is Editor of the Journal of Educational Psychology. She is past president of the Division for Research of the Council for Exceptional Children.

Steve Graham, PhD, is Currey Ingram Professor of Special Education and Literacy at Vanderbilt University. Previously, he was Professor of Special Education at the University of Maryland, College Park. He received his doctoral degree from the University of Kansas. Following the completion of his doctorate, he was a member of the special education faculties at Auburn University and Purdue University. Dr. Graham's research has focused primarily on identifying the factors that contribute to the development of writing difficulties; the development and validation of effective procedures for teaching planning, revising, and the mechanics of writing to struggling writers; and the use of technology to enhance writing performance and development. One outcome of this focus has been the development of an instructional approach in writing, known as Self-Regulated Strategy Development (SRSD), which provides a powerful way to assist students in the development of higher-level cognitive processes involved in written language, the capability to monitor and manage their own writing, and positive attitudes about writing and themselves as writers. Dr. Graham is the author of more than 150 scholarly publications and coauthor of several books.

Table of Contents
| | |
| --- | --- |
| | Part I. Foundations and Current Perspectives |

| | |
| --- | --- |
| | Overview of Foundations, Causes, Instruction, and Methodology in the Field of Learning Disabilities |

3
(13)

| | |
| --- | --- |
| | A Brief History of the Field of Learning Disabilities |

16
(14)

| | |
| --- | --- |
| | Classification and Definition of Learning Disabilities: An Integrative Perspective |

30
(27)

| | |
| --- | --- |
| | Learning Disabilities and the Law |

57
(19)

| | |
| --- | --- |
| | Learning Disability as a Discipline |

76
(18)

| | |
| --- | --- |
| | English-Language Learners with Learning Disabilities |

94
(16)

| | |
| --- | --- |
| | Searching for the Most Effective Service Delivery Model for Students with Learning Disabilities |

110
(15)

| | |
| --- | --- |
| | Part II. Causes and Behavioral Manifestations |

| | |
| --- | --- |
| | Attention: Relationships between Attention-Deficit Hyperactivity Disorder and Learning Disabilities |

125
(15)

| | |
| --- | --- |
| | RAN's Contribution to Understanding Reading Disabilities |

140
(18)

| | |
| --- | --- |
| | Basic Cognitive Processes and Reading Disabilities |

158
(24)

| | |
| --- | --- |
| | Memory Difficulties in Children and Adults with Learning Disabilities |

182
(17)

| | |
| --- | --- |
| | Learning Disabilities in Arithmetic: Problem-Solving Differences and Cognitive Deficits |

199
(14)

| | |
| --- | --- |
| | Language Processes: Keys to Reading Disability |

213
(16)

| | |
| --- | --- |
| | Self-Concept and Students with Learning Disabilities |

229
(13)

| | |
| --- | --- |
| | Neurological Correlates of Reading Disabilities |

242
(14)

| | |
| --- | --- |
| | Genetic Influences on Reading and Writing Disabilities |

256
(17)

| | |
| --- | --- |
| | Part III. Effective Instruction |

| | |
| --- | --- |
| | Effective Remediation of Word Identification and Decoding Difficulties in School-Age Children with Reading Disabilities |

273
(20)

| | |
| --- | --- |
| | Teaching Text Structure to Improve Reading Comprehension |

293
(13)

| | |
| --- | --- |
| | Enhancing the Mathematical Problem Solving of Students with Mathematics Disabilities |

306
(17)

| | |
| --- | --- |
| | Students with Learning Disabilities and the Process of Writing: A Meta-Analysis of SRSD Studies |

323
(22)

| | |
| --- | --- |
| | Preventing Written Expression Disabilities through Early and Continuing Assessment and Intervention for Handwriting and/or Spelling Problems: Research into Practice |

345
(19)

| | |
| --- | --- |
| | Science and Social Studies |

364
(19)

| | |
| --- | --- |
| | Part IV. Formation of Instructional Models |

| | |
| --- | --- |
| | Cognitive Strategies Instruction Research in Learning Disabilities |

383
(20)
403
(14)

| | |
| --- | --- |
| | Cooperative Learning for Students with Learning Disabilities: Evidence from Experiments, Observations, and Interviews |

417
(14)

| | |
| --- | --- |
| | Identifying Children at Risk for Reading Failure: Curriculum-Based Measurement and the Dual-Discrepancy Approach |

431
(19)

| | |
| --- | --- |
| | The Sociocultural Model in Special Education Interventions: Apprenticing Students in Higher-Order Thinking |

450
(21)

| | |
| --- | --- |
| | Exploratory and Confirmatory Methods in Learning Disabilities Research |

471
(12)

| | |
| --- | --- |
| | Designs for Applied Educational Research |

483
(18)

| | |
| --- | --- |
| | The Methods of Cluster Analysis and the Study of Learning Disabilities |

501
(13)

| | |
| --- | --- |
| | Neurobiological Indices of Dyslexia |

514
(18)

| | |
| --- | --- |
| | What Have We Learned about Learning Disabilities from Qualitative Research?: A Review of Studies |

532
(19)
Author Index
551
(20)
Subject Index
571