Note: Supplemental materials are not guaranteed with Rental or Used book purchases.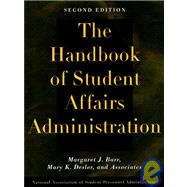 Questions About This Book?
What version or edition is this?
This is the 2nd edition with a publication date of 3/1/2000.
What is included with this book?
The Used copy of this book is not guaranteed to include any supplemental materials. Typically, only the book itself is included.
Related Products
Summary
Sponsored by the National Association of Student Personnel AdministratorsWhat issues and trends affect higher education and student affairs today? What skills and competencies will student affairs administrators need to confront change and future challenges? What opportunities and choices will they discover as they strive to develop professionally? In this fully updated handbook, thirty-nine experts discuss the answers to these and other essential questions. Together, they provide a definitive reference for student affairs professionals at all levels of administration and management.Organized into five distinct sections and over thirty insightful chapters, The Handbook of Student Affairs Administration offers specific, practical advice as well as broad approaches to planning and problem solving. Readers will find modernized discussions on such critical topics as institutional mission, strategic planning, change management, finance and budgeting, staff selection, training and evaluation, conflict resolution, fundraising, legal and ethical behavior, service development, technological innovation, diversity, leadership, and more.In addition, there are new chapters that explore: The history and philosophy of student affairs How to plan and finance campus facilities The role and value of assessment in student affairs How to translate theory and assessment results into practice How to create successful partnerships with academic affairs The impact of fundraising and development The standards and principles of good professional practiceFilled with thoughtful advice from the field's foremost authorities, this comprehensive handbook reflects the most current and effective practices in college student affairs.Praise for the Classic First Edition"Each chapter is designed to stand alone as a source of information for new chief student affairs officers, individuals new to the student affairs field, doctoral students, chief student affairs officers seeking professional renewal, college presidents, and other administrative officers who want to know more about student affairs work.... Many of the chapters in this handbook are filled with 'ah hahs,' quiet smiles, and those private revelations that people have when reading an insightful statement they wish they themselves had made.... As is true for most of the Jossey-Bass professional handbooks, each chapter stands alone and offers varying degrees of information and usefulness."--Journal of Higher Education"The authors address the critical issues and skills necessary for higher education administration. The book covers a wide range of topics that would be appropriate for the beginning administrator as well as the seasoned veteran. The essays provide information on the practical day-to-day activities of higher education administration as well as the more abstract concepts of strategic decision-making and the political realities that surround university life. The book is recommAnded; it has such a broad brush approach that it is practical for an introductory course in higher education as well as a solid reference for the practicing administrator."--Choice
Author Biography
MARGARET J. BARR is vice president for student affairs at Northwestern University. MARY K. DESLER is assistant vice president for student affairs at Northwestern University.
Table of Contents
National Association of Student Personnel Administrators
xix
Preface
xxi
Acknowledgements
xxv
The Authors
xxvii
PART ONE: THE ADMINISTRATIVE ENVIRONMENT OF STUDENT AFFAIRS
1
(118)

| | |
| --- | --- |
| | The History and Philosophy of Student Affairs |

3
(22)
5
(8)

| | |
| --- | --- |
| | Values in Historical Perspective |

13
(12)

| | |
| --- | --- |
| | The Importance of the Institutional Mission |

25
(12)

| | |
| --- | --- |
| | Why is a Mission Statement Important? |

26
(1)

| | |
| --- | --- |
| | Factors Influencing the Mission |

27
(6)
33
(1)

| | |
| --- | --- |
| | Suggestions for Professionals |

34
(1)
35
(2)

| | |
| --- | --- |
| | Institutional Governance and the Role of Student Affairs |

37
(13)
38
(10)
48
(2)

| | |
| --- | --- |
| | Understanding Campus Environments |

50
(23)

| | |
| --- | --- |
| | The Importance of the Institutional Context on Student Learning and Personal Development |

51
(1)

| | |
| --- | --- |
| | A Framework for Assessing the Influence of Contextual Conditions on Student Learning |

52
(10)

| | |
| --- | --- |
| | Key Issues in Assessing Environmental Influences on Learning |

62
(6)
68
(5)

| | |
| --- | --- |
| | Fiscal Pressures on Higher Education and Student Affairs |

73
(24)

| | |
| --- | --- |
| | Demographic and Social Trends |

74
(5)

| | |
| --- | --- |
| | Federal Higher Education Initiatives Issues Related to State Finance |

79
(6)

| | |
| --- | --- |
| | Selected Factors Influencing the Financial Health of Institutions |

85
(1)
86
(6)
92
(5)

| | |
| --- | --- |
| | Identifying and Working with Key Constituents |

97
(22)
98
(5)
103
(5)
108
(3)

| | |
| --- | --- |
| | Working Guidelines and Advice |

111
(4)
115
(4)
PART TWO: ORGANIZATIONAL AND MANAGEMENT ISSUES
119
(110)

| | |
| --- | --- |
| | Organizational and Administrative Models |

121
(14)

| | |
| --- | --- |
| | Organizational Models in Higher Education |

122
(1)
122
(1)
123
(1)
123
(1)
123
(1)

| | |
| --- | --- |
| | Models for Administrative Oversight of Student Affairs |

124
(1)

| | |
| --- | --- |
| | Reporting to the Chief Executive Officer |

124
(1)

| | |
| --- | --- |
| | Reporting through Another Institutional Officer |

125
(1)

| | |
| --- | --- |
| | The Dual Reporting Responsibility |

125
(1)

| | |
| --- | --- |
| | The Decentralized Organizational Structure |

126
(4)

| | |
| --- | --- |
| | Models of Internal Management Structures for Student Affairs |

130
(3)
133
(2)

| | |
| --- | --- |
| | The Role of the Middle Manager |

135
(19)

| | |
| --- | --- |
| | Defining Middle Management in Student Affairs |

135

| | |
| --- | --- |
| | Role Issues for Middle Management |

40
(105)

| | |
| --- | --- |
| | Relationships with the Supervisor |

145
(2)

| | |
| --- | --- |
| | Middle Manager as Politician |

147
(1)
148
(3)
151
(3)

| | |
| --- | --- |
| | Selecting, Training, Supervising, and Evaluating Staff |

154
(24)

| | |
| --- | --- |
| | Organizational Climate and Culture |

155
(1)

| | |
| --- | --- |
| | Human Behavior within Organizations |

156
(1)

| | |
| --- | --- |
| | Organizational Culture and Leadership |

157
(3)
160
(1)
160
(2)

| | |
| --- | --- |
| | Human Relations and Technology |

162
(1)
163
(3)
166
(1)
167
(1)
168
(1)
169
(2)
171
(1)
172
(2)
174
(4)

| | |
| --- | --- |
| | The Political Dimensions of Decision Making |

178
(19)
179
(1)

| | |
| --- | --- |
| | Important Conceptual Considerations |

180
(2)

| | |
| --- | --- |
| | Needs, Motivation, and Expectations |

182
(1)

| | |
| --- | --- |
| | Self-Serving Versus Productive Behavior |

183
(1)
183
(1)

| | |
| --- | --- |
| | Important Elements of Institutions of Higher Education |

183
(3)

| | |
| --- | --- |
| | Perspectives and Strategies |

186
(5)
191
(1)
192
(1)
193
(1)
193
(1)
194
(1)
195
(1)
195
(2)

| | |
| --- | --- |
| | Planning, Managing, and Financing Facilities and Services |

197
(19)

| | |
| --- | --- |
| | Central Issues in Facility Management |

198
(9)

| | |
| --- | --- |
| | Issues in Renovation and Construction of Facilities |

207
(4)

| | |
| --- | --- |
| | Shared Fiscal and Operational Responsibility |

211
(1)

| | |
| --- | --- |
| | Change and Facilities Management |

211
(2)

| | |
| --- | --- |
| | Recommendations for Practice |

213
(3)

| | |
| --- | --- |
| | Technological Changes in Student Affairs Administration |

216
(13)

| | |
| --- | --- |
| | Technology, Society, and Higher Education |

217
(10)
227
(2)
PART THREE: ESSENTIAL SKILLS AND COMPETENCIES FOR STUDENT AFFAIRS MANAGERS
229
(246)

| | |
| --- | --- |
| | An Overview of Relevant Theories and Models for Student Affairs Practice |

231
(18)
232
(1)
233
(1)
234
(10)
244
(5)

| | |
| --- | --- |
| | Assessment in Student Affairs |

249
(16)
249
(2)

| | |
| --- | --- |
| | Why Assessment in Student Affairs? |

251
(4)

| | |
| --- | --- |
| | A Comprehensive Assessment Model |

255
(2)

| | |
| --- | --- |
| | Steps in the Assessment Process |

257
(5)
262
(1)

| | |
| --- | --- |
| | Overcoming Resistance to Assessment |

262
(2)
264
(1)

| | |
| --- | --- |
| | Measuring Student Satisfaction and Needs |

265
(20)

| | |
| --- | --- |
| | The Role of Institutional Mission in Needs and Satisfaction Assessment |

267
(1)
268
(2)

| | |
| --- | --- |
| | Building the Case for Needs and Satisfaction Assessment |

270
(9)

| | |
| --- | --- |
| | Static Assessment Measures |

279
(3)
282
(3)

| | |
| --- | --- |
| | Translating Theory and Assessment Results to Practice |

285
(26)
286
(1)

| | |
| --- | --- |
| | Theory Related to Student Affairs |

287
(1)

| | |
| --- | --- |
| | Research About Students and How They Learn |

288
(2)
290
(7)

| | |
| --- | --- |
| | Translating Theory, Research, and Assessment Results to Practice |

297
(4)
301
(6)

| | |
| --- | --- |
| | Issues in Translating Theory and Assessments Results to Practice |

307
(4)

| | |
| --- | --- |
| | Program Planning and Implementation |

311
(16)
312
(1)

| | |
| --- | --- |
| | Planning and Implementing Major Initiatives |

312
(6)

| | |
| --- | --- |
| | Planning and Implementing Specific Activites |

318
(7)

| | |
| --- | --- |
| | Recommendations for Practice |

325
(2)

| | |
| --- | --- |
| | Budgeting and Fiscal Management |

327
(20)

| | |
| --- | --- |
| | Financial Context for Budgeting |

328
(1)
329
(1)
330
(2)
332
(4)

| | |
| --- | --- |
| | Student Affairs Budget Cycle |

336
(3)
339
(2)
341
(1)

| | |
| --- | --- |
| | Partnership with Faculty Must Be Genuine |

341
(1)
341
(3)
344
(3)

| | |
| --- | --- |
| | Understanding the Legal Implications of Student Affairs Practice |

347
(30)

| | |
| --- | --- |
| | Student/Institutional Relationship |

347
(1)
348
(6)
354
(2)
356
(4)
360
(3)
363
(8)
371
(6)

| | |
| --- | --- |
| | Developing Effective Campus and Community Relationships |

377
(16)

| | |
| --- | --- |
| | Essential Elements of Good Campus Relations |

378
(3)

| | |
| --- | --- |
| | Key Campus and Community Relationships |

381
(7)
388
(1)
389
(3)
392
(1)

| | |
| --- | --- |
| | Managing Conflict Constructively |

393
(17)

| | |
| --- | --- |
| | Challenging the Negative Assumptions |

394
(2)
396
(1)

| | |
| --- | --- |
| | Attitudes Toward Conflict |

397
(2)

| | |
| --- | --- |
| | Skills in Managing Conflict |

399
(1)
400
(7)
407
(3)

| | |
| --- | --- |
| | Maintaining High Ethical Standards |

410
(15)

| | |
| --- | --- |
| | Ethics and Cultural Values |

411
(2)

| | |
| --- | --- |
| | Virtue Ethics in the Helping Professions |

413
(3)

| | |
| --- | --- |
| | Contextual Issues in Ethical Decision Making |

416
(4)

| | |
| --- | --- |
| | Creating Environments for Ethical Discussion |

420
(3)
423
(2)

| | |
| --- | --- |
| | Developing Partnerships with Academic Affairs to Enhance Student Learning |

425
(28)
426
(5)

| | |
| --- | --- |
| | A Window of Opportunity for Innovative Types of Partnerships |

431
(1)

| | |
| --- | --- |
| | Evolution of the Partnerships Between Student Affairs and Faculty |

432
(3)

| | |
| --- | --- |
| | Moving Toward Collaborative Partnerships |

435
(9)

| | |
| --- | --- |
| | Recommendations for Promoting Collaborative Relationships |

444
(4)
448
(1)
449
(4)

| | |
| --- | --- |
| | Dealing with Campus Crisis |

453
(22)

| | |
| --- | --- |
| | Confronting a Crisis Involving a Student |

454
(3)
457
(2)
459
(3)
462
(2)

| | |
| --- | --- |
| | Managing a Natural Disaster |

464
(1)

| | |
| --- | --- |
| | The Leadership Role of Student Affairs |

465
(1)

| | |
| --- | --- |
| | Crisis Coordination and Administration |

466
(2)

| | |
| --- | --- |
| | Student Affairs Response to the People on Campus |

468
(1)
469
(1)

| | |
| --- | --- |
| | Debriefing and Evaluation |

470
(1)
471
(4)
PART FOUR: COMMITMENT TO PROFESSIONAL EDUCATION
475
(80)

| | |
| --- | --- |
| | Creating Effective Staff Development Programs |

477
(15)

| | |
| --- | --- |
| | A Rationale for Staff Development |

478
(2)

| | |
| --- | --- |
| | Organizational Factors in Staff Development Programs |

480
(3)
483
(1)

| | |
| --- | --- |
| | Staff Development: A Multi-Level Approach |

484
(5)

| | |
| --- | --- |
| | Practical Suggestions and Recommendations for Staff Development |

489
(1)
489
(3)

| | |
| --- | --- |
| | The Role of Professional Associations |

492
(16)

| | |
| --- | --- |
| | A Brief History of Professional Associations |

493
(2)

| | |
| --- | --- |
| | Role of Professional Associations |

495
(11)
506
(2)

| | |
| --- | --- |
| | Advancing Professionally Through Doctoral Education |

508
(27)

| | |
| --- | --- |
| | Doctorates for Career Success |

509
(3)

| | |
| --- | --- |
| | Specialization in Studying Higher Education and Student Affairs |

512
(1)

| | |
| --- | --- |
| | Perspectives on Doctoral Programs in Higher Education or Student Affairs Administration |

513
(7)
520
(2)

| | |
| --- | --- |
| | Assessing a Doctoral Program --- Is it Right for You? |

522
(3)

| | |
| --- | --- |
| | Succeeding in Doctoral Study |

525
(3)

| | |
| --- | --- |
| | Future Content in Doctoral Preparation |

528
(1)
529
(6)

| | |
| --- | --- |
| | New Alternatives for Professional Development |

535
(20)

| | |
| --- | --- |
| | Professional Development Background |

536
(3)

| | |
| --- | --- |
| | Path to Professional Development |

539
(8)

| | |
| --- | --- |
| | Skills for the New Millennium |

547
(3)
550
(5)
PART FIVE: CHALLENGES FOR THE FUTURE
555
(88)

| | |
| --- | --- |
| | Who Are the New Students? |

557
(23)
558
(13)

| | |
| --- | --- |
| | Role of Student Services in Meeting Future Trends |

571
(9)

| | |
| --- | --- |
| | Supporting People, Programs, and Structures for Diversity |

580
(17)
582
(4)
586
(6)

| | |
| --- | --- |
| | Supporting Organizational Structures |

592
(1)

| | |
| --- | --- |
| | Summary and Future Implications |

593
(4)

| | |
| --- | --- |
| | Fund-raising and Development |

597
(15)

| | |
| --- | --- |
| | Student Affairs and Institutions Respond to a Changed Financial Environment |

598
(1)

| | |
| --- | --- |
| | Creating the Foundation for Successful Fund-raising |

599
(2)

| | |
| --- | --- |
| | Principles that Guide Student Affairs Fund-raising Efforts |

601
(9)
610
(2)

| | |
| --- | --- |
| | Applying Professional Standards and Principles of Good Practice in Student Affairs |

612
(17)

| | |
| --- | --- |
| | Principles of Good Practice in Student Affairs |

613
(9)
622
(4)
626
(3)

| | |
| --- | --- |
| | Leadership for the Future |

629
(14)
628
(2)

| | |
| --- | --- |
| | Alternative Futures for Higher Education |

630
(4)

| | |
| --- | --- |
| | The Value Added by Student Affairs |

634
(9)
Name Index
643
(8)
Subject Index
651