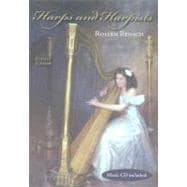 Summary
Six thousand years of lavishly illustrated harp history
Author Biography
Roslyn Rensch, musician and art historian, studied harp with Alberto Salvi and Joseph Vito. She is author of The Harp; The Harp, Its History, Technique and Repertoire; and most recently, Three Centuries of Harpmaking.
Table of Contents
The Harp in the Ancient World
The beginning
Beyond the Earliest Sources
The Non-Pedal Harp in Western Europe and North America
Early Representations
The Harp in Art, 1200-1665
The Harp in Literature and Music
Concerning Non-pedal Harps and Harpists
The Pedal Harp in Western Europe and North America
Some Early Harps, Harpists and Music
From Single to Double Action
The Colonies and the United States
The Harp International
Retrospection and the Future
Some Notable Events
Four Essays by the Author
Table of Contents provided by Publisher. All Rights Reserved.