Note: Supplemental materials are not guaranteed with Rental or Used book purchases.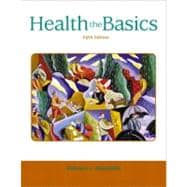 Summary
Health: The Basics sets the standard for teaching personal health and wellness from a behavior management perspective. With the Fifth Edition, the text continues to provide the cutting-edge information students need to make healthy decisions. Today's health research, issues, and trends are reflected throughout the thoroughly revised and updated content. Enhancements include expanded psychosocial health and personal fitness chapters, a new chapter on complementary and alternative medicine, extended coverage of cardiovascular disease and cancer, and the addition of three new feature boxes: Women's Health/Men's Health, New Horizons in Health, and Assess Yourself.
Table of Contents
1. Promoting Healthy Behavior Change.
2. Psychosocial Health: Being Mentally, Emotionally, Socially, and Spiritually Well.
3. Managing Stress: Coping with Life's Challenges.
4. Violence and Abuse: Creating Healthy Environments.
5. Healthy Relationships and Sexuality: Making Commitments.
6. Birth Control, Pregnancy, and Childbirth: Managing Your Fertility.
7. Licit and Illicit Drugs: Use, Misuse, and Abuse.
8. Alcohol, Tobacco, and Caffeine: Daily Challenges, Daily Pleasure.
9. Nutrition: Eating for Optimum Health.
10. Managing Your Weight.
11. Personal Fitness: Improving Health through Exercise.
12. Cardiovascular Disease: Reducing Your Risks.
13. Cancer: Reducing Your Risks.
14. Infectious and Noninfectious Conditions: Risks and Responsibilities.
15. Life's Transitions: The Aging Process.
16. Environmental Health: Thinking Globally, Acting Locally.
17. Consumerism: Selecting Health Care Products and Services.
18. Complementary and Alternative Medicine: New Choices and Responsibilities for Healthwise Consumers.