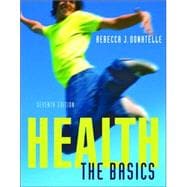 List Price: $78.80
Usually Ships in 2-3 Business Days

More New and Used
from Private Sellers
Questions About This Book?
What version or edition is this?
This is the 7th edition with a publication date of 1/1/2007.
What is included with this book?
The Used copy of this book is not guaranteed to inclue any supplemental materials. Typically, only the book itself is included.
Summary
TheSeventh Editionof Donatelle's text provides readers with the tools they need to make healthy, lifelong behavior changes and become savvy consumers of health information. This current and user-friendly text holds readers'interest by covering health topics of primary concern to them.Promoting Healthy Behavior Change; Psychosocial Health: Being Mentally, Emotionally, Socially, and Spiritually Well; Managing Stress: Coping with Life's Challenges; Violence and Abuse: Creating Healthy Environments; Healthy Relationships and Sexuality: Making Commitments; Birth Control, Pregnancy, and Childbirth: Managing Your Fertility; Licit and Illicit Drugs: Use, Misuse, and Abuse; Alcohol, Tobacco, and Caffeine: Daily Pleasure, Daily Challenges; Nutrition: Eating for Optimum Health; Managing Your Weight: Finding a Healthy Balance; Personal Fitness: Improving Health through Exercise; Cardiovascular Disease: Reducing Your Risk; Cancer: Reducing Your Risk; Infectious and Noninfectious Conditions: Risks and Responsibilities; Life's Transitions: The Aging Process; Environmental Health: Thinking Globally, Acting Locally; Consumerism: Selecting Health Care Products and Services; Complementary and Alternative Medicine: New Choices and Responsibilities for Healthwise ConsumersFor all readers interested in making healthy,lifelong behavior changes.
Table of Contents
Preface
iii

| | |
| --- | --- |
| | Part One Finding the Right Balance |

| | |
| --- | --- |
| | Promoting Healthy Behavior Change |

1
(30)

| | |
| --- | --- |
| | Putting Your Health in Perspective |

3
(2)

| | |
| --- | --- |
| | Health: Yesterday and Today |

3
(1)

| | |
| --- | --- |
| | The Evolution toward Wellness |

4
(1)

| | |
| --- | --- |
| | New Directions for Health |

5
(9)
5
(1)

| | |
| --- | --- |
| | National Changes: Improving Health and Reducing Disparities |

6
(1)

| | |
| --- | --- |
| | A New Focus on Health Promotion |

6
(1)
7
(5)

| | |
| --- | --- |
| | Health Status Report: How Well Are We Doing? |

12
(2)

| | |
| --- | --- |
| | Improving Quality of Life |

14
(1)

| | |
| --- | --- |
| | Achievements in Public Health |

14
(1)

| | |
| --- | --- |
| | Preparing for Better Health in the Twenty First Century |

14
(2)
15
(1)

| | |
| --- | --- |
| | Gender Differences and Health |

15
(1)
16
(1)

| | |
| --- | --- |
| | Factors That Influence Your Health Status |

16
(1)
17
(1)

| | |
| --- | --- |
| | Preparing for Behavior Change |

17
(6)

| | |
| --- | --- |
| | Factors That Influence Behavior Change |

17
(2)
19
(1)
19
(1)
19
(1)

| | |
| --- | --- |
| | Significant Others as Change Agents |

20
(3)

| | |
| --- | --- |
| | Choosing a Behavior-Change Technique |

23
(2)
23
(1)
23
(1)
23
(1)

| | |
| --- | --- |
| | Controlling the Situation |

23
(1)
24
(1)
24
(1)

| | |
| --- | --- |
| | Problem Solving: The Art of Self-Instruction |

25
(1)
25
(2)

| | |
| --- | --- |
| | Self-Assessment: Antecedents and Consequences |

25
(1)

| | |
| --- | --- |
| | Analyzing Personal Behavior |

26
(1)

| | |
| --- | --- |
| | Decision Making: Choices for Change |

26
(1)
27
(1)
27
(1)
28
(1)

| | |
| --- | --- |
| | Questions for Discussion and Reflection |

28
(1)

| | |
| --- | --- |
| | Accessing Your Health on the Internet |

29
(1)
29
(1)
29
(2)

| | |
| --- | --- |
| | Psychosocial Health: Being Mentally, Emotionally, Socially, and Spiritually Well |

31
(28)

| | |
| --- | --- |
| | Defining Psychosocial Health |

32
(7)

| | |
| --- | --- |
| | What Is Psychosocial Health? |

32
(4)

| | |
| --- | --- |
| | Mental Health: The Thinking You |

36
(1)

| | |
| --- | --- |
| | Emotional Health: The Feeling You |

36
(1)

| | |
| --- | --- |
| | Social Health: Interactions with Others |

37
(1)

| | |
| --- | --- |
| | Spiritual Health: An Inner Quest for Well-Being |

37
(2)

| | |
| --- | --- |
| | Factors Influencing Psychosocial Health |

39
(2)
39
(1)
39
(2)

| | |
| --- | --- |
| | Resiliency and Developmental Assets |

41
(1)

| | |
| --- | --- |
| | Strategies to Enhance Psychosocial Health |

41
(2)

| | |
| --- | --- |
| | Developing and Maintaining Self-Esteem and Self-Efficacy |

42
(1)

| | |
| --- | --- |
| | Sleep: The Great Restorer |

42
(1)
43
(2)

| | |
| --- | --- |
| | Happiness and Physical Health |

43
(1)

| | |
| --- | --- |
| | Does Laughter Enhance Psychosocial Health? |

44
(1)

| | |
| --- | --- |
| | Psychosocial Health and Overall Well-Being |

44
(1)

| | |
| --- | --- |
| | When Psychosocial Health Deteriorates |

45
(8)

| | |
| --- | --- |
| | Depression: The Full-Scale Tumble |

45
(4)

| | |
| --- | --- |
| | Anxiety Disorders: Facing Your Fears |

49
(3)

| | |
| --- | --- |
| | Seasonal Affective Disorder |

52
(1)
52
(1)

| | |
| --- | --- |
| | Gender Issues in Psychosocial Health |

52
(1)

| | |
| --- | --- |
| | Suicide: Giving Up on Life |

53
(1)
53
(1)

| | |
| --- | --- |
| | Taking Action to Prevent Suicide |

53
(1)

| | |
| --- | --- |
| | Seeking Professional Help |

54
(5)

| | |
| --- | --- |
| | Getting Evaluated for Treatment |

54
(1)

| | |
| --- | --- |
| | Mental Health Professionals |

54
(1)

| | |
| --- | --- |
| | What to Expect in Therapy |

55
(1)
56
(1)
56
(1)

| | |
| --- | --- |
| | Questions for Discussion and Reflection |

57
(1)

| | |
| --- | --- |
| | Accessing Your Health on the Internet |

57
(1)
57
(1)
57
(2)

| | |
| --- | --- |
| | Managing Stress: Coping with Life's Challenges |

59
(30)
60
(1)

| | |
| --- | --- |
| | The Body's Response to Stress |

61
(2)

| | |
| --- | --- |
| | The Fight-or-Flight Response |

61
(1)

| | |
| --- | --- |
| | The General Adaptation Syndrome |

61
(2)
63
(2)

| | |
| --- | --- |
| | Stress and Cardiovascular Disease Risks |

63
(1)

| | |
| --- | --- |
| | Stress and Impaired Immunity |

64
(1)
64
(1)
65
(1)
65
(8)

| | |
| --- | --- |
| | Psychosocial Sources of Stress |

65
(2)
67
(1)
67
(6)

| | |
| --- | --- |
| | Stress and the College Student |

73
(1)
74
(9)

| | |
| --- | --- |
| | Building Skills to Reduce Stress |

74
(1)

| | |
| --- | --- |
| | Managing Social Interactions |

75
(2)
77
(1)

| | |
| --- | --- |
| | Managing Emotional Responses |

78
(1)
79
(1)
80
(1)

| | |
| --- | --- |
| | Alternative Stress Management Techniques |

81
(2)

| | |
| --- | --- |
| | Developing Your Spiritual Side: Mindfulness |

83
(6)

| | |
| --- | --- |
| | The Physical Dimension: Moving in Nature |

83
(1)

| | |
| --- | --- |
| | The Emotional Dimension: Dealing with Negative Feelings |

84
(1)

| | |
| --- | --- |
| | The Social Dimension: Interacting, Listening, and Communicating |

84
(1)

| | |
| --- | --- |
| | The Intellectual Dimension: Sharpening Intuition |

84
(1)
85
(1)
85
(1)

| | |
| --- | --- |
| | Questions for Discussion and Reflection |

86
(1)

| | |
| --- | --- |
| | Accessing Your Health on the Internet |

86
(1)
86
(1)
87
(2)

| | |
| --- | --- |
| | Violence and Abuse: Creating Healthy Environments |

89
(24)

| | |
| --- | --- |
| | Violence in the United States |

90
(1)

| | |
| --- | --- |
| | Societal Causes of Violence |

91
(1)

| | |
| --- | --- |
| | Personal Precipitators of Violence |

92
(1)
92
(12)
92
(3)

| | |
| --- | --- |
| | Terrorism: Increased Risks from Multiple Sources |

95
(1)
96
(5)
101
(1)
101
(1)

| | |
| --- | --- |
| | Crime on Campus: Victims and Perpetrators |

102
(1)

| | |
| --- | --- |
| | Sexual Violence on Campus |

103
(1)
104
(3)

| | |
| --- | --- |
| | Self-Defense against Rape |

104
(2)

| | |
| --- | --- |
| | What to Do if a Rape Occurs |

106
(1)

| | |
| --- | --- |
| | A Campus-Wide Response to Violence |

107
(1)
107
(6)
108
(1)
109
(1)
109
(1)
110
(1)

| | |
| --- | --- |
| | Questions for Discussion and Reflection |

110
(1)

| | |
| --- | --- |
| | Accessing Your Health on the Internet |

111
(1)
111
(1)
111
(2)

| | |
| --- | --- |
| | Part Two Creating Healthy and Caring Relationships |

| | |
| --- | --- |
| | Healthy Relationships and Sexuality: Making Commitments |

113
(34)

| | |
| --- | --- |
| | Communicating: A Key to Good Relationships |

114
(1)

| | |
| --- | --- |
| | Communicating How You Feel |

114
(1)

| | |
| --- | --- |
| | Characteristics of Intimate Relationships |

115
(2)

| | |
| --- | --- |
| | Forming Intimate Relationships |

117
(2)

| | |
| --- | --- |
| | Families: The Ties That Bind |

117
(1)
118
(1)
118
(1)

| | |
| --- | --- |
| | Significant Others, Partners, and Couples |

118
(1)
119
(1)
119
(1)

| | |
| --- | --- |
| | Gender Issues in Relationships |

120
(1)

| | |
| --- | --- |
| | Styles in Decision Making |

120
(1)
121
(1)
121
(1)

| | |
| --- | --- |
| | Overcoming Barriers to Intimacy |

121
(1)
122
(1)

| | |
| --- | --- |
| | Jealousy in Relationships |

122
(1)
122
(3)
122
(1)
123
(1)

| | |
| --- | --- |
| | Gay and Lesbian Partnerships |

124
(1)
125
(1)
125
(1)
125
(1)
126
(1)
126
(1)

| | |
| --- | --- |
| | When Relationships Falter |

127
(1)

| | |
| --- | --- |
| | When and Why Relationships End |

127
(1)

| | |
| --- | --- |
| | Coping with Failed Relationships |

127
(1)

| | |
| --- | --- |
| | Building Better Relationships |

128
(1)

| | |
| --- | --- |
| | Elements of Healthy Relationships |

128
(1)
128
(3)
130
(1)

| | |
| --- | --- |
| | Sexual Anatomy and Physiology |

131
(6)

| | |
| --- | --- |
| | Female Sexual Anatomy and Physiology |

131
(4)

| | |
| --- | --- |
| | Male Sexual Anatomy and Physiology |

135
(1)
136
(1)

| | |
| --- | --- |
| | Expressing Your Sexuality |

137
(3)

| | |
| --- | --- |
| | Sexual Behavior: What Is Normal? |

137
(1)

| | |
| --- | --- |
| | Options for Sexual Expression |

137
(3)
140
(1)

| | |
| --- | --- |
| | Difficulties That Can Hinder Sexual Functioning |

140
(7)
140
(1)
141
(1)
141
(1)

| | |
| --- | --- |
| | Sexual Performance Anxiety |

142
(1)
142
(1)

| | |
| --- | --- |
| | Seeking Help for Sexual Dysfunction |

142
(1)
142
(1)
143
(1)
143
(1)

| | |
| --- | --- |
| | Questions for Discussion and Reflection |

144
(1)

| | |
| --- | --- |
| | Accessing Your Health on the Internet |

145
(1)
145
(1)
145
(2)

| | |
| --- | --- |
| | Birth Control, Pregnancy, and Childbirth: Managing Your Fertility |

147
(32)

| | |
| --- | --- |
| | Methods of Fertility Management |

148
(13)

| | |
| --- | --- |
| | Choosing a Method of Contraception |

148
(1)
148
(4)
152
(2)
154
(2)

| | |
| --- | --- |
| | Other Methods of Contraception |

156
(3)

| | |
| --- | --- |
| | Fertility Awareness Methods |

159
(2)
161
(2)
161
(2)
163
(1)
163
(1)
163
(1)
163
(1)
163
(1)
164
(1)
164
(5)
164
(2)

| | |
| --- | --- |
| | A Woman's Reproductive Years |

166
(1)
166
(1)
167
(1)

| | |
| --- | --- |
| | Prenatal Testing and Screening |

168
(1)
169
(4)

| | |
| --- | --- |
| | Choosing Where to Have Your Baby |

170
(1)
170
(1)
170
(1)
171
(1)
171
(1)
172
(1)
173
(6)
173
(1)
174
(1)
174
(1)
175
(1)
176
(1)
176
(1)
177
(1)

| | |
| --- | --- |
| | Questions for Discussion and Reflection |

177
(1)

| | |
| --- | --- |
| | Accessing Your Health on the Internet |

177
(1)
178
(1)
178
(1)

| | |
| --- | --- |
| | Part Three Avoiding Risks from Harmful Habits |

| | |
| --- | --- |
| | Licit and Illicit Drugs: Use, Misuse, and Abuse |

179
(28)
180
(2)
180
(1)

| | |
| --- | --- |
| | Routes of Administration of Drugs |

181
(1)

| | |
| --- | --- |
| | Using, Misusing, and Abusing Drugs |

182
(1)
182
(1)
182
(1)
183
(5)

| | |
| --- | --- |
| | Types of Prescription Drugs |

183
(2)
185
(1)
185
(1)
185
(1)

| | |
| --- | --- |
| | How Prescription Drugs Become Over-the-Counter Drugs |

185
(1)

| | |
| --- | --- |
| | Types of Over-the-Counter Drugs |

186
(1)

| | |
| --- | --- |
| | Rules for Proper Use of Over-the-Counter Drugs |

187
(1)
187
(1)
188
(1)
189
(1)
189
(14)
190
(4)
194
(2)
196
(2)

| | |
| --- | --- |
| | Hallucinogens (Psychedelics) |

198
(2)

| | |
| --- | --- |
| | Designer Drugs (Club Drugs) |

200
(1)
200
(1)
201
(2)

| | |
| --- | --- |
| | Illegal Drug Use in the United States |

203
(4)
203
(1)
203
(1)
204
(1)
204
(1)

| | |
| --- | --- |
| | Questions for Discussion and Reflection |

205
(1)

| | |
| --- | --- |
| | Accessing Your Health on the Internet |

205
(1)
205
(1)
206
(1)

| | |
| --- | --- |
| | Alcohol, Tobacco, and Caffeine: Daily Pleasures, Daily Challenges |

207
(32)
208
(3)

| | |
| --- | --- |
| | Alcohol and College Students |

208
(1)

| | |
| --- | --- |
| | Binge Drinking and College Students |

209
(2)

| | |
| --- | --- |
| | Physiological and Behavioral Effects of Alcohol |

211
(6)

| | |
| --- | --- |
| | The Chemical Makeup of Alcohol |

211
(1)

| | |
| --- | --- |
| | Absorption and Metabolism |

211
(1)

| | |
| --- | --- |
| | Behavioral and Physiological Effects |

212
(2)

| | |
| --- | --- |
| | Immediate Effects of Alcohol |

214
(1)
214
(1)
215
(1)
216
(1)

| | |
| --- | --- |
| | Alcohol Abuse and Alcoholism |

217
(4)

| | |
| --- | --- |
| | Identifying a Problem Drinker |

217
(1)

| | |
| --- | --- |
| | The Causes of Alcohol Abuse and Alcoholism |

218
(2)

| | |
| --- | --- |
| | Effects of Alcoholism on the Family |

220
(1)
220
(1)
221
(1)
221
(1)
222
(1)
222
(1)
222
(2)

| | |
| --- | --- |
| | Tobacco and Social Issues |

223
(1)

| | |
| --- | --- |
| | College Students and Smoking |

224
(1)
224
(3)
225
(2)

| | |
| --- | --- |
| | Physiological Effects of Nicotine |

227
(1)

| | |
| --- | --- |
| | Health Hazards of Smoking |

227
(2)
227
(1)
227
(1)
228
(1)
229
(1)

| | |
| --- | --- |
| | Other Health Effects of Smoking |

229
(1)

| | |
| --- | --- |
| | Environmental Tobacco Smoke |

229
(1)

| | |
| --- | --- |
| | Risks from Environmental Tobacco Smoke |

229
(1)
230
(1)
230
(3)

| | |
| --- | --- |
| | Breaking the Nicotine Addiction |

231
(2)
233
(6)
234
(1)

| | |
| --- | --- |
| | The Health Consequences of Long-Term Caffeine Use |

234
(1)
235
(1)
235
(1)

| | |
| --- | --- |
| | Questions for Discussion and Reflection |

236
(1)

| | |
| --- | --- |
| | Accessing Your Health on the Internet |

236
(1)
237
(1)
237
(2)

| | |
| --- | --- |
| | Part Four Building Healthy Lifestyles |

| | |
| --- | --- |
| | Nutrition: Eating for Optimum Health |

239
(36)

| | |
| --- | --- |
| | Assessing Eating Behaviors |

240
(1)
241
(1)

| | |
| --- | --- |
| | Characteristics of a Healthy Diet |

241
(1)

| | |
| --- | --- |
| | Obtaining Essential Nutrients |

242
(16)
242
(1)

| | |
| --- | --- |
| | Water: A Crucial Nutrient |

242
(1)
243
(4)
247
(2)
249
(1)
250
(1)

| | |
| --- | --- |
| | MUFAs and PUFAs: Unsaturated ``Good Guys'' |

250
(2)
252
(1)
252
(5)

| | |
| --- | --- |
| | Determining Your Nutritional Needs |

257
(1)

| | |
| --- | --- |
| | The New Food Guide Pyramid |

258
(3)

| | |
| --- | --- |
| | Goals of the MyPyramid Plan |

259
(1)

| | |
| --- | --- |
| | Using the New MyPyramid Plan |

260
(1)

| | |
| --- | --- |
| | Vegetarianism: Eating for Health |

261
(1)

| | |
| --- | --- |
| | Adapting MyPyramid for Vegetarians |

262
(1)

| | |
| --- | --- |
| | Can Food Have Medicinal Value? |

262
(2)

| | |
| --- | --- |
| | Antioxidants and Your Health |

262
(2)
264
(1)
264
(1)

| | |
| --- | --- |
| | Different Cycles, Different Needs |

264
(1)

| | |
| --- | --- |
| | Changing the ``Meat-and-Potatoes'' American |

265
(1)

| | |
| --- | --- |
| | Improved Eating for the College Student |

265
(3)

| | |
| --- | --- |
| | When Time Is Short: Eating on the Run |

265
(2)
267
(1)

| | |
| --- | --- |
| | Supplements: New Research on the Daily Dose |

267
(1)

| | |
| --- | --- |
| | Food Safety: A Growing Concern |

268
(7)
268
(1)

| | |
| --- | --- |
| | Responsible Use: Avoiding Risks in the Home |

269
(1)

| | |
| --- | --- |
| | Food Irradiation: How Safe Is It? |

269
(1)
269
(1)

| | |
| --- | --- |
| | Food Allergy or Food Intolerance? |

270
(1)
270
(1)
271
(1)
271
(1)

| | |
| --- | --- |
| | Questions for Discussion and Reflection |

272
(1)

| | |
| --- | --- |
| | Accessing Your Health on the Internet |

272
(1)
272
(1)
273
(2)

| | |
| --- | --- |
| | Managing Your Weight: Finding a Healthy Balance |

275
(30)

| | |
| --- | --- |
| | Determining the Right Weight for You |

276
(3)
277
(1)
278
(1)
279
(2)
279
(1)
279
(1)

| | |
| --- | --- |
| | Waist Circumference and Ratio Measurements |

280
(1)
280
(1)
281
(10)

| | |
| --- | --- |
| | Key Environmental Factors |

282
(1)

| | |
| --- | --- |
| | Heredity and Genetic Factors |

282
(2)

| | |
| --- | --- |
| | Endocrine Influence: The Hungry Hormones |

284
(1)

| | |
| --- | --- |
| | Hunger, Appetite, and Satiety |

284
(1)
284
(1)
285
(1)

| | |
| --- | --- |
| | Early Sabotage: Obesity in Youth |

285
(5)
290
(1)
291
(1)
291
(7)

| | |
| --- | --- |
| | Keeping Weight Control in Perspective |

292
(1)
292
(1)
292
(1)

| | |
| --- | --- |
| | Improving Your Eating Habits |

293
(2)

| | |
| --- | --- |
| | Selecting a Nutritional Plan |

295
(1)

| | |
| --- | --- |
| | Considering Drastic Weight Loss Measures |

295
(1)
295
(3)
298
(1)

| | |
| --- | --- |
| | Thinking Thin: Body Image and Media Messages |

298
(1)
299
(6)
299
(1)
300
(1)
301
(1)
301
(1)

| | |
| --- | --- |
| | Treatment for Eating Disorders |

301
(1)
301
(1)
302
(1)

| | |
| --- | --- |
| | Questions for Discussion and Reflection |

302
(1)

| | |
| --- | --- |
| | Accessing Your Health on the Internet |

302
(1)
303
(1)
303
(2)

| | |
| --- | --- |
| | Personal Fitness: Improving Health through Exercise |

305
(22)

| | |
| --- | --- |
| | What Is Physical Fitness? |

306
(1)

| | |
| --- | --- |
| | Benefits of Regular Physical Activity |

306
(3)

| | |
| --- | --- |
| | Improved Cardiorespiratory Fitness |

306
(1)
307
(1)
307
(1)
308
(1)

| | |
| --- | --- |
| | Improved Health and Life Span |

308
(1)

| | |
| --- | --- |
| | Improved Mental Health and Stress Management |

308
(1)

| | |
| --- | --- |
| | Improving Cardiorespiratory Fitness |

309
(1)
309
(1)

| | |
| --- | --- |
| | Improving Muscular Strength and Endurance |

310
(5)
311
(2)

| | |
| --- | --- |
| | Principles of Strength Development |

313
(1)

| | |
| --- | --- |
| | Gender Differences in Weight Training |

314
(1)
314
(1)

| | |
| --- | --- |
| | Methods of Providing Resistance |

314
(1)

| | |
| --- | --- |
| | The Benefits of Strength Training |

315
(1)
315
(2)

| | |
| --- | --- |
| | Stretching Exercises and Well-Being |

315
(1)

| | |
| --- | --- |
| | Types of Stretching Exercises |

316
(1)

| | |
| --- | --- |
| | Yoga, Tai Chi, and Pilates |

316
(1)
317
(1)

| | |
| --- | --- |
| | Creating Your Own Fitness Program |

317
(2)

| | |
| --- | --- |
| | Identify Your Fitness Goals |

317
(1)
318
(1)

| | |
| --- | --- |
| | Fitness Program Components |

318
(1)
319
(8)

| | |
| --- | --- |
| | Causes of Fitness-Related Injuries |

319
(1)
320
(1)
321
(1)
322
(1)
322
(1)
323
(1)
323
(1)
324
(1)
324
(1)

| | |
| --- | --- |
| | Questions for Discussion and Reflection |

325
(1)

| | |
| --- | --- |
| | Accessing Your Health on the Internet |

325
(1)
325
(1)
325
(2)

| | |
| --- | --- |
| | Part Five Preventing and Fighting Disease |

| | |
| --- | --- |
| | Cardiovascular Disease: Reducing Your Risk |

327
(24)

| | |
| --- | --- |
| | An Epidemiological Overview |

328
(1)

| | |
| --- | --- |
| | Understanding the Cardiovascular System |

329
(2)

| | |
| --- | --- |
| | The Heart: A Mighty Machine |

329
(2)

| | |
| --- | --- |
| | Types of Cardiovascular Disease |

331
(7)
331
(3)
334
(1)
335
(1)
335
(1)
336
(1)
337
(1)

| | |
| --- | --- |
| | Congenital and Rheumatic Heart Disease |

337
(1)
337
(1)

| | |
| --- | --- |
| | Reducing Your Risk for Cardiovascular Diseases |

338
(4)
338
(4)
342
(1)

| | |
| --- | --- |
| | Women and Cardiovascular Disease |

342
(2)

| | |
| --- | --- |
| | Risk Factors for Heart Disease in Women |

343
(1)

| | |
| --- | --- |
| | New Weapons Against Heart Disease |

344
(7)

| | |
| --- | --- |
| | Techniques of Diagnosing Heart Disease |

345
(1)

| | |
| --- | --- |
| | Angioplasty versus Bypass Surgery |

345
(1)

| | |
| --- | --- |
| | Aspirin for Heart Disease: Can It Help? |

346
(1)
346
(1)
346
(1)

| | |
| --- | --- |
| | Personal Advocacy and Heart-Smart Behaviors |

346
(2)
348
(1)
348
(1)

| | |
| --- | --- |
| | Questions for Discussion and Reflection |

349
(1)

| | |
| --- | --- |
| | Accessing Your Health on the Internet |

349
(1)
349
(1)
350
(1)

| | |
| --- | --- |
| | Cancer: Reducing Your Risk |

351
(24)
352
(4)
352
(1)
352
(1)

| | |
| --- | --- |
| | Disparities in Cancer Rates |

353
(3)
356
(4)

| | |
| --- | --- |
| | Cellular Change/Mutation Theories |

356
(1)

| | |
| --- | --- |
| | Risks for Cancer: Lifestyle |

356
(1)
357
(2)
359
(1)

| | |
| --- | --- |
| | Infectious Diseases and Cancer |

359
(1)
360
(1)
360
(10)

| | |
| --- | --- |
| | Classifications of Cancer |

360
(1)
360
(1)
361
(2)
363
(2)
365
(1)

| | |
| --- | --- |
| | Skin Cancer: Sun Worshipers Beware |

366
(2)
368
(1)
368
(1)

| | |
| --- | --- |
| | Cervical and Endometrial (Uterine) Cancer |

369
(1)
369
(1)
370
(1)
370
(5)
370
(1)

| | |
| --- | --- |
| | New Hope in Cancer Treatments |

371
(1)

| | |
| --- | --- |
| | Talking with Your Doctor about Cancer |

371
(1)

| | |
| --- | --- |
| | Cancer Surviors: Life after Cancer |

372
(1)
372
(1)
372
(1)

| | |
| --- | --- |
| | Questions for Discussion and Reflection |

373
(1)

| | |
| --- | --- |
| | Accessing Your Health on the Internet |

373
(1)
374
(1)
374
(1)

| | |
| --- | --- |
| | Infectious and Noninfectious Conditions: Risks and Responsibilities |

375
(38)

| | |
| --- | --- |
| | Assessing Your Disease Risks |

376
(1)

| | |
| --- | --- |
| | Risk Factors You Can't Control |

376
(1)

| | |
| --- | --- |
| | Risk Factors You Can Control |

377
(1)

| | |
| --- | --- |
| | Types of Pathogens and Routes of Transmission |

377
(6)
378
(1)
379
(4)
383
(1)

| | |
| --- | --- |
| | Your Body's Defenses: Keeping You Well |

383
(3)

| | |
| --- | --- |
| | Physical and Chemical Defenses |

383
(1)

| | |
| --- | --- |
| | The Immune System: Your Body Fights Back |

384
(1)
385
(1)
385
(1)
385
(1)

| | |
| --- | --- |
| | Vaccines: Bolstering Your Immunity |

385
(1)

| | |
| --- | --- |
| | Emerging and Resurgent Diseases |

386
(2)

| | |
| --- | --- |
| | Tiny Microbes: Lethal Threats |

387
(1)

| | |
| --- | --- |
| | Bioterrorism: The New Global Threat |

388
(1)

| | |
| --- | --- |
| | Sexually Transmitted Infections |

388
(7)

| | |
| --- | --- |
| | Possible Causes: What's Your Risk? |

388
(1)
389
(1)
389
(3)

| | |
| --- | --- |
| | Pelvic Inflammatory Disease |

392
(1)
392
(1)
392
(1)
393
(1)
394
(1)

| | |
| --- | --- |
| | Genital Warts (Human Papillomavirus) |

394
(1)
395
(1)
395
(1)

| | |
| --- | --- |
| | General Urinary Tract Infections |

395
(1)
395
(4)
395
(1)
396
(1)
396
(1)
397
(1)

| | |
| --- | --- |
| | Testing for HIV Antibodies |

397
(2)
399
(1)
399
(1)

| | |
| --- | --- |
| | Noninfectious Diseases: Modern Maladies |

399
(1)
399
(4)

| | |
| --- | --- |
| | Allergy-Induced Respiratory Problems |

401
(1)
401
(1)
402
(1)
403
(1)
403
(1)
403
(1)
403
(2)
403
(1)
404
(1)
405
(1)
405
(1)
405
(1)
405
(1)

| | |
| --- | --- |
| | Digestion-Related Disorders |

405
(2)

| | |
| --- | --- |
| | Diabetes: Disabling, Deadly, and on the Rise |

405
(1)
406
(1)

| | |
| --- | --- |
| | Colitis and Irritable Bowel Syndrome |

406
(1)
407
(1)
407
(1)
407
(1)

| | |
| --- | --- |
| | Systemic Lupus Erythematosus |

408
(1)
408
(1)
408
(5)
408
(1)
408
(1)

| | |
| --- | --- |
| | Repetitive Stress Injuries |

409
(1)
409
(1)
410
(1)

| | |
| --- | --- |
| | Questions for Discussion and Reflection |

410
(1)

| | |
| --- | --- |
| | Accessing Your Health on the Internet |

411
(1)
411
(1)
411
(2)

| | |
| --- | --- |
| | Part Six Facing Life's Challenges |

| | |
| --- | --- |
| | Life's Transitions: The Aging Process |

413
(22)
414
(1)

| | |
| --- | --- |
| | What Is Successful Aging? |

414
(1)

| | |
| --- | --- |
| | Older Adults: A Growing Population |

415
(1)

| | |
| --- | --- |
| | Health Issues for an Aging Society |

415
(2)
415
(2)

| | |
| --- | --- |
| | Housing and Living Arrangements |

417
(1)

| | |
| --- | --- |
| | Ethical and Moral Considerations |

417
(1)
417
(1)
417
(1)

| | |
| --- | --- |
| | Psychosocial Impacts on Aging |

417
(1)

| | |
| --- | --- |
| | Changes in the Body and Mind |

418
(4)
418
(1)
419
(3)

| | |
| --- | --- |
| | Health Challenges of Older Adults |

422
(1)
422
(1)
422
(1)

| | |
| --- | --- |
| | Over-the-Counter Remedies |

422
(1)

| | |
| --- | --- |
| | Strategies for Healthy Aging |

422
(1)

| | |
| --- | --- |
| | Develop and Maintain Healthy Relationships |

422
(1)

| | |
| --- | --- |
| | Enrich the Spiritual Side of Life |

422
(1)
423
(1)
423
(1)
423
(1)
423
(1)
424
(1)
424
(1)
424
(4)

| | |
| --- | --- |
| | Coping Emotionally with Death |

425
(1)
426
(1)
426
(1)

| | |
| --- | --- |
| | What Is ``Normal'' Grief? |

427
(1)
427
(1)

| | |
| --- | --- |
| | Life-and-Death Decision Making |

428
(1)
428
(1)
429
(1)

| | |
| --- | --- |
| | Making Final Arrangements |

429
(6)

| | |
| --- | --- |
| | Hospice Care: Positive Alternatives |

429
(2)

| | |
| --- | --- |
| | Making Funeral Arrangements |

431
(1)
431
(1)
431
(1)
432
(1)
432
(1)
433
(1)

| | |
| --- | --- |
| | Questions for Discussion and Reflection |

433
(1)

| | |
| --- | --- |
| | Accessing Your Health on the Internet |

433
(1)
434
(1)
434
(1)

| | |
| --- | --- |
| | Environmental Health: Thinking Globally, Acting Locally |

435
(20)
436
(1)
437
(7)
437
(3)
440
(1)

| | |
| --- | --- |
| | Acid Deposition and Acid Rain |

440
(1)
441
(1)
442
(1)
443
(1)
444
(1)
444
(3)
444
(1)

| | |
| --- | --- |
| | Sources of Water Contaminants |

445
(2)
447
(1)
447
(2)
447
(1)
448
(1)
449
(6)
449
(2)

| | |
| --- | --- |
| | Electromagnetic Fields: Emerging Risks? |

451
(1)
451
(1)
451
(1)
452
(1)

| | |
| --- | --- |
| | Questions for Discussion and Reflection |

452
(1)

| | |
| --- | --- |
| | Accessing Your Health on the Internet |

453
(1)
453
(1)
453
(2)

| | |
| --- | --- |
| | Consumerism: Selecting Health Care Products and Services |

455
(18)

| | |
| --- | --- |
| | Responsible Consumerism: Choices and Challenges |

456
(1)

| | |
| --- | --- |
| | Putting Cure into Perspective |

456
(1)

| | |
| --- | --- |
| | Taking Responsibility for Your Health Care |

456
(5)
457
(1)
457
(1)

| | |
| --- | --- |
| | Assessing Health Professionals |

458
(3)
461
(2)

| | |
| --- | --- |
| | Traditional Western (Allopathic) Medicine |

461
(1)

| | |
| --- | --- |
| | Other Allopathic Specialties |

462
(1)

| | |
| --- | --- |
| | Health Care Programs, Organizations, and Facilities |

463
(2)

| | |
| --- | --- |
| | Types of Medical Practices |

463
(1)

| | |
| --- | --- |
| | Integrated Health Care Organizations |

463
(2)

| | |
| --- | --- |
| | Issues Facing Today's Health Care System |

465
(1)
465
(1)
465
(1)
466
(1)
466
(7)
467
(1)
468
(1)
468
(2)
470
(1)
470
(1)

| | |
| --- | --- |
| | Questions for Discussion and Reflection |

471
(1)

| | |
| --- | --- |
| | Accessing Your Health on the Internet |

471
(1)
472
(1)
472
(1)

| | |
| --- | --- |
| | Complementary and Alternative Medicine: New Choices and Responsibilities for Healthwise Consumers |

473
(1)

| | |
| --- | --- |
| | Complementary and Alternative Medicine: What Is It and Who Uses It? |

474
(1)

| | |
| --- | --- |
| | CAM in the United States Today |

474
(1)
475
(1)
475
(3)

| | |
| --- | --- |
| | Traditional Chinese Medicine and Ayurveda |

475
(2)

| | |
| --- | --- |
| | Homeopathy and Naturopathy |

477
(1)

| | |
| --- | --- |
| | Manipulative and Body-Based Practices |

478
(1)
478
(1)

| | |
| --- | --- |
| | Other Manipulation Therapies |

478
(1)
478
(2)

| | |
| --- | --- |
| | Acupuncture and Acupressure |

480
(1)
480
(1)
480
(1)
481
(1)

| | |
| --- | --- |
| | Biologically Based Practices |

481
(6)
481
(2)
483
(2)
485
(2)

| | |
| --- | --- |
| | Protecting Consumers and Regulating Claims |

487
(1)

| | |
| --- | --- |
| | Strategies to Protect Consumers' Health |

487
(1)
487
(1)

| | |
| --- | --- |
| | Looking to Science for More Answers |

488
(1)

| | |
| --- | --- |
| | Healthy Living in the New Millennium |

488
(1)

| | |
| --- | --- |
| | Enlisting Support from Insurers and Providers |

488
(1)

| | |
| --- | --- |
| | Self-Care: Protecting Yourself |

488
(2)
490
(1)
490
(1)

| | |
| --- | --- |
| | Questions for Discussion and Reflection |

491
(1)

| | |
| --- | --- |
| | Accessing Your Health on the Internet |

491
(1)
491
(1)
492
Answers to Chapter Review Questions
1
(1)
Health Resources
1
(1)
Index
1
(1)
Credits
1