Note: Supplemental materials are not guaranteed with Rental or Used book purchases.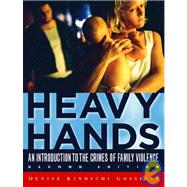 Related Products
Summary
This book explores both the causes, consequences, and prevalence of domestic violence and the positive law enforcement response. KEY FEATURES: " This new edition includes the most current information on the Violence Against Women Act. It also discusses the legal resources for victims. In addition, new information on adolescent victims, murder-suicide, and stalking is provided. For professionals in criminal justice field.
Table of Contents
I. DEFINING DOMESTIC VIOLENCE CRIME, PREVALENCE, AND HISTORY.
1. Violence in the Family.
2. A Global View of Family Social and Legal Relations.

II. THEORIES ON CAUSATION AND VICTIMIZATION.
3. Theories on Family Violence.
4. Survivors and the Consequences of Victimization.

III. CRIME IDENTIFICATION.
5. Dynamics of Partner Violence.
6. Recognizing Child Abuse.
7. The Identification of Elder Abuse.

IV. LEGAL AND ENFORCEMENT RESPONSES.
8. Legal Responses.
9. The Role of the Police.
10. Law Enforcement Response.
11. Associated Major Crimes: Stalking and Homicide.

V. THE FUTURE.
12. Research on the Internet.

Excerpts
Thousands of police officers across the country routinely come face to face with domestic violence. With little direction they face the challenges that researchers and academics ponder. Rarely are they part of the intellectual discourse on abuse and neglect. This book is a small step toward bringing us all together. My first domestic call came shortly after graduation from the Massachusetts State Police Academy in 1980. Impressed with my accomplishments, the call was a rude awakening. To this day I remember the gut-wrenching feeling when going through the front door of that home. I did not have a clue about what should be done. More surprisingly, the victim was a man, over six feet tall. He had just announced that he was moving out and his girlfriend didn't want him to leave. When he was on the phone with the police, she had grabbed the phone and struck him over the head with it. Blood was everywhere and he required numerous stitches. Afterwards I returned him to the house and counseled them both. The resolution never seemed quite right! Fortunately, the movement to intervene in family violence had begun and I became a part of that change. W Michael Ryan, the Northwestern District Attorney, was instrumental toward developing my interest in domestic abuse. I owe him a debt of gratitude for the training and support that this office supplied while I was a detective assigned to his organization. We developed the first multidisciplinary team in Massachusetts to screen and investigate child abuse allegations. Struggling through the new legislation on mandated reporting, the office was inundated with complaints of sexual and physical abuse. Working together with the Department of Social Sciences, prosecutors, physicians, victim witnesses, and mental health agencies, an increase in successful prosecution was accomplished. Our success was due in part to the aggressive investigation of family violence. It was treated like any othermajorcrime. Child victim statements were routinely videotaped to assure the defense of their accuracy. Adult victims were treated equally and with respect regardless of their sexual orientation, gender, race, or the makeup of the offender. Evidence to corroborate the statement was collected through search warrants whenever possible. Perpetrators were arrested and prosecuted only after a thorough investigation. Interviews and interrogations were the norm in every case. After 12 years on the state police force I became an educator at Western New England College in Springfield, MA. My passion to understand the dynamics of family violence and the role of criminal justice led me to develop a course on the topic in 1992. It has been offered numerous times since then, with minor revisions each time. My approach is sociolegal, with a leaning toward the criminal justice perspective. It is now a permanent course offering at our institution and has been cross-referenced and may be taken at the undergraduate level as a criminal justice or sociology course. There is so much to learn that this book can provide only a comprehensive beginning. It includes information on all forms of family violence. The book is designed to follow in content the course that I have offered over the years. It is meant to assist both educators with no field experience and those with professional backgrounds to meld the theory and practice of domestic violence for students of the social sciences. It is meant to tear down myths about both victims and offenders. Women and men have been victimized. Elderly and children are present as both perpetrators and victims as well. Heterosexuals and homosexuals can both be violent; dating relationships can be dangerous. To leave anyone out is to ignore the pain and suffering that domestic violence brings. Students of criminal justice tire quickly when hearing about the mistakes of the profession. Therefore, I wrote this book with an eye toward the future, without d