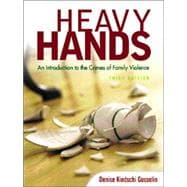 List Price: $64.00
Usually Ships in 2-3 Business Days
Questions About This Book?
What version or edition is this?
This is the 3rd edition with a publication date of 1/1/2005.
What is included with this book?
The Used copy of this book is not guaranteed to inclue any supplemental materials. Typically, only the book itself is included.
Summary
For undergraduate-level courses in Domestic Violence, Domestic Crimes, Family Violence, and Sociology of Domestic Violence in departments of Criminal Justice, Criminology, and Sociology. This text explores the causes, consequences, and prevalence of domestic violence and the positive law enforcement response. Using a socio-legal approachwith emphasis on the practical criminal justice perspectivethe book helps both instructors with no field experience and educators with professional backgrounds effectively meld together the theory and practice of domestic violence for students of the social sciences. The book focuses on all forms of domestic violence perpetrated in a variety of gender, age, and orientation relationships.
Table of Contents
Preface
xvii
Acknowledgments
xxi
About the Author
xxiii
Part One Domestic Violence Crime: Definition, Prevalence, and History
1
(60)

| | |
| --- | --- |
| | CHAPTER 1 Violence in the Family |

3
(23)
3
(1)
3
(1)
4
(4)

| | |
| --- | --- |
| | What Is Domestic Violence? |

8
(3)

| | |
| --- | --- |
| | Crimes Against the Person |

9
(1)

| | |
| --- | --- |
| | Forms of Domestic Violence |

10
(1)
11
(1)
11
(1)

| | |
| --- | --- |
| | Definitions of Common Terms |

12
(3)

| | |
| --- | --- |
| | Prevalence of Domestic Violence |

15
(8)
15
(3)
18
(2)
20
(3)
23
(1)
23
(1)
24
(1)
24
(2)

| | |
| --- | --- |
| | CHAPTER 2 A Global View of Family, Social, and Legal Relations |

26
(35)
26
(1)
26
(1)
27
(2)

| | |
| --- | --- |
| | Early Social-Legal History |

29
(1)

| | |
| --- | --- |
| | The Ancient World of Greece |

29
(1)
30
(1)
31
(1)
31
(1)
32
(1)

| | |
| --- | --- |
| | Marital Relations in Early America |

32
(5)
33
(1)
33
(1)

| | |
| --- | --- |
| | African American Families |

34
(1)
35
(1)
36
(1)

| | |
| --- | --- |
| | One Hundred Years of Secrecy |

36
(1)
37
(3)
40
(2)
40
(1)
40
(1)
41
(1)

| | |
| --- | --- |
| | Children in Early America |

42
(2)
42
(1)
43
(1)

| | |
| --- | --- |
| | Societies for the Prevention of Cruelty to Children |

43
(1)

| | |
| --- | --- |
| | Domestic Violence: A Global Concern |

44
(11)
45
(1)

| | |
| --- | --- |
| | Prevalence Rates in Selected Countries |

46
(9)
55
(1)
56
(1)
56
(1)
56
(5)
Part Two Theories on Causation and Victimization
61
(72)

| | |
| --- | --- |
| | CHAPTER 3 Theories on Family Violence |

63
(31)
63
(1)
63
(1)
64
(2)

| | |
| --- | --- |
| | Society Viewed at the Macro or Micro Level |

65
(1)
66
(3)
67
(1)
68
(1)

| | |
| --- | --- |
| | Critique of the Classical School |

68
(1)
69
(1)
69
(5)
70
(2)

| | |
| --- | --- |
| | Biochemical Imbalance Theories |

72
(1)
73
(1)

| | |
| --- | --- |
| | Critique of the Biological Theories |

73
(1)
74
(2)

| | |
| --- | --- |
| | Social Structure and Cultural Theories |

74
(1)
75
(1)

| | |
| --- | --- |
| | Critique of the Sociological Theories |

76
(1)
76
(4)
76
(3)
79
(1)

| | |
| --- | --- |
| | Critique of the Psychological Theories |

80
(1)
80
(3)
81
(1)
82
(1)

| | |
| --- | --- |
| | Critique of the Conflict School |

83
(1)
83
(6)

| | |
| --- | --- |
| | Individual-Based Theories |

84
(2)
86
(3)
89
(1)

| | |
| --- | --- |
| | Critique of the Multidimensional Theories |

89
(1)
89
(2)
91
(1)
91
(1)
92
(2)

| | |
| --- | --- |
| | CHAPTER 4 Survivors and the Consequences of Victimization |

94
(39)
94
(1)
94
(1)
95
(1)
95
(2)
97
(2)

| | |
| --- | --- |
| | The Children's Rights Movement |

99
(7)

| | |
| --- | --- |
| | Child Witnessing of Domestic Violence |

99
(2)

| | |
| --- | --- |
| | Childhood Abuse and Criminal Behavior |

101
(1)

| | |
| --- | --- |
| | Childhood Abuse and Social Consequences |

102
(1)

| | |
| --- | --- |
| | The Consequences of Abuse to a Child |

103
(3)

| | |
| --- | --- |
| | Maltreatment of Children with Disabilities |

106
(1)

| | |
| --- | --- |
| | The Battered Women's Movement |

106
(5)

| | |
| --- | --- |
| | Woman Battering: Health and Safety Issues |

107
(3)

| | |
| --- | --- |
| | Learned Helplessness Theory |

110
(1)

| | |
| --- | --- |
| | Consequences to Survivors of Domestic Battering |

111
(11)
113
(2)

| | |
| --- | --- |
| | Violence Against Same-Sex Partners |

115
(3)
118
(1)

| | |
| --- | --- |
| | Why Do Domestic Violence Victims Stay? |

119
(1)
120
(2)
122
(3)

| | |
| --- | --- |
| | Borderline Personality Disorder |

122
(1)

| | |
| --- | --- |
| | Posttraumatic Stress Disorder |

123
(1)
124
(1)
124
(1)

| | |
| --- | --- |
| | The Cost of Family Violence |

125
(1)
125
(1)
126
(1)
127
(1)
127
(6)
Part Three Crime Identification
133
(108)

| | |
| --- | --- |
| | CHAPTER 5 Dynamics of Partner Violence |

135
(37)
135
(1)
135
(1)
136
(1)

| | |
| --- | --- |
| | Characteristics of Domestic Violence Abusers |

137
(15)

| | |
| --- | --- |
| | Descriptions of the Batterer |

138
(3)

| | |
| --- | --- |
| | The Role of Drugs and Alcohol in Domestic Violence |

141
(2)
143
(4)
147
(2)

| | |
| --- | --- |
| | Mutual Battering: Challenging Criminal Justice |

149
(2)
151
(1)
152
(5)
153
(2)
155
(2)

| | |
| --- | --- |
| | Domestic Rape and Sexual Assault |

157
(5)

| | |
| --- | --- |
| | Marital Rape and Male Offenders |

158
(1)
159
(2)
161
(1)
162
(3)

| | |
| --- | --- |
| | Major Theoretical Models That Influence Batterer Intervention |

162
(1)

| | |
| --- | --- |
| | Program Procedures for Male Perpetrators |

163
(1)

| | |
| --- | --- |
| | Program Procedures for Women Who Batter |

164
(1)

| | |
| --- | --- |
| | Can Program Interventions Stop Battering? |

165
(1)

| | |
| --- | --- |
| | Unified Court System Partnered with Probation |

166
(1)
166
(1)
167
(1)
168
(1)
168
(4)

| | |
| --- | --- |
| | CHAPTER 6 Recognizing Child Abuse |

172
(31)
172
(1)
172
(1)
173
(1)

| | |
| --- | --- |
| | Civil Versus Criminal Action |

174
(1)

| | |
| --- | --- |
| | Categories of Active Maltreatment |

174
(2)
174
(1)
174
(2)

| | |
| --- | --- |
| | Categories of Secondary Maltreatment |

176
(1)

| | |
| --- | --- |
| | The Victims of Child Abuse |

176
(3)
176
(1)
177
(1)
178
(1)

| | |
| --- | --- |
| | Perpetrators of Child Abuse |

178
(1)
179
(17)

| | |
| --- | --- |
| | Emotional Abuse and Psychological Maltreatment |

179
(1)

| | |
| --- | --- |
| | Indicators of Physical Abuse |

180
(10)
190
(2)
192
(1)
193
(2)
195
(1)

| | |
| --- | --- |
| | Adolescent Offending as a Consequence of Victimization |

196
(2)

| | |
| --- | --- |
| | Risk of Adolescent Adolescent Sexual Reoffending |

196
(1)

| | |
| --- | --- |
| | Risk of Juvenile Battering Behavior |

197
(1)
198
(1)
198
(1)
199
(1)
199
(1)
200
(1)
200
(3)

| | |
| --- | --- |
| | CHAPTER 7 The Identification of Elder Abuse |

203
(38)
203
(1)
203
(1)
204
(6)

| | |
| --- | --- |
| | Civil Versus Criminal Action |

206
(2)
208
(1)
209
(1)
210
(1)

| | |
| --- | --- |
| | The Victims of Elder Abuse |

210
(7)
211
(1)
211
(2)
213
(1)
213
(2)

| | |
| --- | --- |
| | Vulnerability and Undue Influence |

215
(2)

| | |
| --- | --- |
| | Categories of Elder Abuse |

217
(3)
217
(1)
218
(2)
220
(14)
221
(2)
223
(1)
224
(2)
226
(1)
227
(2)

| | |
| --- | --- |
| | Psychological and Emotional Abuse |

229
(1)
229
(2)

| | |
| --- | --- |
| | Consequences of Elder Abuse |

231
(1)

| | |
| --- | --- |
| | Perpetrators of Elder Abuse |

232
(2)

| | |
| --- | --- |
| | Duties and Responsibilities |

234
(1)
234
(1)
235
(1)
236
(1)
236
(1)
236
(5)
Part Four Legal and Enforcement Responses
241
(150)

| | |
| --- | --- |
| | CHAPTER 8 Legal Responses |

243
(40)
243
(1)
243
(1)
244
(1)
244
(10)

| | |
| --- | --- |
| | Federal Versus State Jurisdiction |

247
(1)

| | |
| --- | --- |
| | Civil Versus Criminal Court in the State System |

248
(5)
253
(1)
254
(8)
255
(1)

| | |
| --- | --- |
| | Domestic Violence Across State Lines |

255
(1)

| | |
| --- | --- |
| | Domestic Violence on Federal Enclaves |

256
(1)
257
(2)

| | |
| --- | --- |
| | Privacy for Domestic Violence Victims |

259
(1)
260
(2)
262
(16)
262
(1)
263
(1)

| | |
| --- | --- |
| | Civil Orders of Protection |

264
(8)
272
(1)
273
(2)
275
(3)
278
(1)
279
(1)
280
(1)
280
(3)

| | |
| --- | --- |
| | CHAPTER 9 The Role of the Police |

283
(36)
283
(1)
283
(1)
284
(1)
284
(14)
286
(1)

| | |
| --- | --- |
| | The Problem-Oriented Approach |

286
(1)

| | |
| --- | --- |
| | Police Response Strategies |

287
(11)
298
(16)

| | |
| --- | --- |
| | Goal 1: Protect the Victim |

298
(8)

| | |
| --- | --- |
| | Goal 2: Determine If a Crime Has Been Committed |

306
(8)

| | |
| --- | --- |
| | Goal 3: Provide the Basis for Successful Prosecution |

314
(1)
314
(1)
315
(1)
316
(1)
316
(3)

| | |
| --- | --- |
| | CHAPTER 10 Law Enforcement Response |

319
(34)
319
(1)
319
(1)
320
(1)
321
(2)

| | |
| --- | --- |
| | Criminal Justice Ambivalence |

323
(1)
323
(6)
324
(2)
326
(1)
326
(3)

| | |
| --- | --- |
| | How Do Police Get Involved? |

329
(5)
329
(2)
331
(3)

| | |
| --- | --- |
| | The Officer-Initiated Investigation |

334
(1)

| | |
| --- | --- |
| | To Arrest or Not to Arrest: That Is the Question |

334
(5)
334
(4)
338
(1)
339
(1)

| | |
| --- | --- |
| | Use of Available Resources |

339
(1)

| | |
| --- | --- |
| | What About Probable Cause? |

339
(1)
340
(9)

| | |
| --- | --- |
| | Exceptions to the Warrant Requirement |

342
(2)
344
(4)

| | |
| --- | --- |
| | The Interrogation of Suspects |

348
(1)
349
(1)
350
(1)
350
(1)
351
(2)

| | |
| --- | --- |
| | CHAPTER 11 Associated Major Crimes: Stalking and Homicide |

353
(38)
353
(1)
353
(1)
354
(1)
354
(14)
355
(2)
357
(2)

| | |
| --- | --- |
| | Characteristics of Stalking Perpetrators |

359
(2)
361
(1)
362
(4)

| | |
| --- | --- |
| | Safety Precautions for Stalking Victims |

366
(1)
367
(1)
368
(17)
369
(1)
369
(2)
371
(1)
371
(9)
380
(5)
385
(1)
386
(1)
386
(1)
387
(4)
Part Five The Future
391
(34)

| | |
| --- | --- |
| | CHAPTER 12 Research on the Internet |

393
(32)
393
(1)
393
(2)

| | |
| --- | --- |
| | Getting onto the World Wide Web |

395
(2)

| | |
| --- | --- |
| | The Basics of Internet Research |

397
(3)
397
(2)
399
(1)

| | |
| --- | --- |
| | The Extent of Personal Crime |

400
(5)

| | |
| --- | --- |
| | The Uniform Crime Reporting System |

400
(3)

| | |
| --- | --- |
| | National Crime Victimization Survey |

403
(1)
404
(1)

| | |
| --- | --- |
| | Abuse of Persons with Disabilities |

405
(1)
406
(3)

| | |
| --- | --- |
| | Child Death Investigation |

409
(1)

| | |
| --- | --- |
| | Child Mentoring and Prevention |

410
(1)
411
(1)
411
(1)

| | |
| --- | --- |
| | Gay and Lesbian Domestic Violence Sites |

412
(1)
413
(1)
413
(1)
414
(1)
414
(2)
416
(1)
417
(1)
417
(1)
418
(1)
418
(1)
419
(1)
419
(1)
420
(1)
420
(2)
422
(1)
422
(1)
423
(1)
423
(1)
423
(2)
Index
425