Note: Supplemental materials are not guaranteed with Rental or Used book purchases.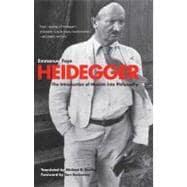 Summary
In the most comprehensive examination to date of Heidegger's Nazism, Emmanuel Faye draws on previously unavailable materials to paint a damning picture of Nazism's influence on the philosopher's thought and politics. In this provocative book, Faye uses excerpts from unpublished seminars to show that Heidegger's philosophical writings are fatally compromised by an adherence to National Socialist ideas. In other documents, Faye finds expressions of racism and exterminatory anti-Semitism. Faye disputes the view of Heidegger as a naive, temporarily disoriented academician and instead shows him to have been a self-appointed "spiritual guide" for Nazism whose intentionality was clear. Contrary to what some have written, Heidegger's Nazism became even more radical after 1935, as Faye demonstrates. He revisits Heidegger's masterwork,Being and Time, and concludes that in it Heidegger does not present a philosophy of individual existence but rather a doctrine of radical self-sacrifice, where individualization is allowed only for the purpose of heroism in warfare. Faye's book was highly controversial when originally published in France in 2005. Now available in Michael B. Smith's fluid English translation, it is bound to awaken controversy in the English-speaking world.
Author Biography
Emmanuel Faye is associate professor at the University Paris Ouest-Nanterre La DÚfense and an authority on Descartes. Michael B. Smith is professor emeritus of French and philosophy at Berry College and the translator of numerous philosophical works into English.
Table of Contents
Foreword to the English Edition
p. vii
Preface
p. xxiii
Acknowledgments
p. xxvii
Introduction
p. 1
Before 1933: Heidegger's Radicalism, the Destruction of the Philosophical Tradition, and the Call to Nazism
p. 8
Heidegger, the ˘Bringing into Line,÷ and the New Student Law
p. 39
Work Camps, the Health of the People, and the Hard Race in the Lectures and Speeches of 1933-1934
p. 59
The Courses of 1933-1935: From the Question of Man to the Affirmation of the People and the German Race
p. 87
Heidegger's Hitlerism in the Seminar On the Essence and Concepts of Nature, History, and State
p. 113
Heidegger, Carl Schmitt, and Alfred Baeumler: The Struggle Against the Enemy and His Extermination
p. 151
Law and Race: Erik Wolf Between Heidegger, Schmitt, and Rosenberg
p. 173
Heidegger and the Longevity of the Nazi State in the Unpublished Seminar on Hegel and the State
p. 203
From the Justification of Racial Selection to the Ontological Negationism of the Bremen Lectures
p. 243
Conclusion
p. 316
The Political Trustworthiness of the Parteigenosse Heidegger According to the Secret Reports of the SD
p. 325
Excerpt from Heidegger's Rectorship Address, Published Alongside the Anti-Semitic Theses of the Deutsche Studentenschaft in 1938 by Ernst Forsthoff
p. 331
Notes
p. 335
Bibliography
p. 411
Index
p. 431
Table of Contents provided by Ingram. All Rights Reserved.