Note: Supplemental materials are not guaranteed with Rental or Used book purchases.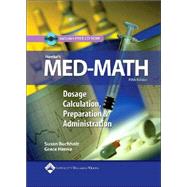 Henke's Med-Math Dosage Calculation, Preparation and Administration
ISBN13:
9780781762649
by
Buchholz, Susan
Summary
Now in its Fifth Edition, this best-selling text features a highly visual, hands-on approach to learning dosage calculations and principles of drug administration. It presents step-by-step approaches to solving problems and includes dosage problems that simulate actual clinical experience. Each chapter includes numerous examples, self-tests, and proficiency tests. This edition covers all four dosage calculation methods--formula, ratio, and proportion side by side in each chapter, and dimensional analysis in a new chapter. Drug labels are current, and problems use JCAHO-approved abbreviations. A handy quick-reference plastic pull-out card shows conversions and formulas. A bound-in CD-ROM contains dosage calculation problems and a medication administration video.
Table of Contents
| | |
| --- | --- |
| | Arithmetic Needed for Dosage |

1
(26)

| | |
| --- | --- |
| | Multiplying Whole Numbers |

1
(1)
2
(1)
3
(6)
3
(2)
5
(1)
6
(1)

| | |
| --- | --- |
| | Changing Fractions to Decimals |

7
(2)
9
(3)
9
(1)
9
(1)

| | |
| --- | --- |
| | Clearing the Divisor of Decimal Points |

10
(1)
11
(1)

| | |
| --- | --- |
| | Comparing the Value of Decimals |

12
(1)
12
(2)

| | |
| --- | --- |
| | Percents That Are Whole Numbers |

13
(1)

| | |
| --- | --- |
| | Percents That Are Decimals |

13
(1)

| | |
| --- | --- |
| | Percents That Are Fractions |

13
(1)
14
(7)

| | |
| --- | --- |
| | Solving Proportions With an Unknown |

14
(1)

| | |
| --- | --- |
| | Proportions Expressed as Decimals |

15
(1)

| | |
| --- | --- |
| | Proportions Expressed as Two Ratios Separated by Colons |

15
(1)

| | |
| --- | --- |
| | Ratio and Proportion in Dosage |

16
(5)
21
(6)

| | |
| --- | --- |
| | Interpreting the Language of Prescriptions |

27
(20)

| | |
| --- | --- |
| | Time of Administration of Drugs |

27
(4)

| | |
| --- | --- |
| | Military Time: The 24-Hour Clock |

30
(1)
31
(1)

| | |
| --- | --- |
| | Metric and SI Abbreviations |

32
(1)
33
(2)
35
(1)

| | |
| --- | --- |
| | Terms and Abbreviations for Drug Preparations |

36
(9)
45
(2)

| | |
| --- | --- |
| | Drug Labels and Packaging |

47
(19)
47
(4)
51
(14)
51
(3)
54
(11)
65
(1)

| | |
| --- | --- |
| | Metric, Apothecary and Household Systems of Measurement |

66
(17)
66
(7)
66
(1)
66
(1)

| | |
| --- | --- |
| | Converting Solid Equivalents |

67
(6)
73
(2)
73
(1)

| | |
| --- | --- |
| | Solid Apothecary Measure--The Grain |

73
(1)

| | |
| --- | --- |
| | Solid Equivalents--Apothecary and Metric |

73
(2)
75
(6)
75
(1)
76
(1)

| | |
| --- | --- |
| | Liquid Apothecary Measures |

76
(1)

| | |
| --- | --- |
| | Conversions Among Liquid Measures |

76
(5)
81
(2)

| | |
| --- | --- |
| | Drug Preparations and Equipment to Measure Doses |

83
(14)
83
(3)
83
(1)
84
(1)
85
(1)

| | |
| --- | --- |
| | Equipment to Measure Doses |

86
(9)
87
(1)
88
(2)

| | |
| --- | --- |
| | Rounding Off Numbers in Liquid Dosage Answers |

90
(2)

| | |
| --- | --- |
| | Needles for Intramuscular and Subcutaneous Injections |

92
(3)
95
(2)

| | |
| --- | --- |
| | Calculation of Oral Medications--Solids and Liquids |

97
(45)

| | |
| --- | --- |
| | Proportion Expressed as Two Fractions |

97
(1)

| | |
| --- | --- |
| | Proportion Expressed as Two Ratios |

98
(1)
99
(1)
99
(8)

| | |
| --- | --- |
| | Application of the Rule for Oral Solids |

99
(2)

| | |
| --- | --- |
| | Formula Method: Clearing Decimals |

101
(5)

| | |
| --- | --- |
| | Special Types of Oral Solid Orders |

106
(1)
107
(6)

| | |
| --- | --- |
| | Application of the Rule for Oral Liquids |

107
(6)

| | |
| --- | --- |
| | Special Types of Oral Liquid Orders |

113
(1)

| | |
| --- | --- |
| | Mental Drill for Oral Solid and Liquid Problems |

113
(8)
121
(21)
142
(55)

| | |
| --- | --- |
| | Calculating Injection Problems |

143
(7)
143
(1)
143
(7)

| | |
| --- | --- |
| | Special Types of Problems in Injections from a Liquid |

150
(6)
150
(3)
153
(3)
156
(4)
156
(1)

| | |
| --- | --- |
| | Types of Insulin Syringes |

157
(1)

| | |
| --- | --- |
| | Preparing an Injection Using an Insulin Syringe |

158
(1)

| | |
| --- | --- |
| | Mixing Two Insulins in One Syringe |

158
(2)
160
(3)

| | |
| --- | --- |
| | Application of the Rule for Injections from Powders |

160
(3)

| | |
| --- | --- |
| | Distinctive Features of Injections from Powders |

163
(2)

| | |
| --- | --- |
| | Where to Find Information About Reconstitution of Powders |

165
(7)

| | |
| --- | --- |
| | Critical Thinking: Test Your Clinical Savvy |

172
(185)
185
(12)

| | |
| --- | --- |
| | Calculation of Basic IV Drip Rates |

197
(33)

| | |
| --- | --- |
| | Types of Intravenous Fluids |

197
(1)

| | |
| --- | --- |
| | Kinds of Intravenous Drip Factors |

198
(8)
198
(1)
199
(1)

| | |
| --- | --- |
| | Calculating Basic IV Drip Rates |

199
(2)
201
(3)

| | |
| --- | --- |
| | Determining Hours an IV Will Run |

204
(1)

| | |
| --- | --- |
| | Choosing the Infusion Set |

205
(1)

| | |
| --- | --- |
| | Need for Continuous Observation |

206
(1)

| | |
| --- | --- |
| | Adding Medications to IVs |

206
(3)

| | |
| --- | --- |
| | Medications Ordered Over Several Hours |

206
(3)

| | |
| --- | --- |
| | Medications for Intermittent Intravenous Administration |

209
(3)
209
(3)
212
(1)

| | |
| --- | --- |
| | Changing the Intravenous Drip Rate |

212
(7)
212
(7)
219
(11)

| | |
| --- | --- |
| | Special Types of Intravenous Calculations |

230
(38)

| | |
| --- | --- |
| | Medications Ordered in Units/hr or mg/hr |

230
(9)

| | |
| --- | --- |
| | Units/hr--Rule and Calculation |

231
(2)

| | |
| --- | --- |
| | mg/hr, g/hr--Rule and Calculation |

233
(4)

| | |
| --- | --- |
| | mg/min--Rule and Calculation |

237
(2)

| | |
| --- | --- |
| | Medications Ordered in mcg/min, mcg/kg/min, or Milliunits/min |

239
(5)

| | |
| --- | --- |
| | mcg/min--Rule and Calculations |

239
(3)

| | |
| --- | --- |
| | mcg/kg/min--Rule and Calculation |

242
(1)

| | |
| --- | --- |
| | Milliunits/min--Rule and Calculation |

243
(1)
244
(3)
246
(1)

| | |
| --- | --- |
| | Patient-Controlled Analgesia |

247
(3)

| | |
| --- | --- |
| | Critical Thinking: Test Your Clinical Savvy |

250
(3)
253
(15)

| | |
| --- | --- |
| | Dosage Problems for Infants and Children |

268
(35)

| | |
| --- | --- |
| | Dosage Based on mg/kg and Body Surface Area |

269
(14)

| | |
| --- | --- |
| | Converting Ounces to Pounds |

269
(1)

| | |
| --- | --- |
| | Converting Pounds to Kilograms |

269
(1)

| | |
| --- | --- |
| | Steps and Rule--mg/kg Body Weight |

270
(8)
278
(2)

| | |
| --- | --- |
| | Steps and Rule--m2 Medication Orders |

280
(3)

| | |
| --- | --- |
| | Administering Intravenous Medications |

283
(5)

| | |
| --- | --- |
| | General Guidelines for Continuous IV Medications |

288
(2)

| | |
| --- | --- |
| | Critical Thinking: Test Your Clinical Savvy |

290
(3)
293
(10)
303
(28)

| | |
| --- | --- |
| | Oral Solid Medication Equation and Calculation |

303
(2)

| | |
| --- | --- |
| | Oral Liquid Medication Equation and Calculation |

305
(1)

| | |
| --- | --- |
| | Parenteral Liquid Medication Equation and Calculation |

305
(1)

| | |
| --- | --- |
| | Insulin Equation and Calculation |

306
(2)

| | |
| --- | --- |
| | Dimensional Analysis Method With Equivalency Conversions |

308
(3)

| | |
| --- | --- |
| | Dimensional Analysis Method With Weight-Based Calculations |

311
(2)

| | |
| --- | --- |
| | Calculation of Medications Based on BSA |

312
(1)

| | |
| --- | --- |
| | Dimensional Analysis Method With Reconstitution of Medications |

313
(2)

| | |
| --- | --- |
| | Dimensional Analysis Method With Calculation of Intravenous Fluids |

315
(1)

| | |
| --- | --- |
| | Dimensional Analysis Method With Advanced Intravenous Calculations |

316
(7)
316
(1)

| | |
| --- | --- |
| | Calculating mg/hr or Units/hr |

317
(1)

| | |
| --- | --- |
| | Calculating mL/hr for Drugs Ordered in mg or mcg/min |

318
(1)

| | |
| --- | --- |
| | Calculating mL/hr for Drugs Ordered in mcg/kg/min |

319
(4)
323
(8)

| | |
| --- | --- |
| | Information Basic to Administering Drugs |

331
(23)
331
(4)
332
(1)
332
(1)
332
(1)
333
(1)
333
(1)
333
(1)
333
(1)

| | |
| --- | --- |
| | Contraindications and Precautions |

333
(1)

| | |
| --- | --- |
| | Interactions and Incompatibilities |

334
(1)
334
(1)
335
(1)
335
(1)
335
(2)
335
(1)
335
(1)
336
(1)
336
(1)
336
(1)
336
(1)
337
(1)
337
(3)
337
(1)
338
(2)

| | |
| --- | --- |
| | Ethical Principles in Drug Administration |

340
(1)
340
(1)
340
(1)
341
(1)
341
(1)
341
(1)
341
(1)
341
(1)

| | |
| --- | --- |
| | Specific Points That May Be Helpful in Giving Medications |

341
(5)

| | |
| --- | --- |
| | Three Checks and Five Rights |

341
(1)
342
(1)
343
(1)
343
(1)

| | |
| --- | --- |
| | Oral Medications--Tablets and Capsules |

344
(1)
344
(1)
344
(1)
345
(1)
345
(1)
345
(1)

| | |
| --- | --- |
| | Critical Thinking: Test Your Clinical Savvy |

346
(7)
353
(1)

| | |
| --- | --- |
| | Administration Procedures |

354
(37)

| | |
| --- | --- |
| | Universal or Standard Precautions Applied to Administration of Medications |

354
(3)

| | |
| --- | --- |
| | General Safeguards in Administering Medications |

354
(3)

| | |
| --- | --- |
| | Systems of Administration |

357
(3)
357
(1)
358
(1)
359
(1)
360
(19)
360
(1)
361
(9)
370
(3)

| | |
| --- | --- |
| | Application to Skin and Mucous Membrane |

373
(6)
379
(1)

| | |
| --- | --- |
| | Neonatal and Pediatric Considerations |

379
(1)
380
(1)

| | |
| --- | --- |
| | Critical Thinking: Test Your Clinical Savvy |

380
(9)
389
(2)
Appendix A Proficiency Test Answers
391
(62)
Glossary
453
(6)
Index
459