Note: Supplemental materials are not guaranteed with Rental or Used book purchases.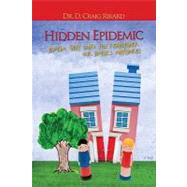 Summary
Although many books deal with the problem of addiction -- how to get help, the harm it can do, and useful treatments -- few books discuss the tragic implications for the children. Yet these children can be robbed of their childhoods, isolated, abused, confused as to what is happening, and deprived of their own feelings of self-esteem and worth. In fact, the child of an addicted parent may grow up with more difficulties and hidden wounds than the addicted parent. "Hidden Epidemic" deals with just such children and points out the pervasiveness of this problem, and what to do about it. Dr. Craig Rikards story is not only one of medicine, therapy, psychology and prayer, it is also the very personal story of his own childhood living in a pretty home in suburbia, where no one could hear the screams. slaps, and abusive language. In spite of such a serious subject, the book is fascinating, the journey hard, and yet there is hope and light for those caught within the grasp of addictive parents or caretakers.
Table of Contents
Introduction
p. xiii
The Hidden Victims
One Big Happy Family
p. 1
Families and Substance Abuse
p. 7
Our Story
Questions without Answers
p. 13
Scales of Justice?
p. 41
Remedies?
p. 57
Physical Consequences
p. 63
Into the Depths
p. 71
The End of Addiction?
p. 85
Imprisoned
p. 93
Last Words
p. 103
Unfinished Business
p. 111
The Finish or the Start?
Regret
p. 117
Encountering the Light
p. 123
Afterword: Regaining the Music
p. 133
Additions
Resources and Suggested Reading
p. 137
Acknowledgements
p. 143
About the Author
p. 147
Table of Contents provided by Ingram. All Rights Reserved.