Note: Supplemental materials are not guaranteed with Rental or Used book purchases.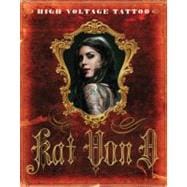 High Voltage Tattoo
ISBN13:
9780061684388
by
Von D., Kat
HarperCollins Publications
Questions About This Book?
What version or edition is this?
This is the edition with a publication date of 3/11/2010.
What is included with this book?
The New copy of this book will include any supplemental materials advertised. Please check the title of the book to determine if it should include any CDs, lab manuals, study guides, etc.
Summary
High Voltage Tattoo is a graphic perspective on today's global tattoo culture by Kat Von D, star of The Learning Channel's L.A. Ink and one of the most talented and popular artists working today. Designed in a style that is reminiscent of a handmade Gothic journal with its red padded cover, ornate typography, and parchmentlike pages, it throws the door wide open to tattooing culture in the way only an insider like Kat can.High Voltage Tattoo traces Kat's career as an artist, from early childhood influences to recent work, along with examples of what inspires her, information about the show and her shop, her sketches, and personal tattoos. The book goes deep into tattoo process and culture: readers can see up close the pigments, the tools, and the making of complex, even collaborative, tattoos.With a foreword by M_tley Cr8e's Nikki Sixx, the book features images and stories about celebrities, rockers, pro skaters, and everyday citizens, including Slayer's Kerry King, Anthrax's Scott Ian, Margaret Cho, Jackass' Bam Margera, David Letterman, and many others. It profiles and showcases the work of artists Kat has selected from all over the world, her interviews with people who have compelling tattoos and stories, and amazing images of extraordinary tattoo work. Numerous portfolios throughout the book showcase a range of relevant subjects, from the black and gray portrait work for which Kat is famous to a popular tattoo theme, such as the rose or biblical images. There is a knockout ten-page full-body spread of Kat-clad in a yellow bikini and seven-inch, rhinestone-studded red stilettos-that catalogs in detail all her personal tattoos on her front, back, left, and right sides-even her hands and head.
Excerpts
High Voltage Tattoo
Chapter One
Highway to Hell
The autobiography of Kat Von D
I am a canvas of my experiences. My story is etched in lines and shading, and you can read it on my arms, my legs, my shoulders, and my stomach. But like everybody else, I was born naked and screaming, waiting for my life to write itself on my skin.
The first person who ever held me was my grandfather, Carlos Von Drachenberg. He was the doctor who delivered me in March 1982, in Montemorelos, Nuevo León, Mexico. I come from a long line of doctors. When I was born, my grandpa was teaching medicine in Mexico as a missionary for the Seventh Day Adventist Church while my father finished his schooling in the medical field. My family came from Argentina, but until I was four, we lived in Mexico.
I can still remember the dirt roads, the horses and donkeys, the rain that flooded the pool with frogs, and the local market where my sis and I used to run around and play. And many of my tattoos, especially the lettering, are in Spanish, reflecting Latin tradition.
But my strongest memories are set in Colton, a small town in Southern California, where my life revolved around love, art, and music. In our family, love was a given, art was a powerful presence, and music was pretty much a requirement. The five of us—my parents, my older sister, Karoline, and my younger brother, Michael—listened to religious hymns at church, but at home, classical music was everything.
My grandmother, Clara Von Drachenberg, was an inspiration for me when it came to music and art. She classically trained my siblings and me to play the piano. For breakfast we had Chopin, for lunch we had Mozart, and as an after-school snack, Schubert and Liszt. But above all, there was Ludwig van Beethoven.
During our weekly lessons, I would sneak into her library to catch a glimpse of a scrapbook she had put together during her teenage years that was dedicated to her favorite composers, Beethoven being the main one. On my eighteenth birthday, Clara gave me the scrapbook as a gift, and to this very day, that book is probably one of my most prized possessions. And Beethoven still features prominently in my life—I have four tattoos of him, countless paintings, and one of my cats is named Ludwig.
Clara was my mentor in all things music; when it came to art she was more like a role model. I have a still life of an arrangement of roses, dated 1949, that Clara gave to my parents as a wedding gift. It hung above the fireplace in our family room, where I practiced the piano, and I spent my childhood staring at it and imagining her painting it.
I coveted that oil painting. When my parents divorced after twenty-six years of marriage, the painting went with my father, and I begged and begged him for it. My father disagreed, always trying to negotiate his way out of giving it to me. Finally, on my twenty-sixth birthday, as a gift from both Clara and my dad, I was given the painting!
The inspiration to create my art and the encouragement to continue my musical studies paved the way for me to create the life I lead today, and I thank my grandmother for passing these gifts on to me.
Our whole family was musical. Between us, we could play the accordion, trumpet, guitar, piano, clarinet, bass guitar, saxophone, harp, and flute. Unlike most of my childhood friends, who played outside or went to slumber parties, we practiced our weekly lessons two hours a day, whether or not we wanted to. I can remember crying because I didn't want to play—but I still had to practice. It wasn't fun at the time, but it taught me that if you dedicate yourself to something, you'll get there. It is a lesson that still impacts the way I work today.
It was in elementary school that I really discovered my passion for art. I spent a lot of my time drawing pictures of my family, of flowers, of birds; all the things that I saw around me. My father still talks about the way I would crawl under the pews at church, coloring furiously while everybody else listened carefully to the sermons. Every year, I got better at drawing. I was drawing constantly, filling up one pad after another with my sketches and dreams. My mother saved every piece of art I did, whether I liked it or not.
From the very beginning, I gravitated towards realism, working hard to render lifelike portraits of family members, pets, and magazine clippings. I wanted my drawing to look as real as possible and would practice on famous faces like Marilyn Monroe's. When Anna Nicole Smith was cast in the Guess ads in the early 1990s, when I was around ten, it was a turning point for me. At the time, I didn't even know her name, but she was such a classic beauty, like a modern Marilyn Monroe or Jayne Mansfield, that I was inspired to sketch her. I must have drawn her face more than twenty times. Each time, I tried to do better, perfecting my lines and shading so that I could noticeably improve the drawings.
When she passed away in 2007, the tabloids were buzzing with gossip and rumors, but there were some people who were genuinely sad about her death. Not long after she died, I received an e-mail from one of her close friends who wanted to get a portrait of Anna tattooed on her thigh.
When Anna's friend showed up at the shop with her personal collection of photographs, I rifled through the stack to find the image that would make the best tattoo. And then it hit me: The blonde in the pictures sipping coffee in the morning wasn't just a pop icon, or the headline of the month, or another playmate. She was a real person who had played a big part in the development of my art. I had learned to draw faces by staring at her face, and now, after her death, I was going to tattoo her portrait on her friend's skin as a loving memorial.
High Voltage Tattoo
. Copyright © by Katherine Drachenberg. Reprinted by permission of HarperCollins Publishers, Inc. All rights reserved. Available now wherever books are sold.
---

Excerpted from High Voltage Tattoo by Kat Von D, Katherine Drachenberg
All rights reserved by the original copyright owners. Excerpts are provided for display purposes only and may not be reproduced, reprinted or distributed without the written permission of the publisher.