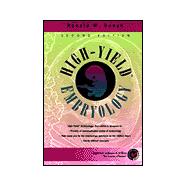 High-Yield Embryology : A Collaborative Project of Medical Students and Faculty
by
Dudek, Ronald W.
Lippincott Williams & Wilkins
List Price: $27.68

More New and Used
from Private Sellers
Related Products
Summary
The High-Yield(TM) Series extracts the most important information on each topic and presents it in a concise, uncluttered fashion to prepare students for the USMLE. New to High-Yield(TM) Embryology, Second Edition are 26 chapters that cover topics from prefertilization events and the embryonic period, to cardiovascular, digestive, urinary, reproductive, respiratory, head and neck, nervous, eye, ear, skeletal, and muscular system development. Also included are chapters on chromosomal abnormalities, inherited diseases, teratology and more. Radiographs, magnetic resonance (MR) images, and photos of congenital malformations are included, with pathology related to embryological development and clinical findings.
Table of Contents
Preface
xi
1
(5)
1
(1)
1
(1)

| | |
| --- | --- |
| | Female gametogenesis (oogenesis) |

1
(1)

| | |
| --- | --- |
| | Hormonal control of the female reproductive cycle |

1
(2)

| | |
| --- | --- |
| | Male gametogenesis (spermatogenesis) |

3
(1)
4
(2)
6
(5)
6
(1)
6
(1)
6
(1)
7
(1)
7
(1)
7
(4)
11
(3)
11
(1)
11
(1)
11
(1)
11
(3)

| | |
| --- | --- |
| | Embryonic Period (Weeks 3-8) |

14
(4)
14
(1)
14
(1)
14
(4)

| | |
| --- | --- |
| | Placenta, Amniotic Fluid, and Umbilical Cord |

18
(8)
18
(2)
20
(2)
22
(1)
22
(1)

| | |
| --- | --- |
| | Vasculogenesis (de novo Blood Vessel Formation) |

22
(1)

| | |
| --- | --- |
| | Hematopoiesis (Blood Cell Formation) |

23
(2)
25
(1)
26
(8)

| | |
| --- | --- |
| | Development of the Primitive Heart Tube |

26
(1)

| | |
| --- | --- |
| | Development of the Heart Septae |

26
(5)

| | |
| --- | --- |
| | Development of the Arterial System |

31
(1)

| | |
| --- | --- |
| | Development of the Venous System |

32
(2)
34
(6)
34
(1)
34
(2)
36
(1)
37
(1)
37
(2)
39
(1)
40
(7)
40
(1)

| | |
| --- | --- |
| | Development of the Kidney |

40
(1)

| | |
| --- | --- |
| | Development of the Urogenital Sinus |

41
(2)

| | |
| --- | --- |
| | Development of the Suprarenal Gland |

43
(1)
43
(4)
47
(8)
47
(1)

| | |
| --- | --- |
| | Descent of the Ovaries and Testes |

47
(2)

| | |
| --- | --- |
| | Development of the Prostate Gland |

49
(1)
49
(6)
55
(5)
55
(1)

| | |
| --- | --- |
| | Development of the Trachea |

55
(1)

| | |
| --- | --- |
| | Development of the Bronchi |

55
(2)
57
(3)
60
(9)
60
(1)
60
(1)
60
(3)
63
(1)
63
(2)
65
(4)
69
(10)
69
(1)

| | |
| --- | --- |
| | Formation of the Neural Tube Vesicles |

69
(1)
70
(1)

| | |
| --- | --- |
| | Positional Changes of the Spinal Cord |

71
(1)
72
(1)
72
(1)
73
(1)
74
(5)
79
(4)
79
(1)
79
(2)
81
(1)
81
(1)
82
(1)
83
(6)

| | |
| --- | --- |
| | Development of the Optic Vesicle |

83
(2)

| | |
| --- | --- |
| | Development of Other Eye Structures |

85
(1)
86
(3)
89
(3)

| | |
| --- | --- |
| | Formation of the Intraembryonic Coelom |

89
(1)

| | |
| --- | --- |
| | Partitioning of the Intraembryonic Coelom |

89
(1)

| | |
| --- | --- |
| | Positional Changes of the Diaphragm |

89
(1)
89
(3)
92
(6)
92
(1)
93
(3)

| | |
| --- | --- |
| | Mammary, Sweat, and Sebaceous Glands |

96
(1)
97
(1)
98
(8)
98
(1)
99
(4)
103
(1)
103
(1)

| | |
| --- | --- |
| | Bones of the Limbs and Limb Girdles |

103
(2)
105
(1)

| | |
| --- | --- |
| | General Skeletal Abnormalities |

105
(1)
106
(3)
106
(1)
107
(1)
107
(1)
108
(1)
109
(5)
109
(1)
109
(2)
111
(1)
112
(1)
112
(1)
113
(1)
114
(5)
114
(1)
114
(1)
115
(1)
115
(1)

| | |
| --- | --- |
| | Nerves (Lumbosacral Plexus) |

115
(2)
117
(2)
119
(5)

| | |
| --- | --- |
| | Endocrinology of Pregnancy |

119
(1)
120
(1)
120
(1)

| | |
| --- | --- |
| | Prenatal Diagnostic Procedures |

121
(1)

| | |
| --- | --- |
| | Fetal Distress During Labor (Intrapartum Fetal Distress) |

122
(1)
122
(1)
122
(1)
123
(1)

| | |
| --- | --- |
| | Numerical Chromosomal Abnormalities |

124
(3)
124
(1)
124
(3)

| | |
| --- | --- |
| | Structural Chromosomal Abnormalities |

127
(8)
127
(1)
127
(1)
128
(1)
129
(1)
130
(1)
130
(1)
130
(4)

| | |
| --- | --- |
| | Selected Photomicrographs |

134
(1)

| | |
| --- | --- |
| | Single Gene Inherited Diseases |

135
(4)

| | |
| --- | --- |
| | Autosomal Dominant Inheritance |

135
(1)

| | |
| --- | --- |
| | Autosomal Recessive Inheritance |

135
(1)

| | |
| --- | --- |
| | X-Linked Recessive Inheritance |

136
(1)

| | |
| --- | --- |
| | Mitochondrial Inheritance |

137
(1)
138
(1)

| | |
| --- | --- |
| | Multifactorial Inherited Dseases |

139
(1)
139
(1)
139
(1)
140
(4)
140
(1)
140
(1)

| | |
| --- | --- |
| | Category X Drugs (Absolute Contraindication in Pregnancy) |

141
(1)

| | |
| --- | --- |
| | Category D Drugs (Definite Evidence of Risk to Fetus) |

142
(1)
143
(1)
143
(1)
143
(1)
Appendix. Inherited Diseases by Type
144