Note: Supplemental materials are not guaranteed with Rental or Used book purchases.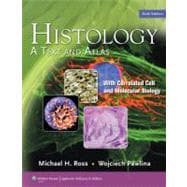 Questions About This Book?
Why should I rent this book?
Renting is easy, fast, and cheap! Renting from eCampus.com can save you hundreds of dollars compared to the cost of new or used books each semester. At the end of the semester, simply ship the book back to us with a free UPS shipping label! No need to worry about selling it back.
How do rental returns work?
Returning books is as easy as possible. As your rental due date approaches, we will email you several courtesy reminders. When you are ready to return, you can print a free UPS shipping label from our website at any time. Then, just return the book to your UPS driver or any staffed UPS location. You can even use the same box we shipped it in!
What version or edition is this?
This is the 6th edition with a publication date of 10/15/2010.
What is included with this book?
The New copy of this book will include any supplemental materials advertised. Please check the title of the book to determine if it should include any CDs, lab manuals, study guides, etc.
The Used copy of this book is not guaranteed to include any supplemental materials. Typically, only the book itself is included.
The Rental copy of this book is not guaranteed to include any supplemental materials. You may receive a brand new copy, but typically, only the book itself.
Customer Reviews
Exceeds expectations
May 2, 2011
by





This is a really an amazing text book! You could definitely use it as your primary physiology text in addition to being your histology reference source and learning guide. A powerful interactive atlas CD-ROM is included with the text book and features all of the plates in the text with interactive functionality. Well done and highly recommended!

Flag Review
---
Histology A Text and Atlas

:
stars based on
1
user reviews.
Summary
Now in its revised, updated Sixth Edition, Histology: A Text and Atlas is the perfect text for medical, health professions, and undergraduate biology students. This best-selling combination text and atlas includes a detailed textbook description that emphasizes clinical and functional correlates of histology, fully supplemented by vividly informative illustrations and photographs. Separate, superbly illustrated atlas sections follow almost every chapter and feature large-size, full-color digital micrographs, with labels and legends that highlight details of microanatomy.
For this edition, approximately 20 percent of the micrographs have been replaced with new, sharper, enhanced images. One third of the illustrations have been redrawn in a new style.
A powerful online interactive atlas is included with the book and features all of the plates in the text with interactive functionality.
''This is a wonderful learning resource for students of medicine and the life sciences. The authors combine traditional topics in histology with modern research findings in cell biology and medical physiology. The book is comprehensive, clinically relevant, and up to date. It is well-organized and visually attractive. The quality of the tissue photomicrographs and electron micrographs is outstanding. The editors and authors clearly have a keen sense of how students learn. This combined text and atlas provides the information that students need to know to understand the foundations of clinical medicine and succeed on licensing examinations. Students will learn to appreciate the incredible beauty and diversity of cells in the human body.'' -Bruce A. Fenderson, PhD(Thomas Jefferson University)
Table of Contents
1.
METHODS | 1 Overview of Methods Used in Histology  
| 1
| 2 Histochemistry and Cytochemistry | 3 Microscopy | 13 Folder 1.1 Clinical Correlation: Frozen Sections | 4 Folder 1.2 Microspectrophotometry | 7 Functional Considerations: Feulgen Folder 1.3 Medicine | 9 Clinical Correlation: Monoclonal Antibodies in Folder 1.4 Proper Use of the Light Microscope | 11 2. CELL CYTOPLASM | 22 Overview of the Cell and Cytoplasm | 22 Membranous Organelles | 25 Nonmembranous Organelles | 56 Inclusions | 71 Cytoplasmic Matrix | 73 Folder 2.1 Diseases | 42 Clinical Correlation: Lysosomal Storage Folder 2.2 Microtubules and Filaments | 68 Clinical Correlation: Abnormalities in Folder 2.3 of Centrioles and Cancer | 72 Clinical Correlation: Abnormal Duplication 3. THE CELL NUCLEUS | 75 Overview of the Nucleus | 75 Nuclear Components | 75 Cell Renewal | 84 Cell Cycle | 86 Cell Death | 93 Folder 3.1 Clinical Correlation: Cytogenetic Testing | 80 Folder 3.2 and Cancer Treatment | 81 Clinical Correlation: Regulation of Cell Cycle 4. CLASSIFICATION | TISSUES: CONCEPT AND98 Overview of Tissues | 98 Epithelium | 99 Connective Tissue | 99 Muscle Tissue | 100 Nerve Tissue | 101 Histogenesis of Tissues | 102 Identifying Tissues | 102 Folder 4.1 Clinical Correlation: Ovarian Teratomas | 103 5. EPITHELIAL TISSUE | 105 Overview of Epithelial Structure and Function | 105 Classification of Epithelium | 106 Cell Polarity | 107 The Apical Domain and its Modifications | 109 The Lateral Domain and its Specializations in Cell-To-Cell Adhesion | 121 The Basal Domain and its Specializations in Cell-To-Extracellular Matrix Adhesion | 134 Glands | 146 Epithelial Cell Renewal | 150 Folder 5.1 Clinical Correlation: Epithelial Metaplasia | 109 Folder 5.2 Dyskinesia | 120 Clinical Correlation: Primary Ciliary Folder 5.3 as a Target of Pathogenic Agents | 128 Clinical Correlation: Junctional Complexes Folder 5.4 Membrane and Basal Lamina Terminology | 138 Functional Considerations: Basement Folder 5.5 Serous Membranes | 150 Functional Considerations: Mucus and Atlas Plates Plate 1 Epithelia | 152 Simple Squamous and Cuboidal Plate 2 Simple and Stratified Epithelia | 154 Plate 3 Tissues | 156 Stratified Epithelia and Epithelioid 6. CONNECTIVE TISSUE | 158 General Structure and Function of Connective Tissue | 158 Embryonic Connective Tissue | 159 Connective Tissue Proper | 160 Connective Tissue Fibers | 161 Extracellular Matrix | 173 Connective Tissue Cells | 178 Folder 6.1 Clinical Correlation: Collagenopathies | 170 Folder 6.2 Molecular Changes in Photoaged Skin | 173 Clinical Correlation: Sun Exposure and Folder 6.3 Wound Repair | 183 Clinical Correlation: Role of Myofibroblasts in Folder 6.4 Phagocytotic System | 185 Functional Considerations: The Mononuclear Folder 6.5 and Basophils in Allergic Reactions | 188 Clinical Correlation: The Role of Mast Cells Atlas Plates Plate 4 Tissue | 192 Loose and Dense Irregular Connective Plate 5 Ligaments | 194 Dense Regular Connective Tissue, Tendons, and Plate 6 Elastic Fibers and Elastic Lamellae | 196 7. CARTILAGE | 198 Overview of Cartilage | 198 Hyaline Cartilage | 199 Elastic Cartilage | 204 Fibrocartilage | 204 Chondrogenesis and Cartilage Growth | 206 Repair of Hyaline Cartilage | 207 Folder 7.1 Clinical Correlation: Osteoarthritis | 199 Folder 7.2 the Cartilage; Chondrosarcomas | 208 Clinical Correlation: Malignant Tumors of Atlas Plates Plate 7 Hyaline Cartilage | 210 Plate 8 Cartilage and the Developing Skeleton | 212 Plate 9 Elastic Cartilage | 214 Plate 10 Fibrocartilage | 216 8. BONE | 218 Overview of Bone | 218 Bones and Bone Tissue | 219 General Structure of Bones | 220 Cells of Bone Tissue | 223 Bone Formation | 232 Biologic Mineralization and Matrix Vesicles | 241 Physiologic Aspects of Bone | 242 Folder 8.1 Clinical Correlation: Joint Diseases | 221 Folder 8.2 Clinical Correlation: Osteoporosis | 233 Folder 8.3 in Bone Formation | 234 Clinical Correlation: Nutritional Factors Folder 8.4 Regulation of Bone Growth | 242 Functional Considerations: Hormonal Atlas Plates Plate 11 Bone, Ground Section | 244 Plate 12 Bone and Bone Tissue | 246 Plate 13 Endochondral Bone Formation I | 248 Plate 14 Endochondral Bone Formation II | 250 Plate 15 Intramembranous Bone Formation | 252 9. ADIPOSE TISSUE | 254 Overview of Adipose Tissue | 254 White Adipose Tissue | 254 Brown Adipose Tissue | 259 Folder 9.1 Clinical Correlation: Obesity | 261 Folder 9.2 Clinical Correlation: Adipose Tissue Tumors | 262 Folder 9.3 Brown Adipose Tissue Interference | 264 Clinical Correlation: PET Scanning and Atlas Plates Plate 16 Adipose Tissue | 266 10. BLOOD | 268 Overview of Blood | 268 Plasma | 269 Erythrocytes | 270 Leukocytes | 275 Thrombocytes | 286 Formation of Blood Cells (Hemopoiesis) | 289 Bone Marrow | 298 Folder 10.1 Group Systems | 273 Clinical Correlation: ABO and Rh Blood Folder 10.2 with Diabetes | 274 Clinical Correlation: Hemoglobin in Patients Folder 10.3 Clinical Correlation: Hemoglobin Disorders | 276 Folder 10.4 Neutrophils; Chronic Granulomatous Disease (CGD) | 281 Clinical Correlation: Inherited Disorders of Folder 10.5 and Jaundice | 281 Clinical Correlation: Hemoglobin Breakdown Folder 10.6 Marrow | 300 Clinical Correlation: Cellularity of the Bone Atlas Plates Plate 17 Erythrocytes and Granulocytes | 302 Plate 18 Agranulocytes and Red Marrow | 304 Plate 19 Erythropoiesis | 306 Plate 20 Granulopoiesis | 308 11. MUSCLE TISSUE | 310 Overview and Classification of Muscle | 310 Skeletal Muscle | 311 Cardiac Muscle | 327 Smooth Muscle | 331 Folder 11.1 and Ischemia | 316 Functional Considerations: Muscle Metabolism Folder 11.2 Dystrophin and Dystrophin- Associated Proteins | 319 Clinical Correlation: Muscular Dystrophies— Folder 11.3 Filament Model | 323 Functional Considerations: The Sliding Folder 11.4 Clinical Correlation: Myasthenia Gravis | 325 Folder 11.5 the Three Muscle Types | 337 Functional Considerations: Comparison of Atlas Plates Plate 21 Skeletal Muscle I | 340 Plate 22 Skeletal Muscle II and Electron Microscopy | 342 Plate 23 Myotendinal Junction | 344 Plate 24 Cardiac Muscle | 346 Plate 25 Cardiac Muscle, Purkinje Fibers | 348 Plate 26 Smooth Muscle I | 350 12. NERVE TISSUE | 352 Overview of the Nervous System | 352 Composition of Nerve Tissue | 353 The Neuron | 353 Supporting Cells of the Nervous System; The Neuroglia | 363 Origin of Nerve Tissue Cells | 373 Organization of the Peripheral Nervous System | 375 Organization of the Autonomic Nervous System | 378 Organization of the Central Nervous System | 381 Response of Neurons to Injury | 386 Folder 12.1 Clinical Correlation: Parkinson's Disease | 358 Folder 12.2 Clinical Correlation: Demyelinating Diseases | 366 Folder 12.3 in the CNS | 389 Clinical Correlation: Gliosis: Scar formation Atlas Plates Plate 27 Sympathetic and Dorsal Root Ganglia | 390 Plate 28 Peripheral Nerve | 392 Plate 29 Cerebrum | 394 Plate 30 Cerebellum | 396 Plate 31 Spinal Cord | 398 13. CARDIOVASCULAR SYSTEM | 400 Overview of the Cardiovascular System | 400 Heart | 402 General Features of Arteries and Veins | 408 Arteries | 414 Capillaries | 421 Arteriovenous Shunts | 423 Veins | 424 Atypical Blood Vessels | 426 Lymphatic Vessels | 427 Folder 13.1 Clinical Correlation: Atherosclerosis | 411 Folder 13.2 Clinical Correlation: Hypertension | 416 Folder 13.3 Clinical Correlation: Ischemic Heart Disease | 429 Atlas Plates Plate 32 Heart | 432 Plate 33 Aorta | 434 Plate 34 Muscular Arteries and Veins | 436 Plate 35 Arterioles, Venules, and Lymphatic Vessels | 438 14. LYMPHATIC SYSTEM | 440 Overview of the Lymphatic System | 440 Cells of the Lymphatic System | 441 Lymphatic Tissues and Organs | 453 Folder 14.1 Names T Lymphocyte and B Lymphocyte | 447 Functional Considerations: Origin of the Folder 14.2 Reactions | 447 Clinical Correlation: Hypersensitivity Folder 14.3 Virus (HIV) and Acquired Immunodeficiency Syndrome (AIDS) | 455 Clinical Correlation: Human Immunodeficiency Folder 14.4 Lymphadenitis | 466 Clinical Correlation: Reactive (Inflammatory) Atlas Plates Plate 36 Palatine Tonsil | 476 Plate 37 Lymph Node I | 478 Plate 38 Lymph Node II | 480 Plate 39 Spleen I | 482 Plate 40 Spleen II | 484 Plate 41 Thymus | 486 15. INTEGUMENTARY SYSTEM | 488 Overview of the Integumentary System | 488 Layers of the Skin | 489 Cells of the Epidermis | 493 Structures of Skin | 501 Folder 15.1 Origin | 492 Clinical Correlation: Cancers of Epidermal Folder 15.2 Functional Considerations: Skin Color | 499 Folder 15.3 and Hair Characteristics | 504 Functional Considerations: Hair Growth Folder 15.4 Sebum | 505 Functional Considerations: The Role of Folder 15.5 Disease | 507 Clinical Correlation: Sweating and Folder 15.6 Clinical Correlation: Skin Repair | 512 Atlas Plates Plate 42 Skin I | 514 Plate 43 Skin II | 516 Plate 44 Apocrine and Eccrine Sweat Glands | 518 Plate 45 Sweat and Sebaceous Glands | 520 Plate 46 Integument and Sensory Organs | 522 Plate 47 Hair Follicle and Nail | 524 16. ORAL CAVITY AND ASSOCIATED STRUCTURES | DIGESTIVE SYSTEM I:526 Overview of the Digestive System | 526 Oral Cavity | 527 Tongue | 529 Teeth and Supporting Tissues | 534 Salivary Glands | 545 Folder 16.1 of Taste | 533 Clinical Correlation: The Genetic Basis Folder 16.2 Permanent (Secondary) and Deciduous (Primary) Dentition | 534 Clinical Correlation: Classification of Folder 16.3 Clinical Correlation: Dental Caries | 547 Folder 16.4 Clinical Correlation: Salivary Gland Tumors | 555 Atlas Plates Plate 48 Lip, A Mucocutaneous Junction | 556 Plate 49 Tongue I | 558 Plate 50 Tongue II - Foliate Papillae and Taste Buds | 560 Plate 51 Submandibular Gland | 562 Plate 52 Parotid Gland | 564 Plate 53 Sublingual Gland | 566 17. ESOPHAGUS AND GASTROINTESTINAL TRACT | DIGESTIVE SYSTEM II:568 Overview of the Esophagus and Gastrointestinal Tract | 569 Esophagus | 572 Stomach | 574 Small Intestine | 586 Large Intestine | 597 Folder 17.1 and Peptic Ulcer Disease | 578 Clinical Correlation: Pernicious Anemia Folder 17.2 Syndrome | 580 Clinical Correlation: Zollinger-Ellison Folder 17.3 Endocrine System | 581 Functional Considerations: The Gastrointestinal Folder 17.4 Absorptive Functions of Enterocytes | 587 Functional Considerations: Digestive and Folder 17.5 of the Alimentary Canal | 595 Functional Considerations: Immune Functions Folder 17.6 Vessel Distribution and Diseases of the Large Intestine | 602 Clinical Correlation: The Pattern of Lymph Atlas Plates Plate 54 Esophagus | 606 Plate 55 Esophagus And Stomach, Cardiac Region | 608 Plate 56 Stomach I | 610 Plate 57 Stomach II | 612 Plate 58 Gastroduodenal Junction | 614 Plate 59 Duodenum | 616 Plate 60 Jejunum | 618 Plate 61 Ileum | 620 Plate 62 Colon | 622 Plate 63 Appendix | 624 Plate 64 Anal Canal | 626 18. GALLBLADDER, AND PANCREAS | DIGESTIVE SYSTEM III: LIVER,628 Liver | 628 Gallbladder | 643 Pancreas | 647 Folder 18.1 Clinical Correlation: Lipoproteins | 630 Folder 18.2 Failure and Liver Necrosis | 635 Clinical Correlation: Congestive Heart Folder 18.3 Disease | 655 Insulin Production and Alzheimer's Folder 18.4 Synthesis, an Example of Posttranslational Processing | 655 Functional Considerations: Insulin Atlas Plates